New Release-Under the Midnight Sun PRINT
It's finally here! Anthologies always take that much longer to come out in print, so it's been a year and a half since WOLF GAMES first became available in ebook format. Six month later, WOLF TRACKS arrived, and now those readers who have been asking for PRINT can finally have their own version of the wolfies.
It looks marvelous next to Under the Northern Lights… :D Just saying.
IN FACT- IT LOOKS SO GOOD, I THINK I HAVE TO HAVE A GIVEAWAY! Sorry for the shouting. Ahem, just wanted your attention. Leave a comment here to be entered to win a copy of Under the Northern Lights (this is the 1st PRINT anthology of the Granite Lake books).
I'll draw a name next Monday of the winner. International entries as always are welcome- if you can buy my books where you live, I can send out a prize if you win.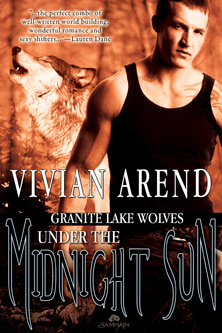 Under The Midnight Sun
Granite Lake Wolves, Print Anthology 2
Collects Wolf Games (Granite Lake Wolves, Book 3) and Wolf Tracks (Granite Lake Wolves, Book 3)
To find love, sometimes you have to blaze a whole new trail.
Wolf Games
After seven years of denial, Maggie's inner wolf is in full revolt. The last thing she wants is a mate, particularly when simply looking at another wolf scares her to death.
Sheer chance puts Erik in the right place to catch the weak and shaky Maggie. With one touch, he realizes the reluctant female werewolf is his mate.
Selected for the premier sporting event for wolves in the north, Maggie will not only have to team up with Erik, she'll have to face down her fear of wolves. Especially her own.
Read an excerpt from Wolf Games
Wolf Tracks
TJ's usual laid-back attitude vanishes when he comes face to face with someone he didn't expect. His mate. His very human mate. If he intends to claim her, he's going to have to move fast.
Pam is definitely tempted to indulge in some Northern Delight with TJ—temporarily, not forever. In her world, true love is a fairytale that seldom, if ever, comes true.
Okay, so maybe staging a kidnapping wasn't TJ's best idea, but at least Pam agrees to his deal. He's got one week in the wilderness to prove she's his mate. She's got one week to discover if forever is possible.
Read an excerpt from Wolf Tracks

Warning: Contains uber-sexy werewolves, reluctant mates and exotic travels through the Yukon wilderness. Includes sarcasm and hot nookie under the Midnight Sun.
Buy Now: Barnes and Noble | Amazon | Book Depository |Samhain
Nowadays there is lot of unforeseen circumstance which force humanity to take remedies. You can order medicines directly your office. In these latter days the stock you can find in online pharmacy is actually high. Some medications are as a rule used to treat many types of bacteria, such as tonsillitis and infections of the throat. Other ones are used to treat diabetes. Cialis is a remedy used to treat divers afflictions. What do you have to know about cialis order online? Presently many families search for the exact keyword ordering cialis online on the Internet. Perhaps you already read something about it. Having erectile dysfunction can beyond doubt complicate romance. What can cause erectile malfunction? A row of psychological issues can produce erectile dysfunction. What should you discuss with a physician before taking Cialis? Any curing may cause dangerous side effects. Sometimes side effects can be actually dangerous. Talk to your pharmacist about the proper disposal of your medicine.