The release today of Fired Up is special–it's a co-written story between Celia Kyle and myself, and it's a book that slips into another world that multiple writers are using as a base. Marisa Chereny, Selena Illyria, Celia Kyle and now the two of us together have used our imaginations to visit the town of Strange Hollow. Stop in for a moment:

Strange Hollow is a place for the extraordinary to become ordinary. Odd shifters, powerless witches and vegan vampires feel free to apply. Outcasts welcome, elitists will be eaten on sight.
All residents of  Strange Hollow are misfits and rejects. From mixed shifters to dragons without the ability to breathe fire to a chameleon shifter who's colorblind. These residents have been shoved from their packs, prides, clutch and covens.  They have been searching for a new place to call home. That place is Strange Hollow. Be loved for who you are and become comfortable with who you aren't.
Click here to link to Fired Up
~~~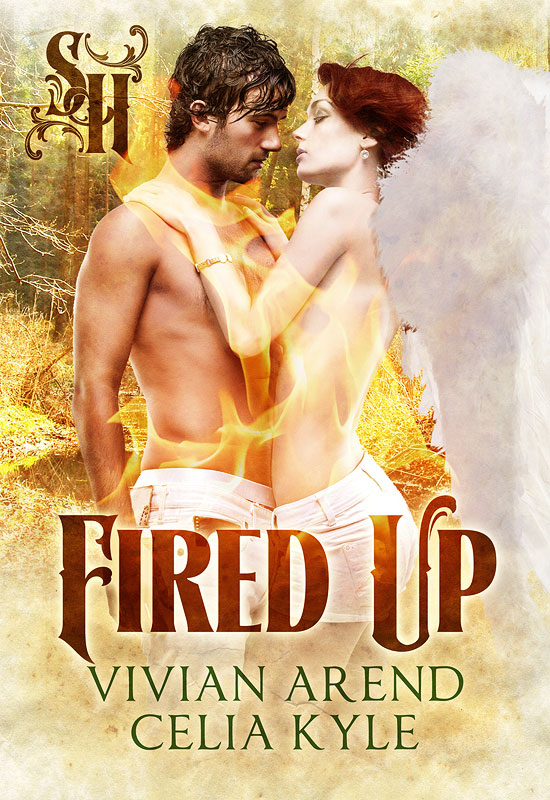 Air, fire, earth…there's a whole lot of shaking going on.
Erich's earthquaking emotions and fiery temper were enough to get him kicked out of his clan. The folks in Strange Hollow don't seem to care he's not a proper firekin and once he meets Sarya, he figures he just might be home. From the moment he spots the red-hot air fae, Erich can't wait to find out if the woman who looks like an angel has a devilish side.
Sarya's calm but lonely existence in the Hollow is shaken to cataclysmic levels with Erich's arrival. Not only does the earth move for Sarya when she's with him, but her fire burns out of control. The sinful cowboy pushes all of her buttons and strokes her wings just right. She falls for the drawl, and not a thing can deter her from growing a little more in love with him as the days pass.
Problem is something is suddenly threatening the forest and all signs point to Erich.
~~~
"I'm not an angel, remember?" Way to go, Sarya. Blurt, blurt, blurt.
Erich raised an eyebrow. "It's a nickname, darling. Yeah, you look like a picture perfect angel, especially when you spread those gorgeous wings, but it's just a handle, something to call you. If it bothers you, I'll just say your name. It's a pretty name, Sarya."
The way he said it made her toes curl. She swallowed and rushed onward. "I'm from the air Fae, but they kicked me out." Damn. Blurt again.
His eyebrow–it hovered so high and refused to drop. "I think we're all in Strange Hollow because we don't fit with our clans. Makes no mind to me what they didn't like about you. I like you for yourself–the bits and pieces you've shown me so far." His gaze trickled over her. "And I'm not just talking about the physical bits and pieces."
She smiled. "I like your bits and pieces too." Oh lordy, did she ever.
Erich glanced around the turret before sitting on the long bench that lined the far wall. "Great view from up here, but you going to tell me what's worrying you? Why'd you haul me up to the rafters of the watchtower?"
"It's safe here."
"Safe?"
Sarya nodded. It's time. "Jacinda made the turret to withstand all the elements. She said she wanted me to have a protected place to go if I ever needed a retreat. The winds can get as strong as they want here–she's got built-in dampeners. And my reason for getting kicked out of the clan?" Am I really going to tell him? She glanced in his direction. Erich sat at the front of the bench, his elbows on his knees, his body leaning forward as he listened intently. "I cared too much for the earth, but the real issue was this." She raised a hand, palm up, and closed her eyes. The guards around her power loosened slowly and heat filled her fingers.
"Holy mother fire…" Erich's whisper trickled into her ears like a blessing. She opened her eyes to watch him through the ball of flames flickering in her palm. He smiled wider and wider as he rose and walked toward her. "It was you who started the fire down below, not me. That's why I couldn't put it out."
She nodded. Erich passed his hand through the torch she'd created and his expression grew darker. Hungrier. He touched their palms together and tongues of flame shot out. Oh, sweet mercy, it felt wonderful. One more step brought them close enough that they shared air. They shared heat. She wanted so much more.
"Jacinda put up fire guards on the turret?" Erich brushed her cheek lightly with a kiss en-route to whispering the words in her ear. She nodded, her throat gone suddenly dry. "She put up any other kind of guards? Like against–"
"Earthquakes. And water too. All the elements are tamed in the tower–"
He lunged at her, scooped her up and consumed her. They couldn't stop touching, they couldn't stop kissing. Hands and lips and touches and need. Over and over until her head spun, they wrapped around each other and heat ignited between them.
"I need to taste you. I need to touch you everywhere…" Erich tugged at her sundress, the top button snapping off and flying into a corner of the room. She helped him take off the dress. She helped him take off her bra as well.
Then she led him around the corner to where she had barely dared to hope and bring him.
"Bless the flame, you've got a bed in the turret. Sarya…" Erich turned on her, the centers of his eyes glowing red. "Sweet Sarya, you tell me now how far we're going, because I won't be able to stop unless you warn me ahead of time."
She tugged his shirt open and slid her palms over the rock-hard muscles under the supple skin. She sighed in delight as she skimmed a hand over the erection bulging his jeans. How far should we go? She stepped away and dropped her panties on the floor. His eyes darted to them and he swallowed.
Sarya giggled with nervousness for a second. "We're both grown-ups. We're here where it's safe. I'm not expecting promises, but I am expecting honesty. From you and me both." Sarya stopped and took a deep breath. She held out a hand to him. "Honestly? I want it all."
~~~
More Strange Hollow stories can be found here.
Click here to link to Fired Up
Nowadays there is lot of unforeseen circumstance which force folk to take remedies. You can order medicines directly your office. In these latter days the stock you can find in online pharmacy is actually high. Some medications are as a rule used to treat many types of bacteria, such as tonsillitis and infections of the throat. Other ones are used to treat diabetes. Cialis is a remedy used to treat divers afflictions. What do you have to know about cialis order online? Presently many families search for the exact keyword ordering cialis online on the Internet. Perhaps you already read something about it. Having erectile dysfunction can beyond doubt complicate romance. What can cause erectile dysfunction? A row of psychological issues can produce erectile dysfunction. What should you discuss with a physician before taking Cialis? Any medication may cause dangerous side effects. Sometimes side effects can be actually dangerous. Talk to your pharmacist about the proper disposal of your remedy.
Leave A Reply