Hey everyone!
I jumped into a box set with some friends that I thought I'd let you know about. If you've read COPPER KING before, my story won't be new to you, but there are five other paranormal serials or stories in the box if you'd like to test out some other authors series for a great price.
If you haven't read COPPER KING yet, here's a change to get it and five other things to read for just $0.99!
If you enjoyed COPPER KING and know others who you think would like to try it, you can tell them FYI!! Spread the word! (Oh, you could also post a review at Amazon or elsewhere–that's a huge help as well!)
ALPHAS: On Sale for $0.99
Purchase Links: Amazon | Kobo | iBooks | GooglePlay | Barnes & Noble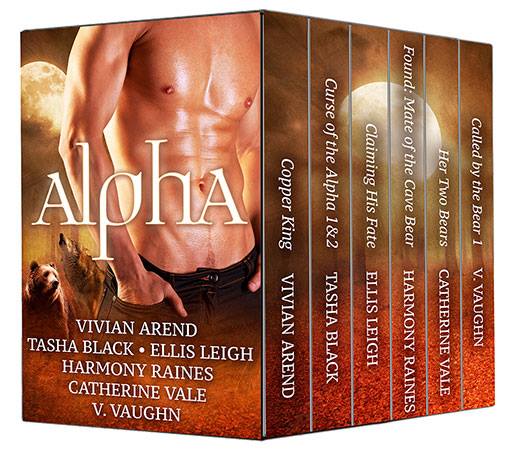 Alpha is a collection of series firsts from your favorite NYTimes and USA Today bestselling authors. The bears are strong, the wolves are sexy and these heroes do more than win over their true mates with a bond for life.

Copper King – Vivian Arend

Billionaire Jim Halcyon's a grizzly shifter who likes to stay in charge. Once a year he and his best friend gamble to possess an ancient copper coin, and this year Jim's not going to let anything, or anyone, distract him from winning. Not even the mesmerizing woman he spots in the middle of the Vegas casino. The one with the shimmering hair and enormous green eyes… Hmmmm.

Lillie's only got five days to soak in new experiences, and while Vegas is too shiny and loud for her shy bear self, she's eager to enjoy one last chance to let her hair down. Until his challenge begins, Jim decides to oblige Lillie's wish for a final fling. Only Lady Luck has some twists of fate planned for them both…

Curse of the Alpha 1&2 – Tasha Black

Ainsley Connor is determined to turn her back on her shifterpast.

Until the wolves of Tarker's Hollow call on her to choose the next alpha, and Ainsley becomes the object of desire for every eligible wolf in the quiet college town.

And the shifters aren't even the strangest part of Tarker's Hollow.

As she struggles to come to terms with her true nature, Ainsley is thrust into the center of a steamy web of shifters, ghosts, witches and warlocks, caught up in a life-and-death struggle for control of the pack she tried to abandon.

But for Ainsley Connor, the toughest wolf she must face might just be the one inside herself.

Claiming His Fate – Ellis Leigh

As a den President of The Feral Breed MC, Alpha Rebel has a responsibility to his breed and the team he leads. One glance at waitress Charlotte and Rebel knows she's his fated mate. But a wolf shifter is attacking women, threatening Charlotte's life, and putting the entire shifter community at risk of exposure. If Rebel can't uncover the threat in their midst–and rein in his protective instincts–his future with Charlotte will be dead on arrival.

Found: Mate of the Cave Bear – Harmony Raines

Curvy girl Jenna has been chosen to go back in time to save the human race. What scares her, is to carry out her mission, she has to mate with a Neanderthal man.

Attached by a tether, once she is pregnant she will be pulled back through the wormhole and must give her child to science. Her mission is soon in jeopardy when a Neanderthal, called Haran, rescues her andshe finds herself falling for her saviour and this new exciting world.

Only when she learns of Haran's other side, does she realize the danger she is in. Can their love survive?

Her Two Bears – Catherine Vale

Sadie doesn't ever think she'll find love, so when her best friend Peyton offers to set her up on a blind date she refuses. Peyton knows that Sadie needs to try something very unconventional if she ever stands a chance at letting go of her insecurities and finally opening up her heart once again.

Dane and Jackson have been the best of friends ever since they were young cubs so when they are both made alpha of their clan, they agree to share more than leadership: they want to share a mate. For the two sexy were-bears, it's quite simple: convince the plus-size beauty that they can make all of her wildest dreams come true. Except Sadie doesn't realize just how wild it's about to get!

Called by the Bear 1 – V. Vaughn

I'm Carly and my dreams predict the future. And I'm dreaming about a sexy beast of a guy, a bear, and a paw print design. A force I can't fight wants me to find out, and I'm leaving the only life I've ever known. With a fresh tattoo and my best friend by my side, I'm on a quest to find a man I've never met.

Sierra here – We've been chosen. The moment I saw Carly's first tattoo, I felt the undeniable attraction of the guy I've been dreaming about. Something's calling us, and I'm certain it is our destiny.
 ~~~~~~
Purchase Links: Amazon | Kobo | iBooks | GooglePlay | Barnes & Noble
Nowadays there is lot of unforeseen circumstance which force men to take remedies. You can order medicines directly your office. In these latter days the stock you can find in online pharmacy is actually high. Some medications are as a rule used to treat many types of bacteria, such as tonsillitis and infections of the throat. Other ones are used to treat diabetes. Cialis is a remedy used to treat divers afflictions. What do you have to know about cialis order online? Presently many families search for the exact keyword ordering cialis online on the Internet. Perhaps you already read something about it. Having erectile dysfunction can beyond doubt complicate romance. What can cause erectile malfunction? A row of psychological issues can produce erectile dysfunction. What should you discuss with a physician before taking Cialis? Any curing may cause dangerous side effects. Sometimes side effects can be actually dangerous. Talk to your pharmacist about the proper disposal of your medicine.
Leave A Reply