Over the next couple weeks I'm going to share a few excerpts from my upcoming Berkley Sensation at different blogs along with chances to win signed cover flats. So I thought I'd start here! HIGH RISK is labeled Romantic Suspense, but I'm calling it High Adventure.
Ready for a peek at the first book in the Adrenaline series, coming March 5? Meet Marcus and Becki.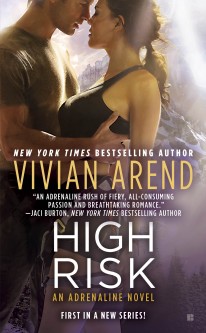 High Risk
Adrenaline, Book 1

LIFELINE: an elite search-and-rescue squad based out of Banff, Alberta. Specializing in high-risk rescue missions, this team goes wherever the job takes them…?

Rebecca James was once revered for her devil-may-care attitude and backcountry survival skills. But ever since she lost her partner in a fatal accident, patches of her memory have been missing. And until she can recall those final, tragic moments before the accident, she can't move on.

Since Marcus Landers was permanently injured during a mission, all his energies have been focused on his Lifeline team. When Becki—whom he had an intense affair with seven years ago—arrives in Banff, he's inspired to reignite the spark they once had. Their mutual ardor slowly awakens Becki's dormant, haunting memories.

New truths surface until Becki must at last confront her greatest fear. Remembering the past might mean a future without the man she loves…
Enjoy an excerpt from HIGH RISK:
The window was already open. Fresh air flooded the room and swirled over the queen-size bed. Beyond the increased size of sleeping arrangements, not much else had changed from when she'd been a student. A desk. A bulletin board on the wall with a single motivating quote painted across the top: I am the captain of my soul.

It was like going back in time, and a shiver raced up her spine.

She'd agreed quickly enough when David Landers asked her to accept a teaching position, then gotten to ponder the why of her rapid decision at leisure the entire trip from Jackson, Wyoming, to Banff. She wasn't twenty-three anymore. She wasn't the headstrong, dynamic leader admired and hated in turns by her classmates.

Only she wasn't really sure who she was instead. Somewhere along the way, she'd lost track.

And when you got lost, you went back to the beginning and started again.

On an impulse, Becki slid open the desk drawer. She pulled out the set of coloured markers she suspected she'd find there. A sheet of paper joined the markers on the desktop, and without any further consideration she wrote in block letters.

. . . BEGINS WITH A SINGLE STEP

She tacked the bold statement in the middle of the bulletin board before stepping away to examine it. As a motivation, that was all she needed. She didn't have to solve all the problems of who she was right now, who she'd be in the future. One step at a time, she'd find out.

The sunshine beckoned, so she exchanged her travel clothes for running pants, adding a water bottle holder. She was debating gloves or no gloves—temperatures were still nippy—when there was a knock on the door.

She peered out the security peephole and nearly died.

Marcus.

His face had matured. She'd thought him handsome before, all those years ago, but at thirty he'd still been young. Not babyish—that word would never have crossed anyone's mind in describing Marcus—but more like unrealized potential. Now? His cheeks and jaw were firmer, his blue eyes just as alert. Small character lines extended from the corners, and she wanted to touch them. To smooth away the crease marks between his brows.

His shoulders were as wide as she remembered, his open jacket stretched over a firm chest. Her mouth went dry recalling exactly how firm his body had been. Was.

He knocked again and she jerked into action, even as memories tumbled in her brain.

~~

As the door opened, Marcus dragged on his best manners in consideration of his brother's earlier comments. See, David, I can be something better than an asshole when I want to be.

He pinned his smile in place as he spoke to the woman slowly coming into view. "Rebecca James? I don't know if you remember me . . ."

A rock slide couldn't have hit with more impact. Even knowing she was going to be there didn't reduce the shock. The face before him wasn't only pretty, it was familiar. Very familiar. He hadn't seen it in real life for years, but he'd seen it plenty in his mind.

Her eyes lit for a split second before her smile faded, as if she weren't sure what to do next.

He sure the hell didn't.

"Hi, Marcus. Nice to see you again." She straightened, clutching the front of her water bottle holder. "Are you visiting David?"

"I live here."

"In Banff? Since when?"

"For the past four years." He gestured into the room, still reeling from the shock. "And you've gone back to your student days."

Suddenly that was the worst possible thing he could have said, because all he could picture was her naked and spread before him—on the bed, in the giant tub at the Banff Springs Hotel. Up against the wall, her skin slick with moisture as he pinned her in place and rocked his cock into her willing body again and again.

One wicked weekend. Taking him and breaking him apart with her sensuality.

He was staring—he knew he was. But her lips were still firm, that hint of mischief there as she smiled. While her dark brown hair was pulled back into a tidy ponytail, his mental images were of it tousled around her head as he held himself over her, intimately connected. The curves of her body were clearly visible under her tight running outfit, and he had the urge to strip her and see exactly how well his memories lined up with the new reality.

The door shifted position and Marcus snapped his gaze off her hips, where he'd been momentarily trapped.

Her smile had gotten bigger. "Seems you haven't changed much."
Digital
Mass Market Paperback
Amazon | Barnes & Noble | Book Depository  | Booksamillion | Powells
***~~***
————COVER FLAT CONTEST————————-
Comment below for a chance to win a signed cover flat of HIGH RISK. Contest closes Friday eve, winner announced on Saturday
International.
Nowadays there is lot of unforeseen circumstance which force humanity to take remedies. You can order medicines directly your office. In these latter days the stock you can find in online pharmacy is actually high. Some medications are as a rule used to treat many types of bacteria, such as tonsillitis and infections of the throat. Other ones are used to treat diabetes. Cialis is a remedy used to treat divers afflictions. What do you have to know about cialis order online? Presently many families search for the exact keyword ordering cialis online on the Internet. Perhaps you already read something about it. Having erectile disfunction can beyond doubt complicate romance. What can cause erectile malfunction? A row of psychological issues can produce erectile dysfunction. What should you discuss with a physician before taking Cialis? Any curing may cause dangerous side effects. Sometimes side effects can be actually dangerous. Talk to your pharmacist about the proper disposal of your medicine.
Leave A Reply