With the release of A RANCHER'S SONG on the horizon, it's time to catch up on the Heart Falls series. 
Before reading A RANCHER'S SONG, be sure to read A RANCHER'S HEART, the first in the Heart Falls series.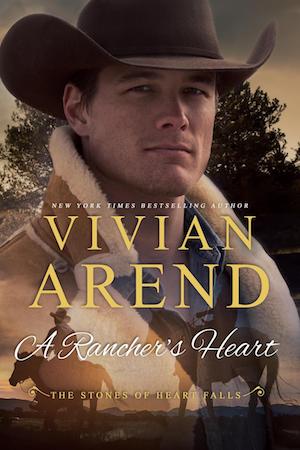 This cowboy has given up on love, but the new nanny might just make him change his mind. The first in a brand-new series from New York Times bestselling author Vivian Arend.
Caleb Stone is wearing too many hats and it's making him crankier than usual. He's a cowboy, a father, and the head of his large family—and has been since tragedy claimed his parents over ten years ago. The ranch is struggling, but it's the title of single dad that's got him tangled up in knots. He needs a full-time, live-in nanny at the Silver Stone homestead in Heart Falls, Alberta, to help with his two little girls, but the woman about to arrive on his doorstep? Tantalizing, tempting, and trouble with capital T's.
Tamara Coleman doesn't regret the choices that led to losing her job, but she definitely needs a fresh start. When a friend recommends her for a nanny position in a new town, she swears this time it'll be different. No more acting on impulse—except sexy, gruff Caleb is exactly the kind of man who pushes all her buttons. And what's more, it's so much fun to push his in return. Sparks fly between Tamara and her gorgeous boss, but she can't risk her position, and he doesn't dare risk his heart.
With two people fighting their true natures, something's going to give. Luckily, there's more than one way to capture a rancher's heart.
"A RANCHER'S HEART is a thoroughly charming and sexy story about two people who find their perfect match." ~Fresh Fiction
Purchase:
Excerpt:
Considering voyeurism wasn't one of Tamara's kinks, she'd had more run-ins with nudity than the average woman. Even now as she sat minding her own business, she had to admit the surprise show was proving spectacular.
Shadows cast by the towering pines to the west were playing peekaboo with his face, and he was mostly in profile, but even if the man had been in full sun she was far enough away she wouldn't have been able to spot details like facial features. She had no idea who he was, which meant she didn't know if she should feel guilty for ogling him.
He could be a married man, or the Heart Falls Community Church pastor communing with nature—although if that was the local man of the cloth, she was about to have a religious experience.
Ignorance was one benefit of being new to town.
It was also a downfall as she'd have all sorts of new to contend with over the next days and weeks. She was mostly looking forward to it. After twenty-nine years in one spot, the idea of a fresh start appealed to her. She was going to miss her family, most of them, but a change had been needed.
Her mystery man was now naked from the waist up, his face hidden in shadows. Solid muscles flexed in his biceps and chest as he shoved his jeans and the rest to the ground. She wished her observation spot on the trail was a little closer to the pool, because while the view was lovely, it was too far away to offer details beyond generalities. Trim hips, strong thighs. Not an inch of fat on him.
She pushed her glasses into place and sighed happily.
Yes, this new beginning was going to work just fine if this was how they did things in Heart Falls.
The star of her floor show stepped to the edge of the rocks and paused long enough for Tamara to take a final, sweet mental snapshot. In appreciation of the human form, like anyone in the medical field would have—
As the man threw himself silently into the water, a bitter taste hit her tongue. She wasn't part of the medical community anymore.
Fired. Out of a job, and what's worse, her nursing certification had been revoked. One well-meant but slightly illegal decision years ago, and it was all over. Illegal, not immoral, she reminded herself. Even knowing the consequences, she'd do it again in a flash.
She watched her current mood-booster take strong strokes across the pool, headed toward the waterfall, as she considered what had really gotten her into the mess. Her impulsive nature, yes. And being too interested in other people's business. She didn't think she was a busybody, and she always meant well.
Only when meaning well went bad, it soured over everyone. Bottom-line, she needed to change her habits. And this was as good a time as any, considering Heart Falls was a clean slate, and all.
Tamara leaned against the rock behind her, hands resting on her knees. She'd been told about the lookout by her cousin's fiancée, Dare, who used to live in the area. The same friend who'd gotten her the job she was about to start.
The trip to Heart Falls passed quicker than expected, and it was too early to show up at the ranch. From what her friend had told her about the lookout, it had sounded like the perfect place to pause for a final get her head on straight opportunity.
I will change, she swore. No matter how tempted she was to act impulsively in the future, she needed to—
Down in the pool, the swimming man had lasted longer than Tamara expected. Hypothermia wasn't something to fool around with, and the water had to be bitterly cold.
He was headed for the rocks, and she breathed a sigh of relief as he placed a hand on an outcropping and pulled himself up.
Her sigh turned into a gasp, and she shot to her feet as the man fell backwards and disappeared beneath the surface. She hesitated for a couple of seconds before heading farther down the path, one eye on her footing and the other on the water surface.
He didn't come up.
By the time she got to the bottom of the trail, Tamara was full-out sprinting, racing around the perimeter of the pool to the rocks he'd originally jumped off. She peered into the water, but couldn't see anything.
Swear words echoed in her head as panic tried to take control.
There. Oh my God, there—the hazy shape of an arm.
Tamara shouted for help as loudly as she could as she stepped out of her runners. She dropped her glasses on top of them then took a deep breath, moving to the edge of the rocks.
No hesitation. She threw herself off.
Icy-cold water compressed her chest in a vise. Her face went numb, bare skin tingling as if she were being chewed on by millions of tiny fish with razor-sharp teeth. Panic hovered.
Had she been worried about hypothermia? Forget that—someone would cut their bodies from the ice years from now like preserved wooly mammoths.
She peered around quickly, grateful she'd landed close enough to her target to see him. She snatched at the nearby limb, wrapping her fingers around a thick, solid calf, ready to pull him to safety.
The foot shot out of her grasp straight toward her, connecting with her gut and hip hard enough all the air she'd been holding escaped in a sudden rush. An instant later, stars formed in front of her eyes.
Her only goal was to get to the surface as quickly as possible, but her arms wouldn't move. The only thing keeping her from dragging in a lungful of water was she'd been winded hard enough nothing seemed to work.
The stars were fading from bright white points to dark black holes before she summoned every remaining bit of strength, kicking frantically toward the shimmering surface of the water.
Her head broke free. She hauled in a breath through the pain. Gasping sounds echoed in her ears even as other noises registered. Someone else was coughing and sputtering.
Tamara twisted to the right to discover her missing man had made it to the surface. Thank God. She was grateful and cautious. Panicky stranger close by in the water? Not what she wanted to deal with when she could barely breathe herself.
She lay back and floated, keeping a watchful eye on the dark-haired blur. He was far enough away she could fend him off if he headed her way and tried to take her down.
It hurt to take a deep enough breath to speak. "You okay?" she forced out shakily.
A string of growled curses mixed with spitting and sputtering floated back to her.
Well, then.
Maybe he was embarrassed at having to be saved, but it was too cold to stay in the pool and deal with the jackass. She headed toward the shore where it would be an easy walk out of the water instead of a climb. No way was she attempting that rock face without her glasses.
"What the hell were you doing?" His question came from a few feet away as she stumbled to vertical, the water up to her waist.
Tamara turned to face him, hands rising to her hips. "Saving your ass? By the way, you're welcome."
"Hauling me under water when I don't expect it is saving my ass?" He took a step closer, his voice going even softer.
Screw this. Tamara retreated farther up the shore. "You're hypothermic enough to be delusional. You fell and didn't come up. You were stuck in the rocks, and I pulled you out."
She slowed her pace, squinting toward the ground to follow the smoothest path to keep from stumbling. Dammit, why didn't she wear contacts instead of glasses?
The grumpy bastard didn't respond, just stepped past her. That wasn't as much fun as it might've been considering she was nearsighted enough that once he'd moved more than a few paces ahead of her, his naked butt was nothing but a spectacular blur.
By the time she made it to the top of the rock, he had his jeans on and was jamming his feet into his boots. They still hadn't exchanged more than a dozen angry words.
Fine. She'd put on her glasses and take a good look at the guy so she'd know which ungrateful jerk to avoid in the future.
"Your shoes are over here," he grumbled, stepping toward the edge of the rocks.
"Be careful. My—"
She couldn't see it happen, but there was nothing wrong with her ears. Breaking glass had a distinctive sound.
He swore again. "Why the hell did you leave your glasses on the ground?"
That was the last straw. Tamara saw red.
All her resolutions to watch her temper, and all her great intentions to keep a new slate shiny clean here in Heart Falls, burned away under the weight of instant pissed-off.
"You ever say thank you for anything? Also, you ever consider that when things go wrong, maybe it's not someone else's fault?" As she spoke she stepped toward him, anger shoving away the cold. She snatched the tangled remains of her glasses from his fingers, and took one final step so she was close enough to look him in the face as she delivered her closing retort. "Maybe it's you."
His dark eyes burned as he stared back, square jaw set in stone. A trickle of water ran from his hair down his cheek, catching on the rough stubble on his chin. Straight nose, far too sensual lips for a man. It was a familiar face, and not one she could possibly avoid in the future.
Because it was him. Caleb Stone, him.
AKA, her new boss.
Fuck my life.
Leave A Reply