Today we are flashing back to Whirlpool, the second book in the Forces of Nature series.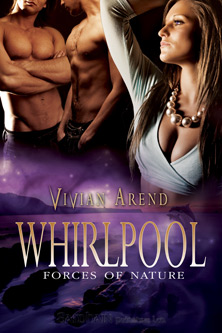 Title: Whirlpool
Heroine: Chelsea – Merfolk female stuck in her hometown when her college plans fall through. Despite her attraction to the human Jamie, she is head-over-heels for fellow merfolk Braden, and determine to make him hers.
Hero: Braden – Local merfolk sheriff who lusts after Chelsea, but is convinced he can't have her. Getting to share her with Jamie is the icing on the cake.
Jamie – Human archaeologist who knows nothing of the merfolk, but finds himself instantly attracted to Chelsea, AND the town sheriff.
Tidbit: Ahhh, so many cool memories about this story. The two that really come to mind are that I remember contacting a friend writer who'd written books with archaeology in them, to check some details. Turns out she's not just a great writer, but the head of an actual archaeological department at a big university. Having someone THAT knowledgeable help me out was so fabulous.
And the other cool thing about Whirlpool was it was the first book I wrote with boy touching in it. Yes, this is a mmf story, which is simply what the characters and settings called for. I loved writing it, and I'm very glad that I got to introduce readers to my sexy sexy merfolk. 😉
Here is one of my favorite quotes: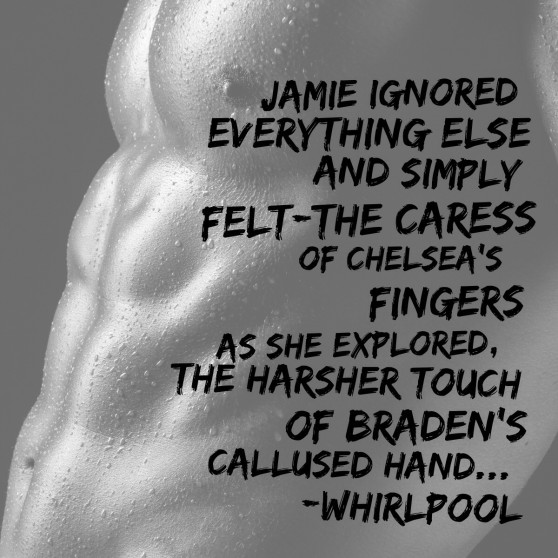 Buy Links:
Amazon | Barnes & Noble | Kobo | Samhain | Apple
Nowadays there is lot of unforeseen circumstance which force people to take remedies. You can order medicines directly your office. In these latter days the stock you can find in online pharmacy is actually high. Some medications are as a rule used to treat many types of bacteria, such as tonsillitis and infections of the throat. Other ones are used to treat diabetes. Cialis is a remedy used to treat divers afflictions. What do you have to know about cialis order online? Presently many families search for the exact keyword ordering cialis online on the Internet. Perhaps you already read something about it. Having erectile disfunction can beyond doubt complicate romance. What can cause erectile malfunction? A row of psychological issues can produce erectile malfunction. What should you discuss with a physician before taking Cialis? Any curing may cause dangerous side effects. Sometimes side effects can be actually dangerous. Talk to your pharmacist about the proper disposal of your drug.
Leave A Reply