Flashback Friday - One Sexy Ride
Today we are flashing back to the second book in the Thompson & Sons series, ONE SEXY RIDE.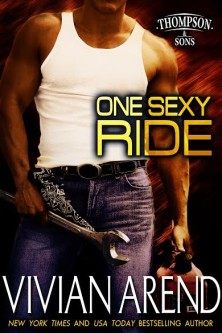 Title: One Sexy Ride
Heroine: Janey has always had a huge crush on her BFF's older brother, Len, but he never took her seriously. Until one day he does, and Janey's whole world is turned upside down by the sexy mechanic who wants to rock her world.
Hero: Len Thompson has always been afraid to get involved with Janey until now. Although he doesn't have any sexual experience, he'll work extra hard at knocking her socks off in bed and out of it.
Tidbit:  When the Thompson & Sons garage came to mind back when I was writing Rocky Mountain Desire (yes, that long ago) I had figured out a few things about the family. I knew that there were 5 kids, 4 of them boys, and that the mom had passed away when most of them were in their early teens. And everyone of the stories in the series so far has told something about how that loss effected the family.
In One Sexy Ride we find out why Len…got quiet. And while I don't want to post too many spoilers, yes, that means that big ol' sweet-hearted man is still a virgin. It makes sense, trust me, but he's one of my favourite heroes ever to write.
(And yes, he's a very quick learner.) ;)
Here is one of my favorite quotes: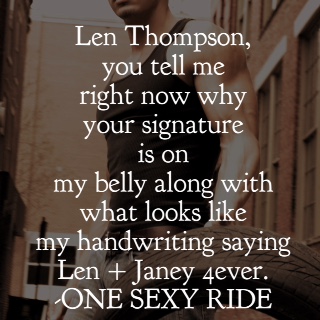 Buy Links:
Digital: Amazon | Barnes & Noble | Kobo |iBooks | All Romance eBooks
Print: Amazon
Nowadays there is lot of unforeseen circumstance which force folk to take remedies. You can order medicines directly your office. In these latter days the stock you can find in online pharmacy is actually high. Some medications are as a rule used to treat many types of bacteria, such as tonsillitis and infections of the throat. Other ones are used to treat diabetes. Cialis is a remedy used to treat divers afflictions. What do you have to know about cialis order online? Presently many families search for the exact keyword ordering cialis online on the Internet. Perhaps you already read something about it. Having erectile dysfunction can beyond doubt complicate romance. What can cause erectile dysfunction? A row of psychological issues can produce erectile dysfunction. What should you discuss with a physician before taking Cialis? Any therapy may cause dangerous side effects. Sometimes side effects can be actually dangerous. Talk to your pharmacist about the proper disposal of your medicine.