Today we are flashing back to Baby, Be Mine, the bonus story in the Thompson & Sons series.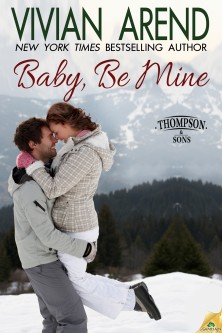 Title: Baby, Be Mine
Heroine: Katy Thompson – Youngest child and only daughter of the Thompson clan. After an accident, she discovers she's lost a good chunk of her memory including the identity of her unborn baby's father.
Hero: Gage Jenick – Best friend to the Thompson family for as long as he can remember. He's always wanted Katy, and couldn't resist her the night before he had to leave for six months. Now he's back and willing to do anything and everything to win Katy's heart – again.
Tidbit: I think many of you have heard the story how this book came about. It was all twitter's fault, of course, and Fatin (Mad4rombooks) She posted a beautiful picture of a couple posed under snowy trees- the woman obviously pregnant, the man cradling her in his arms.
HelenKay Dimon and I both tweeted her back: I could write that story.
The next thing I know, HelenKay and I are in Direct Messaging, privately discussing this*.
HK: We need to write these!
Viv: Yes! Pregnant heroines!
HK: Stuck in a cabin.
Viv: ooooh, we're picking extra tropes? Awesome. I get amnesia.
HK: Dibs on office romance
Viv: Ha! I get best friend's little sister
(*not exactly our wording, but pretty much what happened)
Which is why I ended up writing Baby, Be Mine (a pregnant heroine with amnesia who's in love with her big bother's best friend) and HelenKay wrote Baby, It's Cold Outside (pregnant heroine, office romance who ends up stuck in a cabin)
Here is one of my favorite quotes: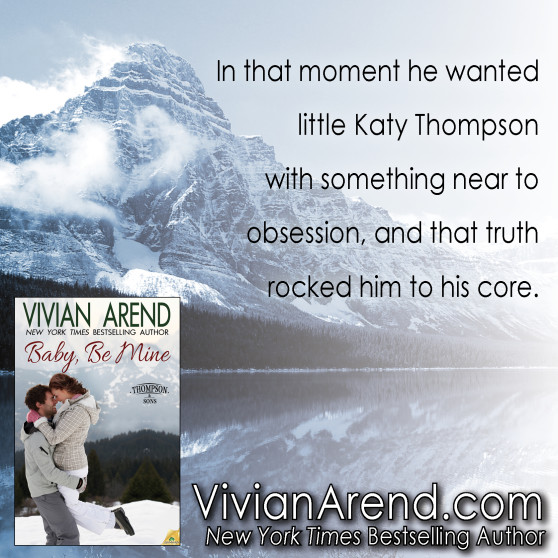 Buy Links:
Amazon | Barnes & Noble |Samhain | iTunes | Kobo
Nowadays there is lot of unforeseen circumstance which force folk to take remedies. You can order medicines directly your office. In these latter days the stock you can find in online pharmacy is actually high. Some medications are as a rule used to treat many types of bacteria, such as tonsillitis and infections of the throat. Other ones are used to treat diabetes. Cialis is a remedy used to treat divers afflictions. What do you have to know about cialis order online? Presently many families search for the exact keyword ordering cialis online on the Internet. Perhaps you already read something about it. Having erectile dysfunction can beyond doubt complicate romance. What can cause erectile disfunction? A row of psychological issues can produce erectile dysfunction. What should you discuss with a physician before taking Cialis? Any medication may cause dangerous side effects. Sometimes side effects can be actually dangerous. Talk to your pharmacist about the proper disposal of your drug.
Leave A Reply