First Line Friday: Turn it On
Love to read about big and loud families mixed in with a little suspense? Then you must read TURN IT ON!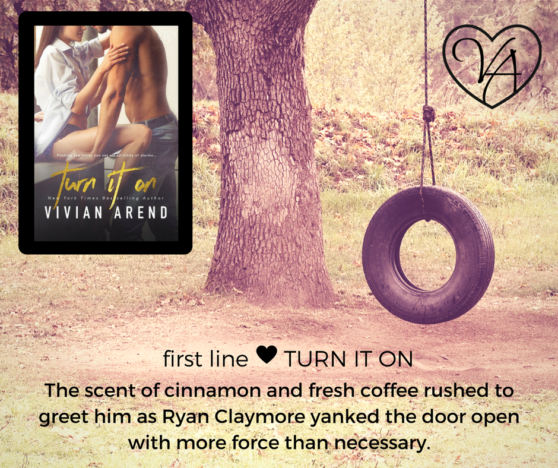 Chapter One

The scent of cinnamon and fresh coffee rushed to greet him as Ryan Claymore yanked the door open with more force than necessary. It might be the most talked-about coffee shop in the county, but it was hard to find, and only minutes remained until his meeting was scheduled to begin.

"What can I get you, darling? Other than a black coffee, dark and strong?" His attention swung to the petite package of a woman hovering behind the counter.

He smiled in spite of himself. "Do I seem the plain, dark-coffee type?"

She nodded, a bright smile crossing her face. "You don't seem the fussy double-double soy-no-foam yada-yada-yada kind, that's for sure." She poured him a cup the size of a small soup tureen and winked at him. "I think today's special might be your type as well." She bustled off before he could stop her.

Ryan surveyed the room while he waited. Cozy little tables filled all the available space, and there were few empty chairs in the crowded room. He glanced around, searching for his appointment. There was a lone male in a business suit in the far corner who looked in his direction, and Ryan nodded briefly at him.

A redhead seated alone at the front of the shop caught his eye, her long legs stretched into the aisle as she sipped from a steaming cup and stared out the window. Hmm, now she was something he could go for. Something a little exotic, a little spicy. Her dark sweater hugged her full curves and he reluctantly pulled his gaze away.

Business first. Pleasure whenever he found time for it, which lately seemed to be never. Since returning stateside six months ago on emergency family leave, his life had turned upside down. Retiring his commission and setting up a security installation firm seemed the best way to regain some of the control that had been wrested from him, but the constant demands were beginning to drag him down. A cup of coffee, a quick discussion of his website and advertising needs with Max Turner, and there might be time to catch up on a few tasks at his apartment before heading to the nursing home to visit his brother.

He turned back to the counter to see the waitress holding out a pair of the largest cookies he'd seen in his life.

"Gingersnap? Today's special. Sweet, crisp with just a touch of spice." She pushed the plate at him and gave him little opportunity to refuse. "Go on, you know you want it."

The spicy scent rose to his nose like a beacon. "Thank you. I'll drop these off and come back to pay."

She shook her head. "No need. You're meeting Max Turner, aren't you? Everything is taken care of, you go ahead and enjoy yourself." She beamed at him for a moment before turning to greet the next customer.

Balancing his load carefully, he headed toward the empty chair by the single male. He extended a hand in greeting. "Ryan Claymore."

The man looked around in confusion before answering. "Jim Mitchell. Do you need a place to sit?"

What the hell? Max had paid for the coffee, where was the man?
Ryan glanced back at the counter to see the waitress shake her head. She held up a hand and motioned in an exaggerated manner toward the front of the shop, silently mouthing "Max is there." She pointed at the redhead, who stood to greet him, her laughing eyes showing her amusement.

Ryan hid his own grin. Bring it on. This was the best thing to happen to him in days.
Purchase
Digital: Amazon US | Amazon UK | Amazon CA | Barnes & Noble | Kobo | iBooks US | iBooks UK | iBooks CA | GooglePlay
Print: Amazon | CreateSpace