First Line Friday: All Fired Up
Looking for a sexy romance this weekend? ALL FIRED UP should be next on your reading list!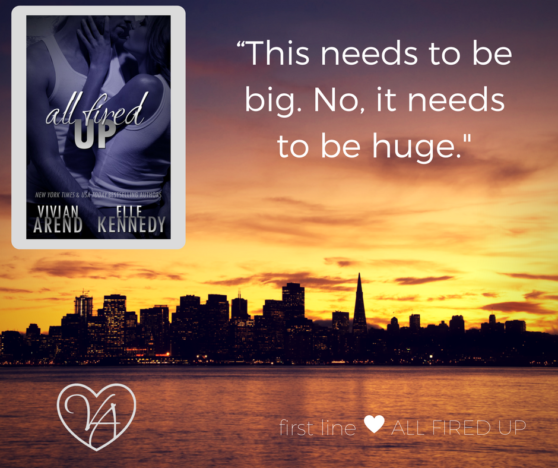 "This needs to be big. No, it needs to be huge. I'm talking flowers and candles and sunset helicopter rides and—whatever the hell it is you people do. If she says no, I'll… I don't know what I'll do. She has to say yes. She has to. Got it?"

The grade-A douchebag on the black leather couch crossed his arms over the front of his tailored suit jacket, his cobalt-blue eyes daring the two men across from him to challenge his final remark.

From their respective armchairs, Parker Wilson and Dean Colter exchanged a brief glance. In the three years DreamMakers Inc. had been in business, Parker and his colleagues had met with a lot of asshole boyfriends, but Parker could honestly say Phil Shotelle was one of the worst. From the moment the sharply dressed executive had sauntered into their office, Parker had been attempting to hide his disdain for the dark-haired man. Something about Shotelle rubbed him the wrong way. Probably the air of self-entitled importance the dude exuded in spades.

Dean, whose poker face was most definitely lacking, addressed their client with an unmistakable smirk. "You seem mighty worried your lady is gonna turn down the proposal. Any trouble in paradise we need to be aware of?"

Phil's expression clouded over. "No," he said in a tight voice. "Our relationship is rock-solid—and, frankly, none of your concern. I'm hiring you to plan a fantasy date, not to play therapist."

Parker leaned back in his chair and tried not to grin. Clearly Dean had hit the nail right on the head—there was trouble in paradise, and the panicky glint that kept flashing in Phil's eyes confirmed it.

But the douchebag was correct. DreamMakers didn't provide counseling services, or matchmaking. The business had been designed to help clueless men plan the most romantic dates that said clueless men weren't able to conceive of on their own—a job a battle-hardened soldier like Parker would never have imagined himself doing, not in a million years.

After his stint in the Rangers, he'd figured he'd wind up working security or taking an instructor gig on one of the army's training bases. Instead, he'd founded DreamMakers with two of his fellow Special Ops soldiers, and somehow their little operation had transformed into a booming business, offering a service that was in surprisingly high demand in the San Francisco area.

Unfortunately, the influx of clientele meant jerks like Phil Shotelle were bound to cross their path.

"All right, why don't you tell us a bit about your girlfriend?" Parker said in his most diplomatic voice, all the while fighting the urge to kick their new client right out of the office.

Phil shifted awkwardly on the sofa. "What do you want to know?"

"Her name would be a good start." Dean's tone was laced with humor.

"Ah, right. It's Lynn. Her name is Lynn Davidson."

"Okay. And what does Lynn do?"

"She works at the Bay City Press. We both do. I'm the junior vice president of advertising. She does the layouts for the paper." Phil's lips curled in a sneer. "She's declined three opportunities for promotion in the last two years."

Parker didn't miss the note of scorn. In fact, he didn't sense an ounce of love or warmth coming from the guy in relation to the woman he was going to propose to.
Purchase
Digital: AMAZON US | AMAZON UK | AMAZON CA | BARNES & NOBLE | KOBO | IBOOKS US | IBOOKS UK | IBOOKS CA | ALL ROMANCE EBOOKS
Print: AMAZON | CREATESPACE
Nowadays there is lot of unforeseen circumstance which force people to take remedies. You can order medicines directly your office. In these latter days the stock you can find in online pharmacy is actually high. Some medications are as a rule used to treat many types of bacteria, such as tonsillitis and infections of the throat. Other ones are used to treat diabetes. Cialis is a remedy used to treat divers afflictions. What do you have to know about cialis order online? Presently many families search for the exact keyword ordering cialis online on the Internet. Perhaps you already read something about it. Having erectile dysfunction can beyond doubt complicate romance. What can cause erectile dysfunction? A row of psychological issues can produce erectile dysfunction. What should you discuss with a physician before taking Cialis? Any medication may cause dangerous side effects. Sometimes side effects can be actually dangerous. Talk to your pharmacist about the proper disposal of your drug.