Do you love fated shifters? How about quick novellas? If so, you must read WOLF SIGNS, the first in the Granite Lake Wolves seres.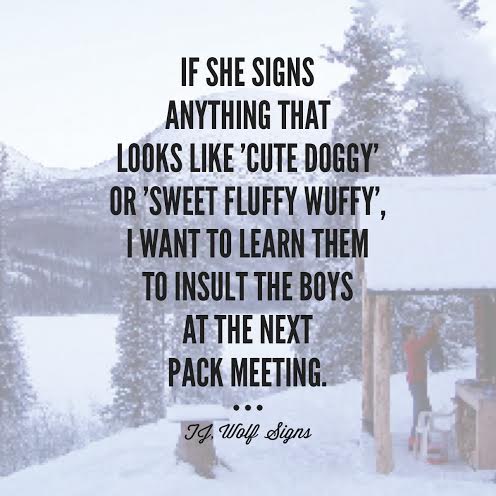 "All right, don't get your fur in a knot. I'll shift, but you keep an eye on her. If she signs anything that looks like 'cute doggy' or 'sweet fluffy wuffy', I want to learn them to insult the boys at the next pack meeting."
Robyn raised her eyebrow.
"Stop it with the Spock look, Robyn, that seriously freaks me out. I keep expecting to see you grow pointy ears and hear you announce, 'But this is not logical.'" TJ continued rambling as he dropped his clothes and stood naked in the middle of the cabin. He waggled his eyebrows at her and she blushed.
"Get on with it before I apply the Vulcan death grip to you, little brother." Keil spoke through clenched teeth.
TJ shimmered and there were two images overlapping each other, another shimmer and there was a large silver grey wolf sitting on its haunches in front of them. Robyn tensed. Keil watched her rise from the chair, eyes wide with wonder. She stood for the longest time and simply stared, her breathing rapid, face flushed. He was ready to take her arm to reassure her when she dropped to her knees and reached out in slow motion to brush the fur on TJ's head and neck.
After a few strokes of her hand, TJ rolled over to his back and tilted his neck up. A surge of pleasure raced through Keil's veins at the sight. His brother, while not always the sharpest knife in the drawer, was a physically strong wolf. TJ didn't give instant obeisance to just anyone. Another indicator that the woman kneeling by Keil's feet was going to be a powerful addition in his life.
TJ shifted back and Robyn was caught stroking her hand down his naked chest.
"Damn!" Robyn shouted and shot away from TJ, backing into the door.

Purchase
Amazon US | Amazon UK | Amazon CA | Barnes & Noble | Kobo | GooglePlay | iBooks US | iBooks UK | iBooks CA | All Romance eBooks
Nowadays there is lot of unforeseen circumstance which force people to take remedies. You can order medicines directly your office. In these latter days the stock you can find in online pharmacy is actually high. Some medications are as a rule used to treat many types of bacteria, such as tonsillitis and infections of the throat. Other ones are used to treat diabetes. Cialis is a remedy used to treat divers afflictions. What do you have to know about cialis order online? Presently many families search for the exact keyword ordering cialis online on the Internet. Perhaps you already read something about it. Having erectile disfunction can beyond doubt complicate romance. What can cause erectile disfunction? A row of psychological issues can produce erectile malfunction. What should you discuss with a physician before taking Cialis? Any curing may cause dangerous side effects. Sometimes side effects can be actually dangerous. Talk to your pharmacist about the proper disposal of your drug.
Leave A Reply