Feature Friday: Rocky Mountain Heat
Start the Six pack Ranch Series with ROCKY MOUNTAIN HEAT. Download your copy for FREE!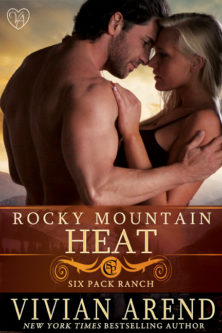 Jaxi was so busy passing food bowls she missed his question. Jesse nudged her in the ribs, and she turned to discover Blake's storm-grey eyes staring at her. Jesse's fingers lingered on her side, and she pinched his wrist to prompt him to withdraw them.

Jesse was fun, but Blake…he made her body ache.

"Are you still working for the doctor and his wife?" Blake asked again.

Mike cleared his throat. "Actually, Jaxi's got a new job." All heads swung toward the end of the table.

"She'll be my helper for the next bit." Marion made a face at her arm before glancing up and putting on what Jaxi was coming to recognize as her make-the-best-of-it expression—something midway between a grimace and a grin. "Doctor's orders are that I have a nursemaid, and if I have to have one, she's my first choice."

Joel leaned over and whispered as he scooped another spoonful of stew onto her plate. "You'd be my first choice as well. Wanna play doctor with me later?"

Jaxi hid her laugh behind a cough. She had to cool the twins off and fast if her plan to catch Blake's attention was going to work. She looked across to see Blake's eyes darken as his gaze flicked between her and where Joel's elbow rested on her chair.

Interesting. A tiny flicker of feminine intuition trembled with hope.

Marion told Daniel about the compound fracture of her arm and how long the cast needed to stay on and all the details he'd missed while trapped in the tractor hauling bales. Jaxi enjoyed her supper, taking time to lick every drop of the savoury stew from her fork, listening to the easy conversation about what needed to be accomplished in the fields the following day and what animals had to be transferred where.

She watched each of the faces around her in turn to see what their reaction was to the announcement she would be in their hair for the next while. Travis gave her his usual smoldering stare, the one that made her wonder if he was still attracted to her, in spite of everything else that had gone south between them. Daniel and Matt seemed pleased to have her around, in their typical non-threatening and non-sexual way. The twins—well, they were a little too delighted by her presence, but she'd already suspected she'd have to nip any plans of theirs in the bud.
Purchase:
Digital: iBooks US | iBooks UK | iBooks CA  | Barnes & Noble | Kobo |  GooglePlay | Scribd  |  Amazon US | Amazon UK | Amazon CA
Audio: Amazon | Barnes & Noble | Tantor | iTunes