Feature Friday: Rocky Mountain Haven
Read along with the Six Pack Ranch Series with ROCKY MOUNTAIN HAVEN, book two.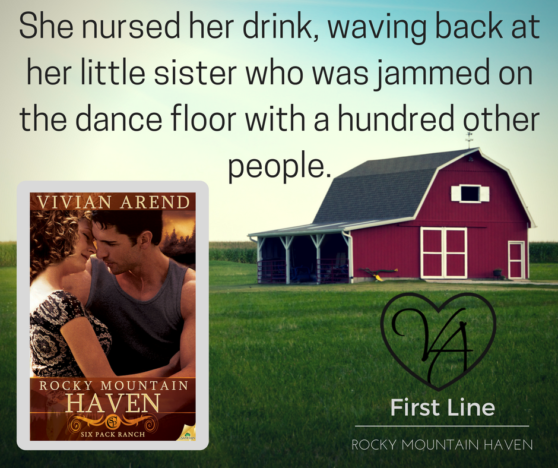 Calgary, Alberta, July
She nursed her drink, waving back at her little sister who was jammed on the dance floor with a hundred other people. Beth tried not to peek at her watch again, instead checking out the myriad faces under the cowboy hats around her. She'd never seen so many boots and buckles in her life. Another round of Yahoos rose into the air from a few well-lubricated throats.
While she appreciated Darleen's attempt at cheering her up and—how had she put it?—"pulling her back to the land of the living", the bar scene had never been her thing.
It definitely wasn't tonight.
One song ended, melding into another ear-shattering rendition of someone done somebody wrong, and Beth held the cool glass of her drink against her temple in the hopes it would slow the throbbing.
"There she is. Hey, Beth, look what I found on the dance floor!" Dar approached the table like a runaway train, dragging not one but two cowboys by the hand. "They're identical twins," she shouted with glee.
Beth raised a brow. They certainly were, from the tops of their Stetsons, past the mischievous grins and the tight faded jeans to the worn shitkickers.
"Well done. Now you need a wandering gypsy and the arctic explorer, and you'll win the scavenger hunt." She offered a hand to the first of the gorgeous specimens. "Beth."
A warm hand clasped her fingers and gave a firm shake while a pair of piercing blue eyes gazed into hers. "Jesse Coleman, that's my brother Joel. I can't help you with an arctic explorer but I might know where there's a gypsy or two."
Beth laughed. "Sorry, but Darleen is a little enthusiastic at times. I'm attempting to keep her centered in reality."
He rearranged a chair and sat in it backward, his mouth-watering smile growing warmer. She sipped her drink. He was hot and kind of cute, but too young for her. Way too young.
"You dancing tonight, Beth, or just exercising your imagination?" Jesse asked. His admiring gaze caused physical reactions she'd missed for far too long. Maybe it was time to spread her wings again. She forced herself to take a slow perusal of his body before smiling her approval. His eyes darkened with interest.
That was the kind of response she needed to see.
"Beth doesn't dance since the accident," Darleen piped up before she could answer for herself. "Oops. Sorry, sis. Shut mouth, throw away key."
Beth found both the boys staring and resisted to urge to sigh in exasperation. It's not as if she had planned on keeping it a secret.
She leaned back in her chair and hauled out her leg with its thick supporting brace. "I dance just fine, Darleen, only I take up more room than is available on the floor. You go ahead, I'll watch."
The other twin spoke, adjusting the chairs until there was enough space for them all. "I'm happy to sit for a while. It's been a long day, and the dancing's pretty much worn me out."
Darleen rested on the arm of Joel's chair, her body leaning toward him. Beth coughed then glanced away. Her sister was grown up and could make her own decisions, but she didn't want to be in the know about any specific sexual escapades. From the looks Joel was bestowing on Dar, the potential for something to happen was high.
Besides, Beth had her own agenda tonight, and perhaps the young hotshot seated next to her would be a willing volunteer in her research project. She sipped her drink and checked inwardly to see if she'd had enough to alcohol yet to loosen her inhibitions.
Purchase
Digital: Amazon US | Amazon UK | Amazon CA | Barnes & Noble  | Samhain | Kobo | iBooks US | iBooks UK | iBooks CA | GooglePlay | Scribd
Print: Amazon | Barnes & Noble | Book Depository | Booksamillion | Powells | Samhain
Audio: Amazon | Barnes & Noble | Tantor | iTunes
Nowadays there is lot of unforeseen circumstance which force humanity to take remedies. You can order medicines directly your office. In these latter days the stock you can find in online pharmacy is actually high. Some medications are as a rule used to treat many types of bacteria, such as tonsillitis and infections of the throat. Other ones are used to treat diabetes. Cialis is a remedy used to treat divers afflictions. What do you have to know about cialis order online? Presently many families search for the exact keyword ordering cialis online on the Internet. Perhaps you already read something about it. Having erectile dysfunction can beyond doubt complicate romance. What can cause erectile dysfunction? A row of psychological issues can produce erectile dysfunction. What should you discuss with a physician before taking Cialis? Any medication may cause dangerous side effects. Sometimes side effects can be actually dangerous. Talk to your pharmacist about the proper disposal of your drug.