The Extreme Adventures series is being re-released with sexy new covers! This series is the first adventure romance series I wrote, but these are a lot sexier than the Adventure: Search and Rescue series. If you like skiing, climbing, and smokin' hot romance, these are the books for you!
Falling, Freestyle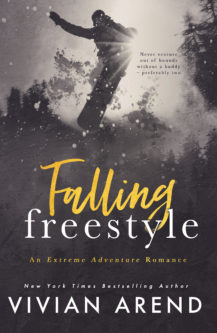 Never venture out of bounds without a buddy—preferably two.
Dara's past four incredible years have been lived to the fullest. Along with her best friends, Kane and Jack, she's left no local wilderness unexplored, no ski slope unchallenged. Yet lately she wonders why they've never seen her as more than a buddy with breasts. When—or if—either man will cross that unspoken line.
It's a line Kane eyes harder every day. Since high school, he and Jack have shared everything. A condo, vacations—and their best girl. Kane's ready to get serious about his wilderness school and outfitter business, and that includes putting down roots. Preferably with Dara.
Wary of the men who've recently been sniffing around Dara, Jack has a growing sense that he or Kane better make a move soon, or they're going to lose out on their perfect match. Question is, who does she prefer…and who's going to bring their easygoing trio to an end?
Overhearing the boys arguing over her, Dara's floored—and torn. Choose between them? No way. Drastic measures are called for, a plan for their annual holiday getaway that will clarify her feelings once and for all—or lose everything in a sexual storm of whiteout proportions.
Previously published in 2010.
Pre-Order: Kobo, iBooks US, iBooks UK, iBooks CA, Barnes & Noble, Amazon US, Amazon UK, Amazon CA
Rising, Freestyle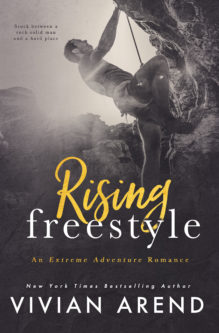 Stuck between a rock-solid man and a hard place…
Melanie Dixon's body may have recovered from a horrific climbing accident, but her nerve is long gone. So is the natural enthusiasm for life she took for granted. Tired of being scared, beyond ready to conquer her fears, she pulls up stakes and moves to her brother's new hometown to start over. Her first step is the most terrifying—to tackle the wall at the local climbing center.
Derrick James is mesmerized by Melanie's dark beauty, and equally impressed with her climbing abilities and determination. Watching her re-tune rusty skills spurs a desire to partner with her—on and off the ropes. Melanie's a compelling mix of wit, sensuality and vulnerability, and it's his delicious task to convince her the scars on her body are no match for the heat rising between them.
Then a man from Melanie's past shows up, pushing their relationship to the edge. Nathan King wants photographs for a "where are they now" series, but his side agenda is more personal in nature. A proposal that brings her out of her sensual shell and onto a precarious sexual ledge. Where trust is crucial…and too easily shattered.
Previously published in 2011.
Pre-Order: Kobo, iBooks US, iBooks UK, iBooks CA, Barnes & Noble, Amazon US, Amazon UK, Amazon CA
Leave A Reply