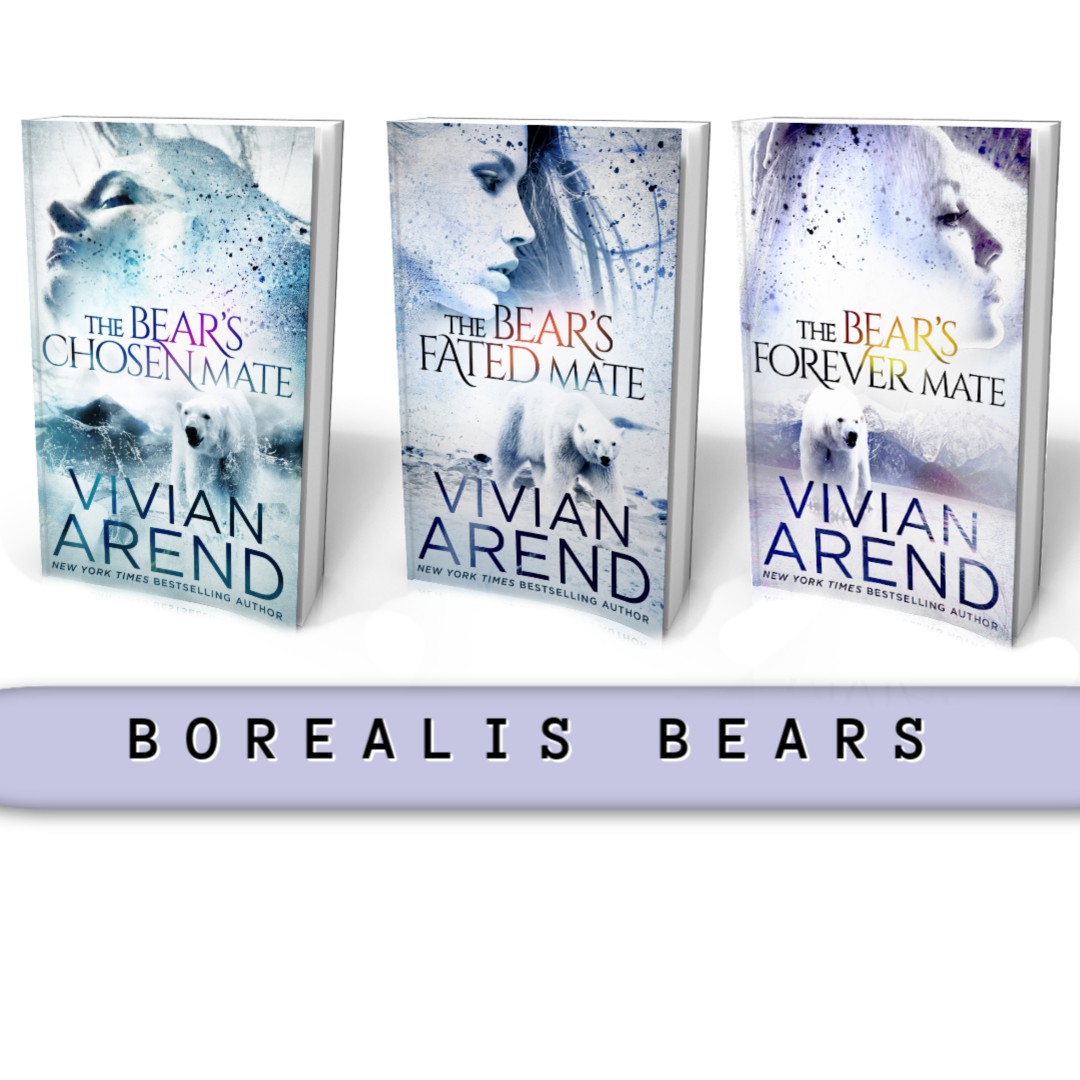 While I adore writing the Heart Falls contemporary western series—and I have more of them coming!—I wanted the WOW fun of writing a paranormal series once again.
So I did! I'm very, very excited to tell you about them.
The trilogy is Borealis Bears. I think I mentioned this idea in passing once before, and at that time we were tossing around a different series title that involved shifters and matches, but this is simpler to remember!
Book 1 will be out in August, book 2 in November, and book 3 in February. And to make it even simpler, the entire series is ready for preorder, beginning with The Bear's Chosen Mate, August 20!
Excited? Here's what's in store. I hope you enjoy these sexy shifters as they deal with their interfering grandpa, and fate, best they can!
Welcome to the BOREALIS BEARS trilogy
Get mated—or else! 
When their meddling, match-making family patriarch lays down the law, Giles Borealis' three polar bear shifter grandsons agree to follow his edict. Only James, Alex and Cooper each have a vastly different plan in mind to deal with their impending mating fevers.
Will any of them be able to fight fate?
Spoiler: not likely!
 ~*~*~*~*~*~*~*~*~*~*~**~*~*~*~
From the Desk of Giles Borealis, Sr.
DATE: March 21
TO:
Cooper Borealis
Alex Borealis
James Borealis
My dearest grandsons,
Before the year is done, I'll celebrate my eighty-fifth birthday. I know you're all eager to find me the perfect present. I have to say up until now, you're the best presents I could ever have gotten. You've grown up smart and strong, with real business savvy and enough cutthroat ambition to make me proud. Borealis Gems is thriving because of you.
You're also the most pigheaded and obstinate jackasses I've ever had to deal with.
Telling me you want to focus on business and that finding a mate can wait sounds impressive, but we all know that's a load of crock. It's damn-well time you got your butts in gear. I want to hold my great-grandbabies before I die, a sentiment your grandmother fully endorses, as do your parents—even though they're out of the country at the moment.
Stubborn fools that you are, for years on end you've resisted the mating fever when it's hit. Enough of that nonsense.
There are nine months until my birthday. That's how long you have to pick a mate, boys, or come New Year's Eve, I'll arrange to sell my shares of Borealis Gems to Midnight Inc., and none of us want that, do we, now?
When mating fever hits this time around, you decide. You can make an old man happy, (and your grandmother—don't forget Nana!) take full ownership of a multibillion-dollar corporation, and have the time of your life with a forever mate…or you can throw it all away. Your choice.
Don't make it a stupid one.
Regards,
Your long-suffering grandfather,
Giles Borealis, Sr.
---
Pre-Order THE BEAR'S CHOSEN MATE today!
US:  Kobo ♥ Amazon ♥ Nook ♥ Apple Books
UK: Kobo ♥ Amazon ♥ Apple Books
Canada:  Kobo ♥ Amazon ♥ Apple Books
Leave A Reply