A WILD RIDE Release Day!
Today is the release day for A WILD RIDE, the final book in the Thompson & Sons series.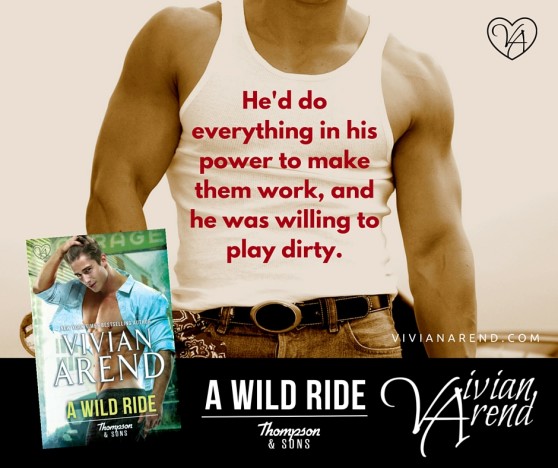 Digital: Amazon US | Amazon UK |Amazon CA | Barnes & Noble |Kobo | iBooks US | iBooks UK |iBooks CA | All Romance eBooks |GooglePlay
Print: Amazon
~~**~~
He's the golden boy with a secret past 

When Nicole Adams abruptly cancels their secret fling, Troy Thompson is stunned. The sex between them is sizzling, but she's ready to move on—find a reliable guy, settle down, pop out a few babies. The thought of Nic in another man's arms is maddening. And while her agenda freaks him out, Troy knows there's no one in town nearly good enough for her. No one, that is, except him. 

She's his redemption and his future 

Nicole doesn't regret her sexual romp with Troy, but when he insists on taking the next step with her—marriage and parenthood—she figures he's out of his goddamned mind. Troy? Husband and daddy material? Oh, he's sexy beyond belief, with the ability to melt her panties with a single command, but the man's not known for being responsible. Trying for forever with Mr. Frivolous? Everyone thinks it's a fool's game.

Everyone except Troy, who's determined to make Nicole see the real him under the shiny exterior.
~~**~~
Excerpt:
He'd brought her across the wide-open room with the hardwood floor to where an old boom box sat on the counter, a more modern docking station beside it. Troy plugged his phone into the power, hit the playlist he'd prepped that afternoon, and as slow music swirled around them, he caught her in his arms and pulled her against him.
The evening had worked out well, at least relatively. But that sense of frustration remained that he knew he'd have to deal with at some point.
Why was someone like Chase an acceptable prospect for Nic, when he wasn't?
It was hard to stay annoyed, though, with Nic moving against him, her fingers threaded into the hair at the back of his head. A gentle hum escaped her lips as she accompanied the music.
They were more than comfortable together, passion rising as her breasts rubbed his chest. Troy stepped one leg between hers as he pressed a hand against her lower back, keeping their bodies in full contact.
She offered her approval. "It's not our first date anymore."
"Technically, it is," he teased.
Nic dropped her forehead against his chest then sighed dramatically. "Mean and nasty, that's what you are, Troy Thompson."
"Never," he swore. He tapped his fingers under her chin and tilted her head back until he could get at her lips, brushing their mouths together softly before kissing her.
The country music playing in the background was accompanied by the soft shuffle of their feet over the wooden boards as they kept dancing while they kissed. Languid and lazy at first, Troy tasted her, soaked the flavour and feel of her into his very system.
As always, that faint flutter of attraction he constantly felt around her roared up to full-out desire between one breath and the next. His body hardened, and he pulled back to look into her eyes.
Deep-green pools of desire reflected back at him.
~~**~~
Digital: Amazon US | Amazon UK |Amazon CA | Barnes & Noble |Kobo | iBooks US | iBooks UK |iBooks CA | All Romance eBooks |GooglePlay
Print: Amazon
Nowadays there is lot of unforeseen circumstance which force humanity to take remedies. You can order medicines directly your office. In these latter days the stock you can find in online pharmacy is actually high. Some medications are as a rule used to treat many types of bacteria, such as tonsillitis and infections of the throat. Other ones are used to treat diabetes. Cialis is a remedy used to treat divers afflictions. What do you have to know about cialis order online? Presently many families search for the exact keyword ordering cialis online on the Internet. Perhaps you already read something about it. Having erectile dysfunction can beyond doubt complicate romance. What can cause erectile disfunction? A row of psychological issues can produce erectile disfunction. What should you discuss with a physician before taking Cialis? Any medication may cause dangerous side effects. Sometimes side effects can be actually dangerous. Talk to your pharmacist about the proper disposal of your drug.