We're closing in on the release day of ROCKY MOUNTAIN DEVIL, and to make sure you're caught up on the Six Pack Ranch series, we're going to go through the books that lead up to the new story. ROCKY MOUNTAIN DEVIL can be read alone, but it's better for being a part of the whole!
This week: A WILD RIDE, Thompson & Sons #5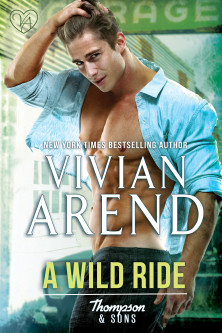 Blurb:
He's the golden boy with a secret past 
When Nicole Adams abruptly cancels their secret fling, Troy Thompson is stunned. The sex between them is sizzling, but she's ready to move on—find a reliable guy, settle down, pop out a few babies. The thought of Nic in another man's arms is maddening. And while her agenda freaks him out, Troy knows there's no one in town nearly good enough for her. No one, that is, except him. 
She's his redemption and his future 
Nicole doesn't regret her sexual romp with Troy, but when he insists on taking the next step with her—marriage and parenthood—she figures he's out of his goddamned mind. Troy? Husband and daddy material? Oh, he's sexy beyond belief, with the ability to melt her panties with a single command, but the man's not known for being responsible. Trying for forever with Mr. Frivolous? Everyone thinks it's a fool's game.
Everyone except Troy, who's determined to make Nicole see the real him under the shiny exterior.
Excerpt:
Troy forgave his best friend for all past sins then followed Nicole into the surprisingly empty kitchen.
 She pulled a couple beers out of the ice bucket on the counter before turning toward him. Her eyes widened. She opened her mouth then slammed it shut.
 He grinned. Didn't say anything, just grinned.
Her glare returned. The deadly one he enjoyed so much.
"Troy." Icy cold and controlled. Tight, like a rock shot from a sling.
"Nicole." He lowered his voice and made it sound as if they were in the bedroom, one step away from him sinking into her heat.
"Troy." She glanced around before fisting her hands on her hips. "Stop that."
He chuckled. "Are you sure?"
Her breathing grew heavier, rising anger bringing a rosy flush to her cheeks. Her cherry-red lips curled into a pout. "Do you mind? I'm on a date."
Troy laid a hand over his chest. "Really?"
"Don't be a jerk."
"I'm not." He hesitated then offered a sheepish smile. "Okay, I'm totally being one, but are you serious? That's the best you can do?"
"He's…sweet."
For fuck's sake. His amusement faded and that lingering annoyance was back with a vengeance. "You hate sweet. You chew up sweet and spit it out like year-old Peeps you found in the back of the cupboard."
"You're so annoying," she muttered.
"You're making my brain hurt, Nic," he drawled. "You want to date, I get that. But I thought you wanted kids. I don't understand why you're not looking for guys who have testosterone in their system. Did he slip something in your drink that shorted your brain?"
"Some guys are intellectually exciting," Nic insisted. She turned her back on him, pausing to pour one beer into a glass.
"God, seriously? That's for the loser, isn't it?"
"Darrell said he likes the way a good beer tastes out of a glass."
"Seriously? Even I know that's nothing like a good beer."
She bit down on her lip, but he still noticed her snicker.
Only she pulled herself together then calmly ordered him to take a hike. "Go away, Troy."
He hated seeing her like this. Hated how fake it all seemed, and how absolutely bored to tears she was.
This wasn't Nic, and suddenly that was the breaking point. If she'd been having a good time, maybe he would have backed off, but he'd be damned if he'd watch her bury her energy and enthusiasm in some mistaken variation of Dr. Jekyll and Mr. Hyde.
She needed a Come to Jesus moment, and Troy looked forward to preaching to her very much.
Purchase:
Digital: Amazon US | Amazon UK | Amazon CA | Barnes & Noble | Kobo | iBooks US | iBooks UK | iBooks CA | All Romance eBooks | GooglePlay
Print: Amazon | CreateSpace
Audio: Audible | Amazon | iTunes
Nowadays there is lot of unforeseen circumstance which force men to take remedies. You can order medicines directly your office. In these latter days the stock you can find in online pharmacy is actually high. Some medications are as a rule used to treat many types of bacteria, such as tonsillitis and infections of the throat. Other ones are used to treat diabetes. Cialis is a remedy used to treat divers afflictions. What do you have to know about cialis order online? Presently many families search for the exact keyword ordering cialis online on the Internet. Perhaps you already read something about it. Having erectile disfunction can beyond doubt complicate romance. What can cause erectile malfunction? A row of psychological issues can produce erectile dysfunction. What should you discuss with a physician before taking Cialis? Any curing may cause dangerous side effects. Sometimes side effects can be actually dangerous. Talk to your pharmacist about the proper disposal of your remedy.
Leave A Reply