HIGH RISK will be out in just over two weeks. You ready for Becki and Marcus?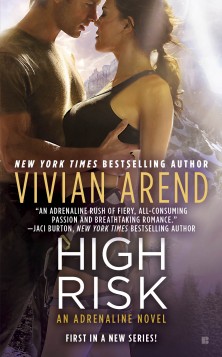 LIFELINE: an elite search-and-rescue squad based out of Banff, Alberta. Specializing in high-risk rescue missions, this team goes wherever the job takes them…

Rebecca James was once revered for her devil-may-care attitude and backcountry survival skills. But ever since she lost her partner in a fatal accident, patches of her memory have been missing. And until she can recall those final, tragic moments before the accident, she can't move on.
Since Marcus Landers was permanently injured during a mission, all his energies have been focused on his Lifeline team. When Becki—whom he had an intense affair with seven years ago—arrives in Banff, he's inspired to reignite the spark they once had. Their mutual ardor slowly awakens Becki's dormant, haunting memories.
New truths surface until Becki must at last confront her greatest fear. Remembering the past might mean a future without the man she loves…
~~**~~
She set one foot on the railing and stretched as she waited, wondering again if her instinctive urge to blurt the first thing she thought of would ever lessen.

Asking Marcus to join her? Fine—they had years to catch up on. They hadn't had much of a relationship before he'd disappeared, and even casual acquaintances could enjoy a spur-of-the-moment workout. A get to know you better outing.

But join her on a run?

She'd have to stop the post-training images from distracting her. The ones where he stripped off his shirt as they stretched, the slick of sweat on his skin highlighting his muscles. He had aged well. She wanted to know if his abdomen was still rock solid, and if when he pressed his body over hers if he'd be able to hold her trapped with one hand—

And that was exactly where this wasn't supposed to go.

~~**~~
Berkley is sponsoring a giveaway over at Goodreads. If you haven't entered yet, you have until Feb 20. Check HERE. (US only, sorry)
I'll keep you posted with other opportunities and the start of the blog tour at the end of the month!
Digital: Amazon | Barnes & Noble | iTunes
Mass Market Paperback: Amazon | Barnes & Noble | Book Depository  | Booksamillion | Powells
Nowadays there is lot of unforeseen circumstance which force humanity to take remedies. You can order medicines directly your office. In these latter days the stock you can find in online pharmacy is actually high. Some medications are as a rule used to treat many types of bacteria, such as tonsillitis and infections of the throat. Other ones are used to treat diabetes. Cialis is a remedy used to treat divers afflictions. What do you have to know about cialis order online? Presently many families search for the exact keyword ordering cialis online on the Internet. Perhaps you already read something about it. Having erectile disfunction can beyond doubt complicate romance. What can cause erectile disfunction? A row of psychological issues can produce erectile dysfunction. What should you discuss with a physician before taking Cialis? Any medication may cause dangerous side effects. Sometimes side effects can be actually dangerous. Talk to your pharmacist about the proper disposal of your drug.
Leave A Reply