Since I'm actually traveling today I thought some pictures of my destination, Las Vegas, would be appropriate.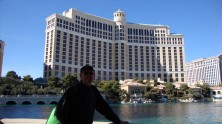 You know, I'd never thought of Vegas as a getaway spot I'd enjoy. The entire family is much more into the wilderness and roughing it, and what I'd seen in movies and TV didn't thrill me.
Then we took a trip to all the National Parks in Utah (pictures another time) and since we were close, we extended the holiday and pulled the camper into Vegas for a couple nights. We parked at Circus Circus then walked the strip.
Seriously? It was SO MUCH FUN. Because while I love the wilderness, I also love people watching, and oh boy, can you ever people watch in Vegas!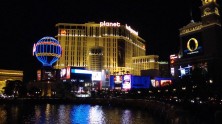 Also, while there are ton of ways to spend money, Vegas can be very inexpensive. The amount of free entertainment was incredible, and just walking through hotels like the Venitian and see the gondolas, or the wonderful gardens in the Bellagio added such fun to the entire event. So much fun that the next year hubby and I popped on a plane and did a return trip. And now I'm off to meet my friends for a couple days of R&R and to participate in  the book signing  on Saturday night.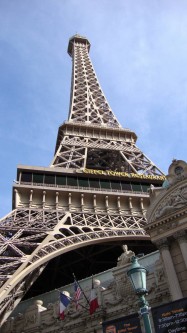 One fun story about Vegas–neither my hubby or I are much of gamblers. We work hard for our money and we like to make sure we squeeze every bit of fun from it possible, and simply tossing it away grambling didn't strike us as 'fun.' But we did figure out that if you play the slots, and use the penny machines, and only one of us played and the other watched, we could spend a little money and have fun for a decent amount of time.
Plus, we're competitive. **rubs hands together** What can I say? We both like to win! So the deal was we each got $10 to spend in the casino. The goal was to be the one who managed to make it last the longest. Also, because of our tightwad tendencies, we decided that if the amount on the machine doubled? We had to cash out and let the other person take over wherever they wanted to play.
We found a machine called Wolf Run, which made both us laugh since the wolfies are such a big part of my writing career, so it was deemed fate and I HAD to play it. To make a long story shorter–I had that sucker up to $20 in no time. Hubby took over and did the same.
Our winnings weren't tons, but we played for a few hours, used the extra cash to buy dinner–the entire night was a blast. I think we're the only people I know who left Vegas dead even.
Nowadays there is lot of unforeseen circumstance which force people to take remedies. You can order medicines directly your office. In these latter days the stock you can find in online pharmacy is actually high. Some medications are as a rule used to treat many types of bacteria, such as tonsillitis and infections of the throat. Other ones are used to treat diabetes. Cialis is a remedy used to treat divers afflictions. What do you have to know about cialis order online? Presently many families search for the exact keyword ordering cialis online on the Internet. Perhaps you already read something about it. Having erectile dysfunction can beyond doubt complicate romance. What can cause erectile malfunction? A row of psychological issues can produce erectile disfunction. What should you discuss with a physician before taking Cialis? Any medication may cause dangerous side effects. Sometimes side effects can be actually dangerous. Talk to your pharmacist about the proper disposal of your drug.
Leave A Reply