It's time for a vacation. A getaway from it all. An exotic location–and here's where I have troubles, because what I think is exotic isn't to many others. Ah well. Here's a snippet for you from Stormchild- book 1 in the Pacific Passion series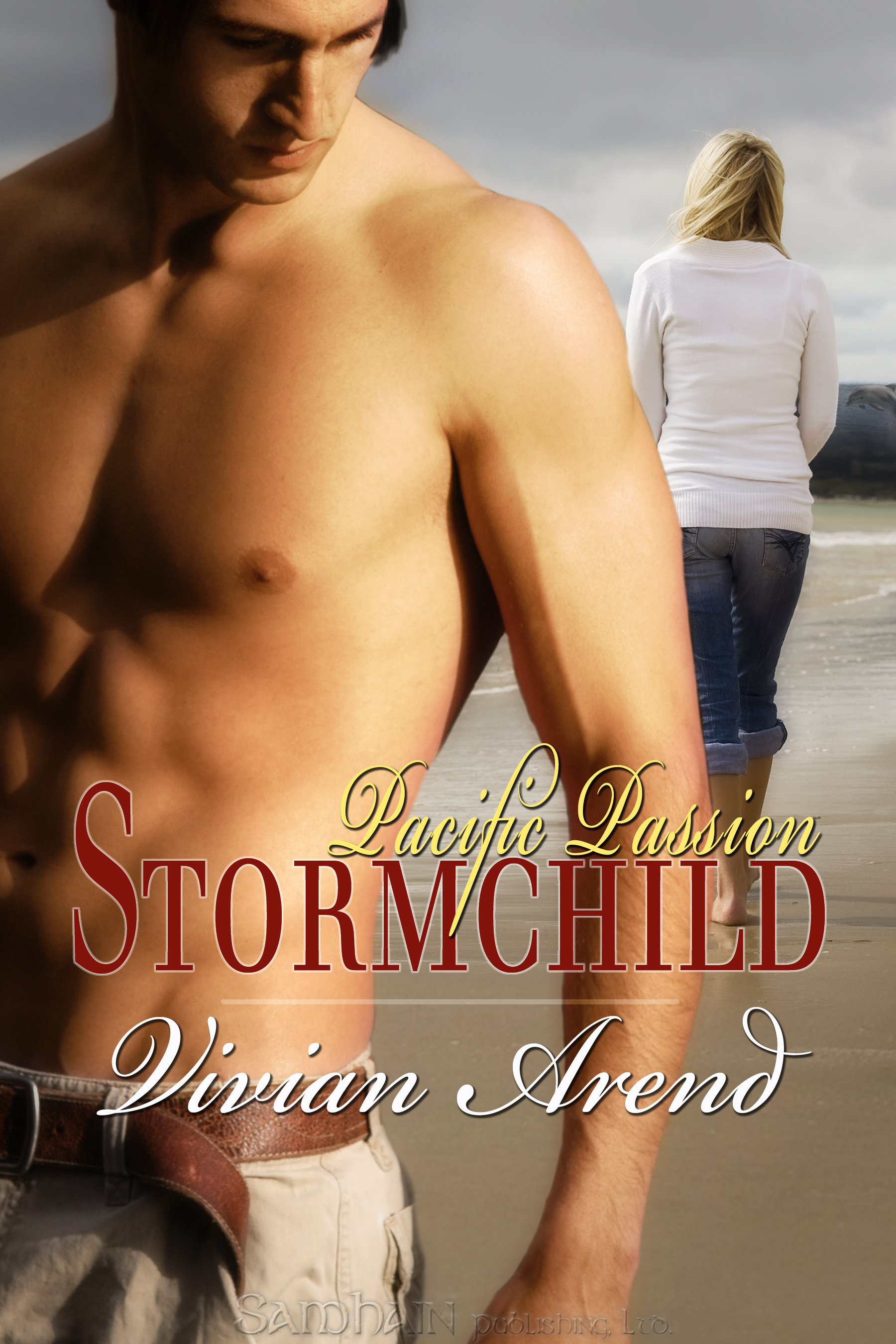 These elements have no desire to be tamed…
As the new traveling doctor for the Pacific Inside Passage settlements, Matthew Jentry balances dual roles for his water-shifter people—caring for their health as a human-trained physician, and for their spiritual needs as a shaman.
Distractions of the female kind are not on his agenda, but his magical bloodline makes him a target for every marriage-minded woman within range. There's something about the mysterious Laurin Marshall, though, that he finds far too enticing. It's just as well that it's time for him to move on.
Laurin thought she had perfected her guise as a mild-mannered teacher, but the sexual fireworks she and Matt touch off are threatening to blow her cover out of the water. Luckily it's time for her to catch the boat to her next assignment.
When she discovers she'll be sailing with Matt, she realizes there's only one thing more dangerous than their unforgettable one-night stand—being trapped with him on a boat that gives "riding out the storm" a whole new meaning…
Warning: Contains strong sexual currents and powerful waves of desire that break down inhibitions. Recommended only for those able to navigate through extremely steamy situations, on land and at sea.
~~~
Laurin skimmed the water's surface where she'd last seen the dolphin rise. She headed for the nearby shore, back-winging inches above the sand before resuming her human form. The wind lessoned here in the lee of the hillside, but the night air and the rain chilled her naked skin. She wrapped her arms around her torso to fight the cold.
Staring over the ocean, she wondered how Matt would respond to her being an air shifter. The sound of his cry as she'd leapt into the air reverberated in her head—he hadn't wanted her to go. The temptation to stay wrapped in his arms puzzled her, almost as much as the need she felt to physically join with him.
She'd never needed someone this desperately before in her life. Her whole body itched to have him back. She wanted to hear his gentle laugh, and to feel again the way he stroked his knuckles over her skin. Oh damn, what was the matter with her? Less than twenty-four hours had passed and she ached to be in his presence.
Her rain-soaked hair hung in tangled ropes over her face, water pouring in rivulets down her back. A deep sense of peace warmed her heart as his head broke the surface of the water.
Long firm strides brought him quickly to her side. His naked skin glowed in the pale moonlight that snuck through a short break in the clouds. Around them the storm raged in gusts, whipping her hair around her head. She lifted her hands to clutch it back and he took advantage of the moment to step closer, pressing their bodies together.
"Air shifter."
She smiled into his twinkling eyes. "Shaman."
A shiver traced her skin. He wrapped himself around her, their lips meeting, tongues tangling. Heat built between them, driving the night away. Their skin, slick with the rain and the ocean's salt water, slid together easily as he lifted her into his embrace. She wrapped her legs around his waist, her arms over his shoulders, mouths never separating.
Need swept through her, her breasts tingling where they pressed tightly against his firm chest. She linked her fingers into his hair and tugged until he released her lips. They both sucked in air.
"Damn it, I am so paddling your ass for not telling me sooner," he growled.
Laurin's heart skipped a beat at the erotic pictures that flashed through her mind. A tingling sensation settled heavily between her legs and she ground her crotch on his rock-hard abdomen. Matt groaned and dropped his head on her shoulder for a second. He took a deep breath then spoke, barely audible above the crash of the waves on the shore. "You've got to stop. I don't know how or why, but for the last five hours I've fucking seen everything you imagine doing sexually with me."
The heat pulsing in her veins egged her on. "I'd think you'd love it."
He broke into a laugh and cradled her against his body. Quick steps carried them toward the tree line. "Hell yeah, but it's making this whole situation even harder to figure out. Come on. Let's find shelter."
~~~
Stromchild is available at Amazon, Books on Board , MB&M
~~~
Now travel off to more adventures with these great authors.
Jody Wallace, Mari Carr, McKenna Jeffries, Taige Crenshaw, Emma Petersen, HelenKay Dimon, Shelley Munro, TJ Michaels, Ashley Ladd
Nowadays there is lot of unforeseen circumstance which force people to take remedies. You can order medicines directly your office. In these latter days the stock you can find in online pharmacy is actually high. Some medications are as a rule used to treat many types of bacteria, such as tonsillitis and infections of the throat. Other ones are used to treat diabetes. Cialis is a remedy used to treat divers afflictions. What do you have to know about cialis order online? Presently many families search for the exact keyword ordering cialis online on the Internet. Perhaps you already read something about it. Having erectile disfunction can beyond doubt complicate romance. What can cause erectile dysfunction? A row of psychological issues can produce erectile malfunction. What should you discuss with a physician before taking Cialis? Any medication may cause dangerous side effects. Sometimes side effects can be actually dangerous. Talk to your pharmacist about the proper disposal of your remedy.
Leave A Reply