We're closing in on the next book in the Six Pack Ranch series, and to make sure you're caught up, we're going to go through the books that lead up to the new story. Rocky Mountain Shelter can be read alone, but it's better for being a part of the whole!
This week: ROCKY RETREAT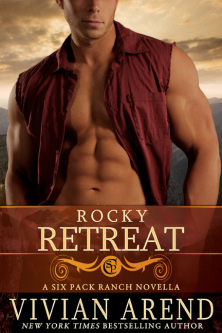 Finding white-hot love in a white-out…

Eight months ago, Lee Coleman met the woman of his dreams…then lost her to another man. He buried his disappointment by throwing himself into work on the family ranch, but when a winter storm leaves him stranded, Lee finds more than shelter in the rustic safety of a hunter's cabin—he finds a second shot at love.

Rachel Malone's heart has been broken and stomped on by her cheating ex, and she's determined to never fall in love again. But a rebound fling? Doesn't sound like such a bad idea, especially when she's snowed-in with a gorgeous, sweet-talking Coleman.

Despite their off-the-charts chemistry, Lee makes it clear he wants more than a temporary romp. In fact, he's made it his mission to put a smile back on her face, even if it means taking it slow and resisting the scorching heat between them. This time around, he wants forever, while Rachel is positive that forever is a fool's dream.

Lee can't wait to prove her wrong…
Excerpt
Rachel turned again, bumping into his solid chest, and Lee caught her before she could bounce back and hit the floor. She tilted her head up to thank him—both for now and for the support he'd shown—when she caught a glimpse of his eyes.
The unsettled sensation in her belly shifted two steps to the right and twisted until she would have sworn there were butterflies twirling inside her. Lee slid his hand upward from where he'd grabbed her arms, moving ever so slowly until one big hand cupped her cheek. He swept his thumb in a gentle caress over her skin as something very much not sympathy but far more flammable rose between them.
She should say something. She should pull away.
Both options were impossible. Her feet were pinned to the floor as her gaze dropped so she could admire his lips, his jaw, his everything.
"It's good to hear you laugh," he whispered.
"I haven't had much to laugh about," she replied.
He didn't carry on, and that was what caused her final defeat. If he would've kept talking, she could have focused on what a shit her ex-husband had been. Instead silence fell, or such silence that was possible in the cabin with the storm raging outside, a fire raging in, and all kinds of emotions raging through her. All of them combined into a bank of noise and confusion, and Rachel couldn't decide what to do.
What she should do next, that is. What she wanted to do? Lean forward until their bodies connected. Wrap her arms around him, hell, wrap her legs around him. For one night she wanted to let go of the emotion she'd locked down tight—for one night she would love to set it free. Just like the storm dumping everything it had in twenty-four hours, in one hour she could rid herself of so many things.
That's when she realized they were touching. She'd shifted and brought them in contact, her breasts pressed against a wall of muscle.
His fingers shook against her skin. "Rachel, honey, you don't want to do this."
Oh, no, she really did. "Why not?"
His eyes flashed hotter, and the subtle change in his body stance proved her suggestion had made an impact.
"There's only one bed," she pointed out.
His lips twitched. "If you think I'm going to fuck you simply because there's only one bed and we have to share it, you need to know I have a little more willpower than that."
"Don't you want me?"
Lee dragged in a deep breath as Rachel wished she could smack herself in the head for being so forward. And then she didn't give a damn because this was what she wanted.
"No one is twisting my arm. No one is making me proposition you. I've been so cold inside," she confessed, "and this is the first time in a long time I've felt anything. Anything other than pain."
Lee shook his head. "You know I care about you, and giving Gary hell for what he did to you is high on my agenda, but—"
"But, what?" she demanded. "You think you're in charge of what I want? Thanks, but I had someone try that with me, and it didn't turn out so good."
She tossed caution to the wind and slid her palms up his chest, feeling his hardness sink against her belly, and a flash of fire turned the pain inside to passion. She really didn't want to miss a chance to erase some of what she'd felt at Gary's betrayal.
"Rach—"
She didn't let him finish, just pressed their lips together. If she had to be the aggressor, so be it.
Not three seconds after they made contact, she was no longer in charge. He'd lifted her in the air so he could kiss her better, that hand at the back of her head holding her exactly right so he could ravish her mouth. Teeth, tongue, lips. He used them all with devastating effectiveness as he kissed her, and kissed her, and kissed her some more until she was lightheaded and not caring one single bit.
When he pulled back, she paused, lingering in the moment between her need to gasp for air and the urgent desire to dive back in for another round. Time stood still as she stared into his face and tried to analyze what he felt.
Desire was there—that much was powerfully clear. He didn't attempt to hide his sexual attraction.
Yet with a level of control far from how he'd kissed her, he placed her back on the ground, stepping away after she caught her balance. His eyes had gone dark, his breathing unsteady. "Make no mistake, Rachel, I want you. I've wanted you for a long time, and I don't just mean in bed. But this isn't how we're going to start anything."
Purchase
Nowadays there is lot of unforeseen circumstance which force men to take remedies. You can order medicines directly your office. In these latter days the stock you can find in online pharmacy is actually high. Some medications are as a rule used to treat many types of bacteria, such as tonsillitis and infections of the throat. Other ones are used to treat diabetes. Cialis is a remedy used to treat divers afflictions. What do you have to know about cialis order online? Presently many families search for the exact keyword ordering cialis online on the Internet. Perhaps you already read something about it. Having erectile disfunction can beyond doubt complicate romance. What can cause erectile dysfunction? A row of psychological issues can produce erectile disfunction. What should you discuss with a physician before taking Cialis? Any medication may cause dangerous side effects. Sometimes side effects can be actually dangerous. Talk to your pharmacist about the proper disposal of your drug.
Leave A Reply