Today is the release day of A Firefighter's Christmas Gift! I hope that you pick up your copy of Brad & Hanna.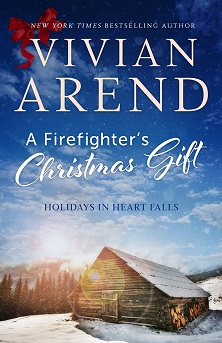 This firefighter has the perfect gift for a single mom and her little girl—if they'll take him.
All Bradley Ford wants this holiday season is a date or three with sweet Hanna Lane. He's the new fire chief, recently returned to Heart Falls to help his father after an accident. And while he wasn't expecting to find someone like Hanna so soon, Brad's certain that Hanna—and her adorable daughter, Crissy—are perfect for him and his plans to settle down.
Hanna's been taking care of herself since she became a single mom at sixteen. The only pure, honest love she trusts is her little girl's, but for the first time in eight years, her libido flares to life. Something about Brad draws her like a moth to a flame—which is always a bad idea for the moth.
When a fire leaves Hanna and Crissy homeless, Brad offers them shelter at his family's homestead. Crissy insists they've moved in with Santa. Hanna's not sure how she keeps ending up under the mistletoe with Brad. And Brad? He's hoping for the best Christmas gift of all…
---
Excerpt:
Brad tucked away the leftovers before joining Hanna at the sink. "Crissy is doing well."
Hanna moved the washcloth over the plate slowly, her chin dipping. "She talks about Mr. Patrick all the time. That's why I thought it would work for us to be here for a while. It should make it easier for her."
"Well, then, I'm glad we can help out." Only he'd been watching closely, and she was still washing the same plate she'd been on when he stepped to her side. He pulled it out of her hands and placed it in the drying rack before tugging her to face him. "And how are you doing?"
She was fighting to keep from crying, that much was clear. He just stood there and waited for a sign of what she wanted.
Hanna took a shaky breath, swallowed hard then opened her mouth to hesitantly ask, "Can I have a hug?"
Oh God. "Of course, sugar."
It was different than when she'd surprised him in the office. Then her hug had been fierce and determined, as if the motion had exploded out of her nearly the same way as his invitation to stay with them. Unlike that one, this embrace wasn't about giving, but getting.
Hanna leaned into him, and he cradled her against him. He kept his touch innocent, offering his strength. They stood there for a good five minutes, her cheek turned so her ear pressed hard against his chest, her arms wrapped around him clinging tight as if she weren't ready to stand on her own two feet yet.
She'd done enough standing on her own in the last twenty-four hours as far as he was concerned.
---
Purchase:
US
UK
Canada
Leave A Reply