Nick Blackthorn's World Tour (Love's Rhythm by Lexxie Couper)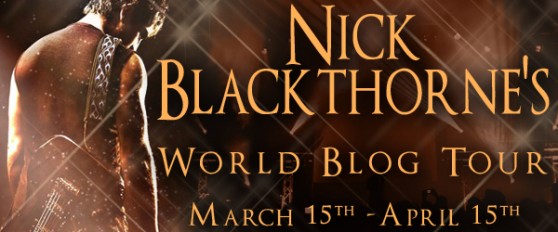 I'm happy to welcome my sweet friend from Down Under to the blog. Lexxie Couper is taking her incredible hero on a WORLD TOUR, and this is the eighth stop. She's given us an exclusive excerpt PLUS a line from Nick's International Number One bestseller, Night Whispers. (You need that line for a special contest!!)
From Lexxie:
If you're not sure what Nick Blackthorne's World Blog Tour is, check out contest details here at Lexxie Couper's blog  There are prizes galore including right here! To be in the running to win an ebook from Lexxie's backlist make sure to leave a comment or ask Lexxie (or Nick) a question. A winner will be announced at the end of the day.
~~**~~
His music moves the world. Can his love move her heart?
Nick Blackthorne knows all about words of love. They're the reason he's the world's biggest rock star. The irony? He turned his back on love a long time ago, lured away by the trappings of fame.
An invitation to a friend's wedding is a stark reminder of how meaningless his life has become. When he enters that church, there's only one woman he wants on his arm—the one he walked out on a lifetime ago. But first he has to find her, even if all she accepts from him is an apology.
Kindergarten teacher Lauren Robbins once had what every woman on the planet desires. Nick. Their passion was explosive, their romance the stuff of songs…and it took fifteen years to get over him. Then out of the blue Nick turns up at her door, and all those years denying her ache for him are shattered with a single, smoldering kiss.
But molten passion can't hide the secret she's kept for all these years. Because it's not just her heart on the line anymore…and not just her life that'll be rocked by the revelation.
Warning   Remember your first crush on a rock star? Now add smoldering sex, a raw and undeniable passion, soul-shattering orgasms. And secrets… 
~~**~~
With a snort and a shake of his head, Nick shoved his pyjama trousers down over his hips. The black silk pooled at his feet and he kicked the garment aside and shoved his legs in his jeans without bothering with boxers. He tugged up the zip, buttoned the fly and it hit him. A simple sentence on a simple rhythm.

I'll hold you till you let me.

He straightened, the line whispering through his head again, but this time, there were more. So many more. Words on a rhythm. Words he couldn't ignore. He ran to his overnight bag, dug around in its contents, the words not just whispering to him now, but singing. Singing.

I'll hold you till you let me.

And then plead for time…

"Yes!" he shouted, finding what he was looking for. A pen. His notebook.

He spun to the bed, dropped to his knees and opened the book, uncaring that it wasn't to the newest clean page. It didn't matter. The words, he needed to get the words down.

I'll hold you till you let me.

And then plead for time

To let you know I'm sorry

To make you mine.

I never should have left you

Never should have caused you pain.

But in the hearts of fools and men

Love will come undone again.

I can't promise no tears

But I promise utter truth

And in that truth I'll show you how

I'll hold you for all time.

My heart, I give you mine today

Today.

My heart, I give you mine today

Today.

The words flowed from him, coming so fast his hand could barely form them. He scratched out notes, indicated inflections, pace, but it was the words that made him burn. The words that spoke of his soul.

They kept coming. Verse followed by chorus. Chorus followed by bridge. Bridge followed by verse and back to bridge again.

Words that promised. Words that sang.

An outpouring beyond constraint.

He saw the music and heard the words, writing it all down, notes and rests marked on a hastily drawn staff, key signatures indicated, time signature likewise. A song called "Today".

He was still writing, his knees beyond numb, his hand beginning to cramp, when the door to his room opened and his bodyguard stepped across the threshold.
~~**~~
~~**~~
Nice, eh? Things you might not know about Nick–he's also in the series that I got to work on with Lexxie–Bandicoot Cove. He's got a cameo in PARADISE FOUND and a staring role in TROPICAL SIN.
And that missing line of text you need? It's April Fools. I have to make you work for it. It's RIGHT here on the blog page, RIGHT in recent posts, RIGHT before your very eyes. *wink* find it? If you didn't you can use the contact button to ask me the answer, but I bet you CAN find it! lol
Nowadays there is lot of unforeseen circumstance which force men to take remedies. You can order medicines directly your office. In these latter days the stock you can find in online pharmacy is actually high. Some medications are as a rule used to treat many types of bacteria, such as tonsillitis and infections of the throat. Other ones are used to treat diabetes. Cialis is a remedy used to treat divers afflictions. What do you have to know about cialis order online? Presently many families search for the exact keyword ordering cialis online on the Internet. Perhaps you already read something about it. Having erectile disfunction can beyond doubt complicate romance. What can cause erectile malfunction? A row of psychological issues can produce erectile dysfunction. What should you discuss with a physician before taking Cialis? Any treatment may cause dangerous side effects. Sometimes side effects can be actually dangerous. Talk to your pharmacist about the proper disposal of your drug.