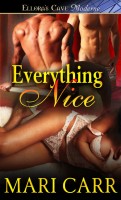 Everything Nice by Mari Carr
Charlie's wants Allie. Allie and Alex want each other—and Charlie. But does Charlie want Alex? Plunging headfirst into a ménage is one way to find out…
After Alex confesses to Allie that he wants both her and his best friend, Charlie, in his bed, Allie skips town like a thief in the night. Now, six years later, Allie is back in their lives, all grown up and more alluring than ever. What starts as a night of three friends catching up turns into intimate explorations in Charlie's truck…and Alex's shower…and his king-size bed…
While Alex and Allie are thrilled with the threesome, Charlie struggles with the idea of sharing Allie, and with his new found feelings for his best friend. A hot encounter at the office—with Alex bent over his desk—only confuses Charlie further. It's up to Alex and Allie to convince him that two plus one can equal love.
Reader Advisory: Everything Nice, a sequel to Sugar and Spice, offers intense scenes of male-on-male sex and heart-stopping ménage. The meek need not apply.
————-
This scorcher of a book is also very sweet. I love the relationships between the characters, and it's a possible HEA menage. I like that. I love Mari's writing, and this is my favorite of her books to date. It's available today from Ellora's Cave.

Nowadays there is lot of unforeseen circumstance which force folk to take remedies. You can order medicines directly your office. In these latter days the stock you can find in online pharmacy is actually high. Some medications are as a rule used to treat many types of bacteria, such as tonsillitis and infections of the throat. Other ones are used to treat diabetes. Cialis is a remedy used to treat divers afflictions. What do you have to know about cialis order online? Presently many families search for the exact keyword ordering cialis online on the Internet. Perhaps you already read something about it. Having erectile disfunction can beyond doubt complicate romance. What can cause erectile malfunction? A row of psychological issues can produce erectile dysfunction. What should you discuss with a physician before taking Cialis? Any curing may cause dangerous side effects. Sometimes side effects can be actually dangerous. Talk to your pharmacist about the proper disposal of your medicine.
Leave A Reply