New Print Release!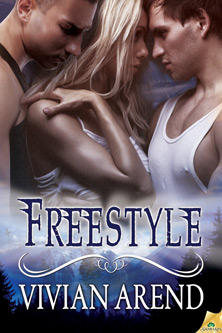 Today marks the 7th print book for me–with most of my books being digital first, sometimes these releases slip past with little fanfare, but there are still a lot of print only readers, so I wanted to share.
This anthology is a nice introduction to some of my more action-style books. The anthology contains two category length stories-one menage and one not menage. (Trust me…it works)
Also–it's on sale at Samhain for 30% off this week only.
Freestyle
Xtreme Adventures,
Print Anthology
In extreme conditions, keep your friends close. Real close…
Falling…
Along with her two best friends, Dara's left no local wilderness unexplored, no ski slope unchallenged. Yet lately she wonders why they've never seen her as more than a buddy with breasts.
Both Kane and Jack are ready to settle down, preferably with Dara. Except neither man is willing to bring their easygoing trio to an end.
Dara is torn. Choose between them? No way. Drastic measures are called for, a plan for their annual holiday getaway that will clarify her feelings once and for all—or lose everything in a sexual storm of whiteout proportions.
Rising…
Ready to conquer her fears after a horrific climbing accident, Melanie takes the first, terrifying step—to tackle the wall at the local climbing center.
Derrick, watching her retune rusty skills, would like to partner with her—on and off the ropes. Now to convince her the scars on her body are no match for the heat rising between them.
Then another man arrives on the scene with a proposal that will bring her out of her sensual shell and onto a precarious sexual ledge. Where trust is crucial…and too easily shattered.
Warning: This book may cause heart-pounding, body-shaking adrenaline attacks—and that's before they leave the climbing gym. Contains blindfolds, bondage, spanking, healthy doses of exhibitionism and voyeurism, and unauthorized use of ski safety harnesses.
Read an Excerpt
Excerpt of Falling, Freestyle: First Chapter
Excerpt of Rising, Freestyle: First Chapter
~~**~~
BUY IT NOW
Amazon | Barnes & Noble | Book Depository | Booksamillion |Powells
Nowadays there is lot of unforeseen circumstance which force folk to take remedies. You can order medicines directly your office. In these latter days the stock you can find in online pharmacy is actually high. Some medications are as a rule used to treat many types of bacteria, such as tonsillitis and infections of the throat. Other ones are used to treat diabetes. Cialis is a remedy used to treat divers afflictions. What do you have to know about cialis order online? Presently many families search for the exact keyword ordering cialis online on the Internet. Perhaps you already read something about it. Having erectile dysfunction can beyond doubt complicate romance. What can cause erectile malfunction? A row of psychological issues can produce erectile disfunction. What should you discuss with a physician before taking Cialis? Any medication may cause dangerous side effects. Sometimes side effects can be actually dangerous. Talk to your pharmacist about the proper disposal of your remedy.