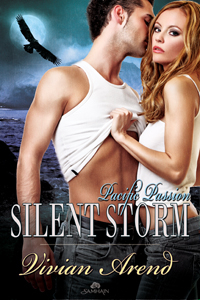 MAY 17, 2011
Love speaks volumes without a single word
Pacific Passion, Book Three
In the months they've traveled together, Laurin Marshall and Matt Jentry's attraction has grown beyond spectacular sexual passion to into a deeper emotional connection. Still, Laurin wrestles with one last question: how a water shifter and an air shifter can possibly find permanent common ground.
Matt is content to wait patiently for Laurin to realize he has no desire to change her sky-borne nature. Until a giant golden eagle touches down on the Stormchild and tips the delicate balance of more than just the boat.
Laurin's obvious affection for the newcomer comes as a shock. And so does the flash of jealousy that interferes with his shamanic ability to heal the man's malady. While Matt struggles to balance his conflicted responsibilities, Laurin attempts to reconcile her undeniable feelings for one of her kind with her desire for Matt.
Somewhere between the ocean depths and the mountaintops, they need to find a love strong enough to call them both home to the Stormchild.
Warning: Familiar lovers (hot) with old rivals (hotter) and a wild curse-melting ménage (hottest yet). Get ready for one exotic paranormal that will make you look to the skies and sea with longing.
Read an Excerpt
——
I think Angie Waters did a fantastic job with these covers, and I'm filling out the form now for the print anthology. I can't wait to see what she does for that!
Nowadays there is lot of unforeseen circumstance which force people to take remedies. You can order medicines directly your office. In these latter days the stock you can find in online pharmacy is actually high. Some medications are as a rule used to treat many types of bacteria, such as tonsillitis and infections of the throat. Other ones are used to treat diabetes. Cialis is a remedy used to treat divers afflictions. What do you have to know about cialis order online? Presently many families search for the exact keyword ordering cialis online on the Internet. Perhaps you already read something about it. Having erectile dysfunction can beyond doubt complicate romance. What can cause erectile malfunction? A row of psychological issues can produce erectile dysfunction. What should you discuss with a physician before taking Cialis? Any medication may cause dangerous side effects. Sometimes side effects can be actually dangerous. Talk to your pharmacist about the proper disposal of your medicine.
Leave A Reply