Wahhh! It's the last day of the party.
One last chance to say thank you for making this year so incredible. And a special-special thank you to all you readers. You make it so worthwhile.
I need to tell you that I'm the featured author today at ARe–clink the link on the right side of the page and scroll down for a chance to win one of my books from the good folks at All Romance Ebooks.
Today's prize come about because of the Lori Foster Reader/Writer get together in Cincinnati. I went to the event last June and met up with some of my writer buddies. I also got to meet enthusiastic readers–people who love romance books so much it simply shone out of them. I think that was the first time it really hit me. We're a community.
Thanks for letting me join in.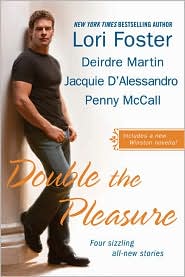 The prize today is a PRINT copy of Double the Pleasure. This book won the CAPA award for best anthology of 2009.
——–
New York Times bestselling sensation Lori Foster, USA Today bestselling authors Deirdre Martin and Jacquie D'Alessandro, and Penny McCall come together to deliver four all-new stories of fun and games between friends and lovers in this tantalizing anthology. Included in this spellbinding collection is a brand-new novella featuring Foster's Winston cousins—sexy twins who use their knock-out mirror-image good looks to switch places and have a little fun with the girls of their dreams.
——–
Today is the last day you can enter any of the previous days to win. Tomorrow I'll be announcing all the winners. Be sure to come back to see if you are one of the lucky ones. And again, thank for all your sharing over the past days.
To enter today, tell me if you like anthologies, and if you do, which is the best you've read recently.
Nowadays there is lot of unforeseen circumstance which force people to take remedies. You can order medicines directly your office. In these latter days the stock you can find in online pharmacy is actually high. Some medications are as a rule used to treat many types of bacteria, such as tonsillitis and infections of the throat. Other ones are used to treat diabetes. Cialis is a remedy used to treat divers afflictions. What do you have to know about cialis order online? Presently many families search for the exact keyword ordering cialis online on the Internet. Perhaps you already read something about it. Having erectile dysfunction can beyond doubt complicate romance. What can cause erectile dysfunction? A row of psychological issues can produce erectile dysfunction. What should you discuss with a physician before taking Cialis? Any medication may cause dangerous side effects. Sometimes side effects can be actually dangerous. Talk to your pharmacist about the proper disposal of your medicine.
Leave A Reply