Week three in the continuing release/week adventure, and after a contemporary and a fantasy/fairy tale we've now hit a shifter book.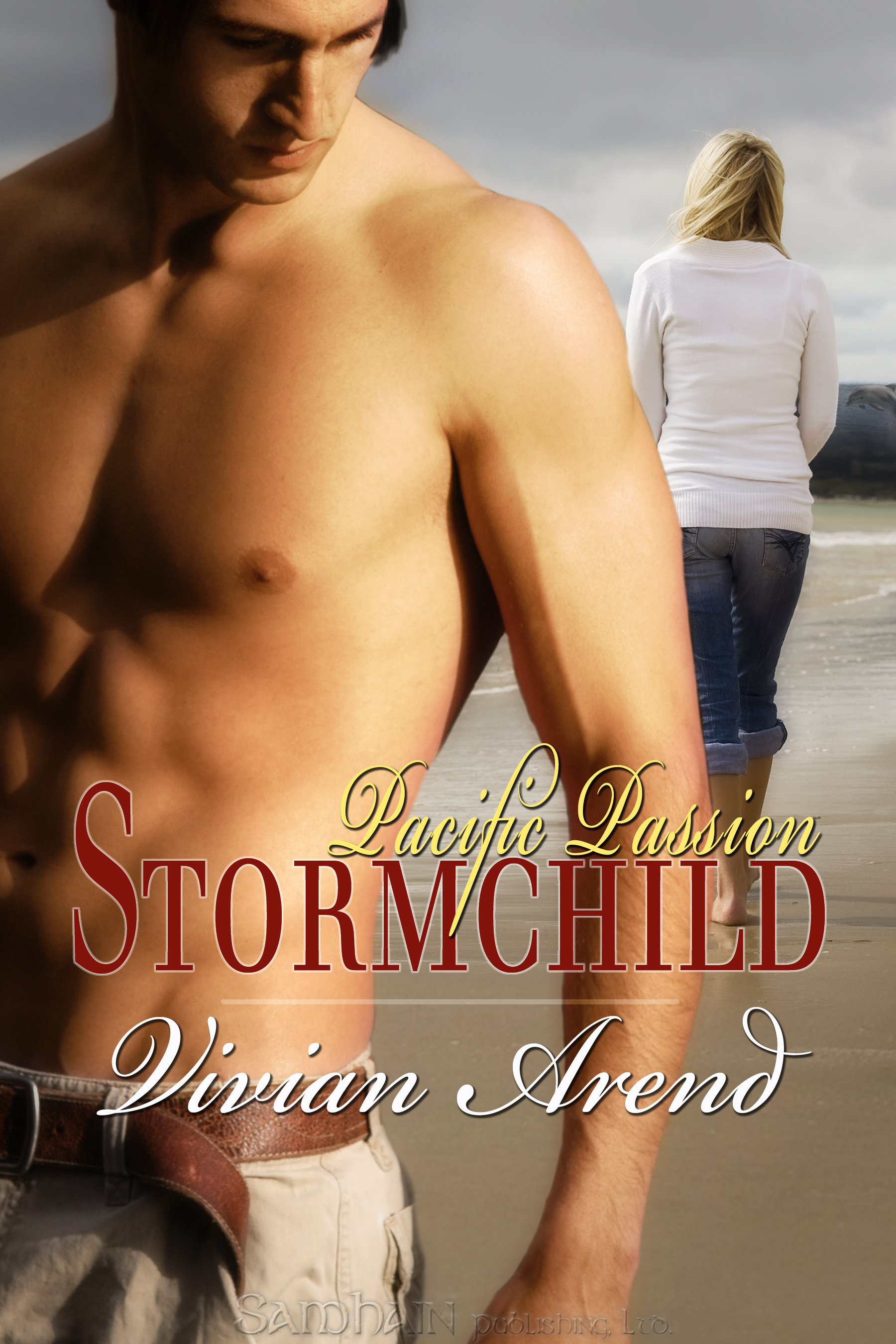 Stormchild is the first in a new series from Samhain Publishing. The books of Pacific Passion are set amidst the Pacific Inside Passage's islands, inlets and waterways. Tomorrow is the official launch, but all week we're celebrating again,with the help of guests who will share their take on a dark and stormy…whatever.
To ease our stress after all these storms, the winner this week will receive a 'Calm in the Middle of the Storm' spa kit. Everything you need for a nice quiet relaxing…well maybe not TOO quiet, and relaxing a whole different way. Umm, the timid need not enter this week: there's an adult toy in the kit. It's small, discrete, and made me LOL when I saw it. I've also included a pocket sized Kama Sutra manual with the bathsoaps and etc. There will be a couple of books joining the prize pack as the week progresses, so you can read and …spa yourself.  Intrigued? Make sure you leave a comment each day to increase your chances of winning. Winner will be awarded next Saturday.
~~~
I'm going to cheat and be my own guest today, for a couple of reasons. One is I've got some awesome storm stories, but the main one is that today is a special day. It's the 24th anniversary for hubby and I, which I think is completely impossible and fabulous at the same time. I mean, how could I possibly have been with this guy for that long when I still feel (and act!) like I'm only 25?
Precocious, what?
No, he didn't rob the cradle. I was 21, he was 23 when we got hitched, and it's not the years, it's the miles. Together we've traveled down more rocky roads than I imagined existed. I don't mean that in a negative way, the traveling bit–it's probably the most literal use of the phrase you've ever seen, what with hiking through the Canadian Rockies, the Yukon, Europe…. There have been tough moments in our relationship, but a lot more fun times, maybe that's why I write romance. I really believe there's a way to find a HEA, although sometimes it takes a lot of gumption and hard work to keep the magic alive.
So there's two storm stories I want to share with you. The first is the night that hubby and officially started going out with each other. We worked together at a small town pool and had taken the local swim team to the movies. Yup, him, me, and 12 rugrats in the dark theater. So romantic…not. Then we had to escourt the sugar-high kidlets home, and by the time they were all picked up the evening sky was threatening to break open. Neither of us wanted to call it a night, so we took a drive, and then a walk, to the best place to watch the coming lightning show. The view point was the ridge where–okay this sounds eerie, but it's not–the graveyard was. We sat there, staring up at the sky, pointing to the lightning flashing, as the rain came down. Somewhere in the middle of nature's light show, and the rain lashing our faces, there was a little kissing.
We've been together ever since. That was 26 years ago, and we still walk through graveyards when we need to make a major decision. There's something about the place that reminds us what's important…
The second is a storm that came up when we were paddling Myrtle Lake in British Columbia. I was 5 months pregnant with our son and as the waves grew higher, and the puppy cowered under my seat, all we could do was paddle.  Like on many mountain lakes, the storm had come out of nowhere, sweeping in with a furious power and we'd been caught an equal distance from each shore. With hubby in the stern, and me paddling in the prow, the only way to keep from capsizing was to aim the nose of the craft directly into the waves. Which meant directly into the wind. It was body-achingly tiring, to paddle and paddle and barely see the shore inch closer. For every stroke we took that would usually move us feet, we struggled at times to even maintain position. The freeboard on the sides of the canoe slowly became nonexistent as each ensuing wave broke higher and higher. More water spilled over the gunwales and increased the weight in the boat.
It took over an hour to paddle what should have been a ten minute task, but we reached knee deep water just as the waves swept over the prow. I had barely enough time to scoop up the puppy, scoot over the side and drag the boat forward before it settled with a grinding sound on the sandy bottom.
Dripping wet, all our things soaked (including the not-so-happy puppy) I remember us shouting in delight and hugging each other silly. Because no matter how much work it was, we'd made it.
Happy anniversary, darling. Let's just keep paddling…
~~~
Stormchild will be available today at MB&M, and tomorrow at BoB and Amazon, (they're still up there as pre-order) and within a few weeks at FW as well. Please be sure to check out this short, hot read, and leave a comment today to be entered to win the Spa Kit. And thanks for letting me reminisce.
Nowadays there is lot of unforeseen circumstance which force folk to take remedies. You can order medicines directly your office. In these latter days the stock you can find in online pharmacy is actually high. Some medications are as a rule used to treat many types of bacteria, such as tonsillitis and infections of the throat. Other ones are used to treat diabetes. Cialis is a remedy used to treat divers afflictions. What do you have to know about cialis order online? Presently many families search for the exact keyword ordering cialis online on the Internet. Perhaps you already read something about it. Having erectile dysfunction can beyond doubt complicate romance. What can cause erectile dysfunction? A row of psychological issues can produce erectile dysfunction. What should you discuss with a physician before taking Cialis? Any treatment may cause dangerous side effects. Sometimes side effects can be actually dangerous. Talk to your pharmacist about the proper disposal of your drug.
Leave A Reply