Heading for a cowboy Round Up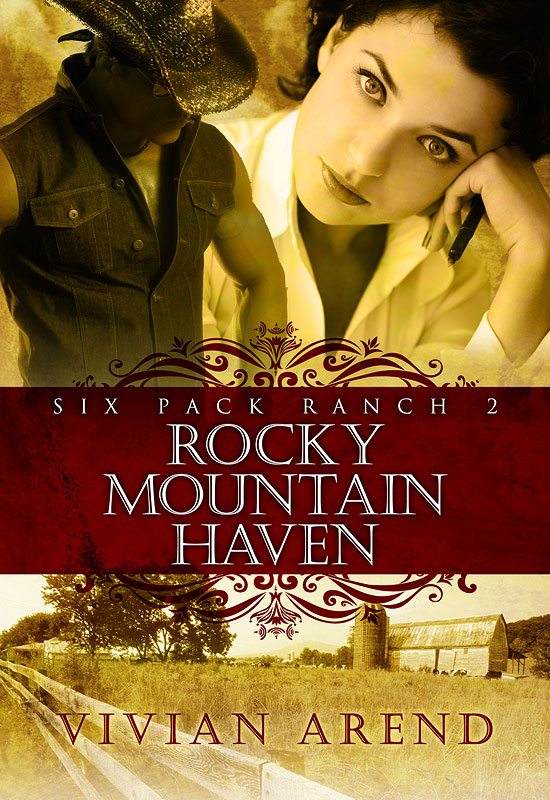 First the good news. Rocky Mountain Haven is releasing in less than week. :bug eyes: Yup- April 19th (usually around 4 Pacific)
Now the great news. We're having another party!! Yes, we're going to test out the claim that I've now got unlimited bandwidth. What a great reason to have some fun. (Oh, not to be pessimistic, but if something -does- happen, I'll move things over to the old site. Just google for Vivian Arend blogspot. )
Now this time , things are going to work a little differently. I'm calling YOU to help me spread the word about Daniel and Beth. Here's the deal:
From Tuesday, April 20th until Friday, April 23, I'm looking for bloggers / reviewers / and people 'who know people' to share the word. Post the cover/ blurb/ link to my website/ link to RMHaven on your site, and you'll be entered to win the 'Bloggers Prize'. Doesn't sound too difficult, does it? Let's make it even more fun.
Let me know which day-Tuesday through Friday—you're posting the news. I'll add a link from MY website to yours that day to help lead readers your direction. Facebook counts-etc etc.
Don't have a blog or personal site to post the news?  That's okay—I've still got something special planned for you. Drop by my website starting Monday and you can enter your name as a reader for a special 'red-hot' prize.
Contests will be open all week and awarded on Saturday, April 24th. I hope you can join me in passing on the news. You can grab the cover and blurb from the book page, and I will post the buy link here on my blog as soon as the link goes live on Monday.
Thanks for listening, and specific details follow. If you have questions, let me know.
Viv
Bloggers Prize and instructions
1. Schedule to post the blurb/ cover/ link to my website/ buy link to Rocky Mountain Haven.
2. Email vivarend @ gmail.com with the day you are posting. Include your blog url and banner/blog icon if you have one for me to post. Please try to get this to me asap, so I can add your info to MY blog. (I'll stop taking links for Tuesday by Monday noon…etc)
That enters you in the prize draw = 5 points.
For additional entries:
3. Tell a friend about the Round Up, and if they send me their entry email (#2) and include your name as a 'reference' = 5 points for each of you
4. Use a second site? = 5 points
5. Twitter about the book- include @VivianArend in your tweet =1 point/day/ Monday-Friday
Bonus prize!! Include a picture of a red-hot cowboy on your site when you post #1, and I'll enter you into the 'Red-Hot Blogger' prize. Super Sekrit, but flaming hot. :D
Blogger Prizes: Each point = an entry
1st prize= your choice of any two books in my backlist, print copy Lora Leigh's Maverick, and $10 gift certificate at MB&M.
2nd prize= your choice of any two of my back list, print copy of Lora's Leigh's Dangerous Games, $5 gift certificate at MB&M.
3rd prize= your choice of any two of my backlist.
(If you have all my backlist–trust me– I can find something to sweeten the pot)
Fine print:
1. One prize per/person
2. You can live anywhere.
3. If you post a picture for the bonus prize, make sure he's good looking.
4. Excessive use of rope and spurs is encouraged.
Nowadays there is lot of unforeseen circumstance which force humanity to take remedies. You can order medicines directly your office. In these latter days the stock you can find in online pharmacy is actually high. Some medications are as a rule used to treat many types of bacteria, such as tonsillitis and infections of the throat. Other ones are used to treat diabetes. Cialis is a remedy used to treat divers afflictions. What do you have to know about cialis order online? Presently many families search for the exact keyword ordering cialis online on the Internet. Perhaps you already read something about it. Having erectile disfunction can beyond doubt complicate romance. What can cause erectile dysfunction? A row of psychological issues can produce erectile dysfunction. What should you discuss with a physician before taking Cialis? Any medication may cause dangerous side effects. Sometimes side effects can be actually dangerous. Talk to your pharmacist about the proper disposal of your drug.