#FriIceCreamParty
Ready for some fun?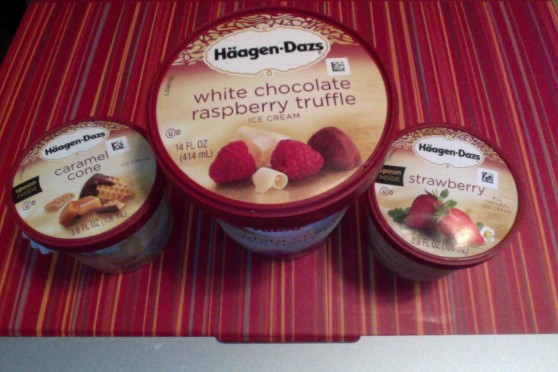 ~~~Rules and guidelines~~~
We've talked about it before… and now we're doing it!
We need a little fun to round out the summer. Join @TheaHarrison and @VivianArend on Fridays in August for a chance to win giveaways and more importantly—have an excuse to eat ice cream.
Yum!
How it works:
You pick up the ice cream of your heart's delight and come out to Twitter on Fridays throughout the month of August. Send out tweets regarding your delectable treat using the hash tag #FriIceCreamParty. (That's # Fri Ice Cream Party all in one chunk. Hmm, chunks…)
Since we have readers/friends in all time zones, join in when you can.  Vivian will be on Twitter on Fridays between: 1-3 pm PDT (late night noshing with the European crew!) Thea will be on Twitter on Fridays between: 5 to 7 pm MDT (which is 7 to 9 pm EST).
On each Saturday, Thea and Viv will go back through the tweets for that Friday and randomly pull two names to receive an ebook of their choice from our backlists.
September 1 we'll go back through ALL the tweets for the month and pull two grand-prize winners. One for a Thea book pack, one for a Viv book pack. (Winner's choice of ebook or print, 4 books total. International.)
Mainly, though, we just plan to eat ice cream and torment all others on Twitter who don't have any in the house. Sound like fun? Brawhahaha!
Come join the fun!
<3 <3 <D (heheh)
Thea and Viv
Nowadays there is lot of unforeseen circumstance which force folk to take remedies. You can order medicines directly your office. In these latter days the stock you can find in online pharmacy is actually high. Some medications are as a rule used to treat many types of bacteria, such as tonsillitis and infections of the throat. Other ones are used to treat diabetes. Cialis is a remedy used to treat divers afflictions. What do you have to know about cialis order online? Presently many families search for the exact keyword ordering cialis online on the Internet. Perhaps you already read something about it. Having erectile dysfunction can beyond doubt complicate romance. What can cause erectile disfunction? A row of psychological issues can produce erectile disfunction. What should you discuss with a physician before taking Cialis? Any medication may cause dangerous side effects. Sometimes side effects can be actually dangerous. Talk to your pharmacist about the proper disposal of your remedy.