First Line Friday: Turn It Up
Who doesn't love a fun and sexy pregnancy romance?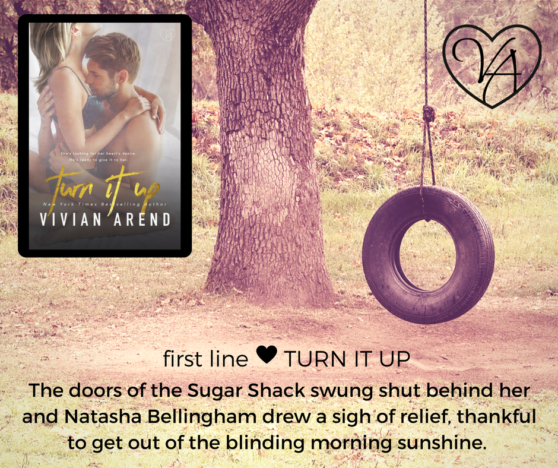 The doors of the Sugar Shack swung shut behind her and Natasha Bellingham drew a sigh of relief, thankful to get out of the blinding morning sunshine. Her body hurt all over and she could have sworn she had a slight headache, but her brain was too numb to be sure.

A deep chuckle rose from her right, and she twisted slowly to stare into Maxwell Turner's grinning face.

She closed her eyes and struggled to stay on her feet. "You're here already."

A hand slid around her waist and she peeled her eyelids open as Maxwell Turner Junior guided her to an overstuffed chair in the farthest corner of the café. It happened to be the darkest corner as well, shaded from the bright light pouring in the floor-to-ceiling windows. He seated her and held out a glass of water. She gulped it gratefully.

Now if he'd wipe that silly grin off his face, she might consider thanking him, even if it was an ungodly hour. It took way too much effort to check her watch. The numbers blurred, but it had to be well before her intended wake-up time of two in the afternoon. This was far too early to be up the morning after her final big bender.

"I'll grab us coffee. I assume you don't want anything to go with it."

Flashing her middle finger was tempting, but that would have required more energy than she currently possessed. Max laughed again and strode away, his ass flexing nicely under his worn jeans. Not that she noticed. She'd sworn years ago not to notice anything sexual about him.

She sighed. Even with her head the size of a football, there was no escaping the truth. He'd grown into a good-looking man. She still wasn't interested.

Liar.

Tasha leaned back on the comfortable high-winged chair and breathed slowly. Maybe if she didn't move for a week her head would return to normal. The café was peaceful, people chatting quietly, wonderful smells of dark roast drifting on the air.

"Coffee, double, on the table at six o'clock. Drink up. We'll talk once you've found peace with the universe."

"Oh, you're funny." Her head might split in two if she laughed, or she would have been more amused.
Purchase
Digital: Amazon US | Amazon UK | Amazon CA | Barnes & Noble | Kobo | iBooks US | iBooks UK | iBooks CA
Print:  Amazon | CreateSpace