Cool new book: SERENDIPITY
I met the wonderful Carly Phillips while I was in New York for the Romance Writers Association conference in June. She was so nice, and so much fun, I went and checked out her books, and I love them! Small towns, lots of focus on relationships, nothing too wild or angsty. My kinda romance!
She's got a new series that's just begun! She's here  share a little about where she's going with these amazing stories. Oh, and you can find her at her website | twitter | Facebook |Plotmonkeys blog (<===these guys are awesome as well!)
Carly writes:
Series – How much is too much?
I saw an interesting discussion on Twitter a few days ago … how many books make a series; how many books are enough? Too much? Not enough?
This got me thinking. As a reader, I am always happy to keep reading about characters I've come to love, but it was a good question – how many is enough? The answer on Twitter was three … worked for me since my series tend to be three books. I've done a few two books if I've known going in there were two sisters or two characters whose stories I planned to tell in full.
But now I come to an era where writers seem to be staying with a series for much longer. Is that a good thing? A too much thing? For me as a writer by the time I hit three books, I feel finished with those characters. Which is why my plan for my new series, the town of SERENDIPITY is a little different. SERENDIPITY will start with a three book ARC – the 3 Barron brothers – and take readers through their journey – by the time they find happily ever after at the end of book 3, I'll be ready to write something new. Having just finished Karma, book 3, I know that to be true.
Serendipity is the name of both the series for Berkley and the first book set in a fictional small town in upstate New York. At the center of the town is the landmark Harrington Mansion, the epitome of wealth and privilege. The series opens with SERENDIPITY, which introduces readers to the estranged Barron brothers, brought together by a teenage sister they didn't know they had and family drama they haven't yet put to rest. These books tap deeper into emotions than my more recent books while keeping the trademark sensuality and light moments my readers expect. Book one, Serendipity 9/11 is the story of Ethan Barron, the "bad boy" oldest brother. Ethan returns home after ten years and finds himself tempted by the girl who was too good for him in high school, but now their social status are reversed, as he now owns the Harrington mansion – in which she grew up. At heart, Serendipity is the story of a man who is looking for redemption and a woman in search of a place to belong.
I'm so excited about this series and I hope readers really respond to the town and the characters, all of whom I already love. The Serendipity series will continue with the other two brothers, Nash Barron in Destiny 1/12 and Dare Barron in Karma 6/12. I hope to then continue to write about the town and people in Serendipity in three book arcs, and continue to spin on to other characters in the town readers have already met within the pages.
So I have a plan. I'd like to stay in the town of Serendipity and do another three book series that focuses on characters you met in previous books but giving them their own set of problems, issues, that ties the next three books together. That way I can feel like I'm doing a new series but staying in familiar surroundings!
So what do you think? If you like series, how many books? Can there be too many? What are your thoughts?
Three random posters will be chosen to receive limited edition SERENDIPITY AND DESTINY signed romance trading cards!
Serendipity is in stores now!
Destiny (book 2) – January 2012
Karma (book 3) – May 2012
—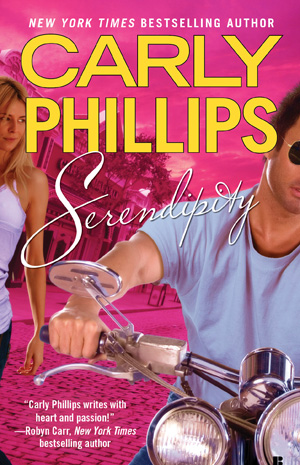 New York Times bestselling author Carly Phillips presents the first in a delightful new series about a quaint upstate New York town where love, fate and fortune are intertwined…
Faith Harrington was the classic girl of privilege–until her father was convicted of running a Ponzi scheme and then her marriage crashed and burned.
Now Faith is back in her hometown, hoping for a fresh start. But her father's betrayal has rocked Serendipity – and not everyone is ready to welcome her with open arms. Then she runs into her teenage crush — the dark, brooding Ethan Barron. Ethan, no stranger to scandal himself, never imagined he'd own the mansion on the hill, much less ever again come face to face with Faith–the princess he once kissed senseless. The chance meeting reignites the electric charge between them.
Still, when Ethan hires her to redecorate what was once her childhood home, Faith is sure that getting involved with the town's notorious bad boy will only lead to trouble. But her heart has other ideas. And so do the townspeople of Serendipity …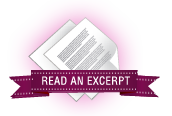 Book Links
Digital / eBook Links
Nowadays there is lot of unforeseen circumstance which force folk to take remedies. You can order medicines directly your office. In these latter days the stock you can find in online pharmacy is actually high. Some medications are as a rule used to treat many types of bacteria, such as tonsillitis and infections of the throat. Other ones are used to treat diabetes. Cialis is a remedy used to treat divers afflictions. What do you have to know about cialis order online? Presently many families search for the exact keyword ordering cialis online on the Internet. Perhaps you already read something about it. Having erectile dysfunction can beyond doubt complicate romance. What can cause erectile disfunction? A row of psychological issues can produce erectile disfunction. What should you discuss with a physician before taking Cialis? Any therapy may cause dangerous side effects. Sometimes side effects can be actually dangerous. Talk to your pharmacist about the proper disposal of your medicine.