It's their turn.
The Whiskey Creek women, of course.
It's been a long time coming for them to find their happily-ever-afters, and this author is very glad to finally dive into the series that completes ALL the Coleman family stories.
If you're new to my books, this is a bit of history, and you don't need it to enjoy The Colemans of Heart Falls. I've made sure the new stories are completely stand alone, but if you're interested where the rabbit hole began, read on!
When the Six Pack ranch started in 2009 (or 2011 when it was re-published at Samhain) the original idea was to have five books in the series. Then I realized that, while it was a big family, I couldn't bear to not find true loves for ALL the cousins.
Only one problem. When the dust settled there were 6-Six Pack brothers, 4-Moonshine siblings, 2-Angel brothers, and 3-Whiskey Creek sisters, which meant there were 15 Colemans and would be 15 books in the series.
That's a big bite for anyone!
So even though I'd already given thought to what was going to happen in Karen's story, and planted the seeds in Six Pack Ranch book 6 (Rocky Mountain Freedom) I made the executive decision that series would be all about the boy cousins.
Anna (Moonshine) Coleman found her love in the spin off Thompson & Sons series.  Tamara (Whiskey Creek) Coleman finally got hers in A Rancher's Heart.
And now there's a new trilogy to complete the Coleman saga, and what a journey it's been! You could re-read the previous series if you want glimpses of the Whiskey Creek women. But if you want to sit back and wait, let me assure you that Lisa and Josiah are one of my favourite couples to date. Josiah's definitely a cinnamon roll hero (ie sweet and delicious and would do ANYthing for his woman), and Lisa could be my bestie, and the two of them together make me smile.
There will be more of the friends you met in Heart Falls, and a sweet puppy named Ollie, and a baby, and definitely some surprises.
I'm looking forward to you starting this new adventure with me as love comes to Heart Falls once again!
The Cowgirl's Forever Love releases May 21st!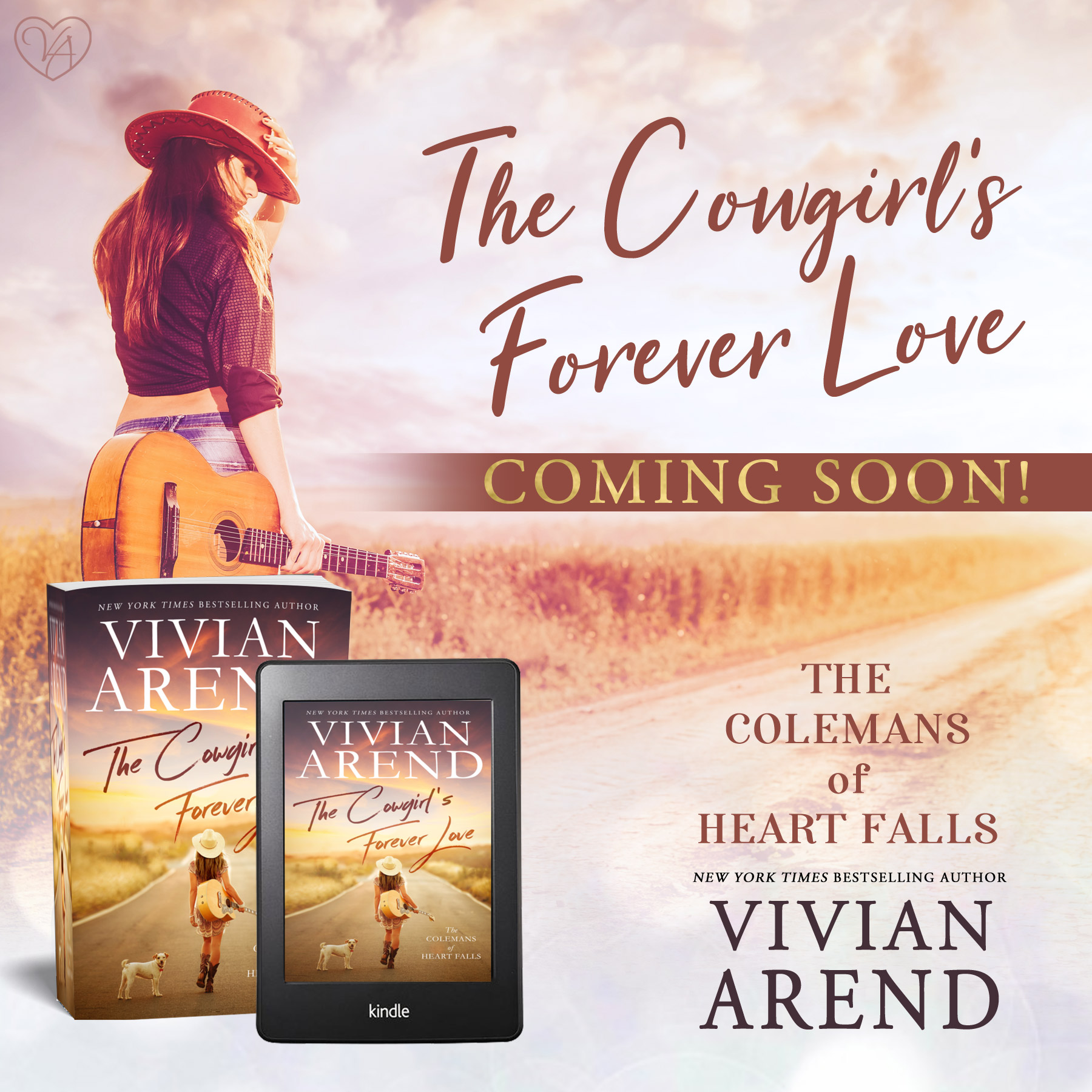 Leave A Reply