Here's a nice surprise for you! I've written a novella for Lee Coleman, and his story will be out in just over a week!
I've joined forces with four other awesome authors, and we're bringing the cowboys! There's no preorder, but if you're on my newsletter list, I'll send you a reminder with all the buy links next Tuesday (January 13. Yes, that soon!)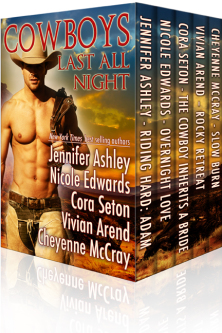 HERE'S THE DEAL:
January 13 Cowboys Last All Night will be available for a special, short time promotional price of $0.99. The box includes brand-new stories from Jennifer Ashley, Nicole Edwards, Cora Seton, Cheyenne McCray, and me! (Regular price will go up to $4.99 later.)
—
From five New York Times and USA Today bestselling authors, a collection of ALL NEW stories. Sale priced for a limited time, take a ride with Cowboys Last All Night.
RIDING HARD: ADAM by Jennifer Ashley
Injured Adam Campbell returns to the family ranch, sure his movie career is over after a stunt goes wrong. But Bailey Farrell, the mousy girl who helped him graduate high school, now transformed into a beautiful woman, has other ideas. (Riding Hard 1)
OVERNIGHT LOVE by Nicole Edwards
When Lucas Burch and MacKenzie Catlay find themselves caught in an ice storm, sparks fly. Is it possible to share just one night together, or is this a recipe for overnight love? (Dead Heat Ranch)
THE COWBOY INHERITS A BRIDE by Cora Seton
Sunshine Patterson and Cole Linden are pitted against each other for the inheritance of a commercial space and apartment. The competition is intense—the fire between them even hotter. Can Cole and Sunshine find a way to both win? (Cowboys of Chance Creek 0.5)
ROCKY RETREAT by Vivian Arend
When a snowstorm traps Lee Coleman in a remote wilderness cabin with the woman of his dreams, it's time to turn up the cowboy charm and convince Rachel Malone she wants more than a rebound fling…  (Six Pack Ranch 7.5)
SLOW BURN by Cheyenne McCray
Falling in love isn't on Agent Trace Davidson's agenda. His only priority is to protect Christie from her ex-husband who is determined she'll never make it to the witness stand to testify against him. (Lawmen 2.5)
—
So if you're signed up for my newsletter, you'll get plenty of warning to pick up Lee and the other boys next week. I'm excited to share this with you!
Nowadays there is lot of unforeseen circumstance which force folk to take remedies. You can order medicines directly your office. In these latter days the stock you can find in online pharmacy is actually high. Some medications are as a rule used to treat many types of bacteria, such as tonsillitis and infections of the throat. Other ones are used to treat diabetes. Cialis is a remedy used to treat divers afflictions. What do you have to know about cialis order online? Presently many families search for the exact keyword ordering cialis online on the Internet. Perhaps you already read something about it. Having erectile disfunction can beyond doubt complicate romance. What can cause erectile disfunction? A row of psychological issues can produce erectile dysfunction. What should you discuss with a physician before taking Cialis? Any treatment may cause dangerous side effects. Sometimes side effects can be actually dangerous. Talk to your pharmacist about the proper disposal of your medicine.
Leave A Reply