The second book in the Heart Falls series is coming soon, and I want to give you all the details here!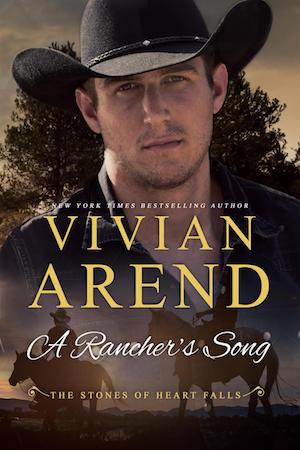 A Rancher's Song features Walker Stone and Ivy Fields. This is a second-chance romance between high school sweethearts. Also about overcoming fears (with a good bit of fun, laughter, sex and high-jinxs as usual!). 
Can love help a champion bull rider face his fears and find his future? Welcome to Heart Falls, a new series from New York Times bestselling author Vivian Arend.  

Ivy Field's heart nearly broke when she left Heart Falls, but her high school sweetheart insisted she follow-through on her dream of becoming a teacher. She thought that meant putting their relationship on hold briefly, but it's taken eleven years to return. Now she's back, no longer a painfully shy young girl but a confident woman who knows exactly what and who she wants—a home and a family—with too-sexy-for-his-boots Walker Stone. He was her first; she wants him to be her last.

Walker "Dynamite" Stone was still reeling from his parents' unexpected deaths when Ivy left. He let her go, throwing himself into work on the Silver Stone ranch and dangerous living on the rodeo circuit. But lately Walker's adrenaline junkie ways have crashed—he's having panic attacks. While potentially devastating to his budding musical career, they're a deadly handicap when shooting for eight seconds aboard an angry bull. He needs to learn to face his fears to save the family fortunes. If he succeeds, this time Walker will be the one to leave Heart Falls, and Ivy, behind.

Will Ivy and Walker have to give up on forever, or can they turn this rancher's song into a winning duet?
Pre-Order your copy today!
Leave A Reply