This is week four of the multiple release marathon, and I'm so pleased to be able to say that this week I've got some very special people dropping at the blog to help me celebrate.
Readers.
At heart, that's what I am first and foremost, but just as I dabble in things other than sticking my nose in a book, these lovely ladies all have other hats they wear as well. I just happen to know them from our connection of being readers.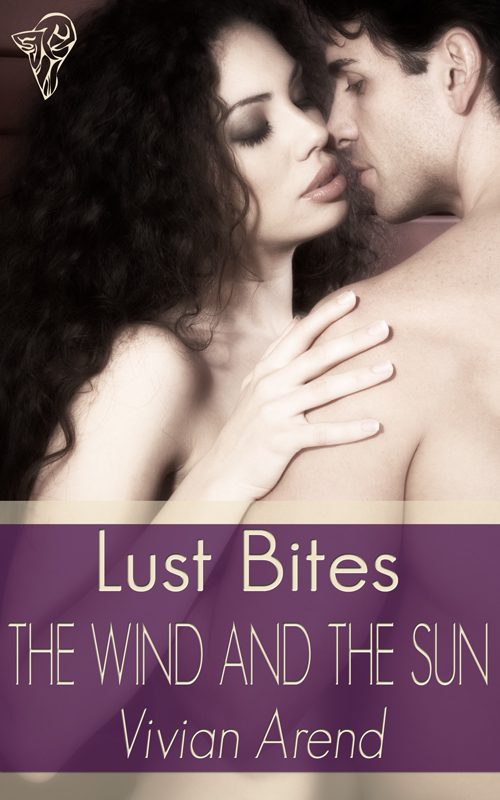 The story out today is my Naughty Aesop- The Wind and the Sun. This is a twisted remake of the original contest. It's a very light-hearted, tongue in cheek book with some fantasy, some magic, and a lot of red hot moments–which you should expect since–hello, a competition between the SUN and the WIND?
From Tuesday to Friday I have four guests coming to share something in the theme of Classics: it could be something they consider a classic or a classic moment for them. Children's books, first romances- we're going to look at it all. And I'm very excited to be able to have the readers be a part of the celebration, because while I write because I love to write, I love to have people to read my work as well.
Here's a snippet for you from the new release:
~~~
Ready for the modern rematch? Who's stronger now–time to fan the sensual fires to high.

Sunshine Bright is proud she can finally uphold the family name and help maintain their status over the Wind family. The fact that tall, dark and yummy Zephyr makes her break out in heat flashes by his mere presence is no reason she can't win the new challenge between the families for the title of the strongest.
Zephyr Wind knew it would take some planning to be able to get what he wants, and what he wants is Sunshine. All the time and in every way. The lanky brunette ties him up in knots faster than you can say gale force winds. There's also the little problem of spontaneous combustion to worry about.
Aesop will never be the same again.
~~~
"What do you think about a rematch?"
Sunshine lifted one brow and turned to face him. She wanted to hit him with the full look of disdain she'd been practicing in front of her mirror.
Oh. My. Word.
Zephyr lay on a second recliner, mere inches away from her. The beer bottle she expected to see in his hand, the forlorn expression she expected to see on his face as he drooled over her…nowhere in sight. All she saw was skin.
Hot, naked, firm, glistening skin.
Did she mention naked?
Holy Sahara, the boy had gone mad. He'd dropped every last stitch from his body and slathered himself in oil before reclining like a Greek god on his couch. He rested on one elbow, his upper body flexing arms that would make Hercules a happy man. Firm muscles swelled under the skin of his chest, and Sunshine's fingers actually twitched with the need to press her palms against him to see if he was as solid as he looked. The ridges of his abs defined a beautiful six-pack, no eight, no… Hell, was it possible to have a twelve-pack? She couldn't be sure because she was…kind of distracted…from concentrating on counting…because a trail of intriguing curls led down to where one leg stretched out, one bent in a perfect frame around…
Well, let's just say someone was happy to see her.
Very happy.
Heat, like she usually only produced on extreme summer days, flushed over her skin and she took an involuntary lick over suddenly dry lips.
A wicked chuckle distracted her from her sightseeing excursion.
"So what do you think?"
Holy Zeus on a stick, what did she think about what? Sunshine forced her mouth shut and hurried to wipe the drool from her chin, trying to make it look like she had covered a yawn.
Yeah, right. A yawn. Only because the total oxygen level in her body had dropped to negative twenty in thirty seconds or less. If she didn't take in some air, she would pass out.
Come on girl, pull it together. This was war.
"I'm sorry, were you talking to me? I expected the cabana boy with a refill sometime soon. It's impossible to get good service anymore." Sunshine plucked a fan out of midair and waved it in front of her neckline. She wanted to produce a bucket of ice but that would have been a little obvious.
He was gorgeous. Why had she never noticed before?
"You know, maybe you're right. I mean, your grandfather did win the contest as it was established."
Sunshine froze in mid-fan. "Did you…admit Pop-pop won? Fair and square?"
Zephyr rolled to his back. Sunshine gulped and turned away to grab her drink. Anything to stop from looking at that flagpole rising bold as brass into the sky declaring, "Zephyrland—rides available."
"I said he won the contest as it was established. Personally, I think my grandmother was in the first stages of cyclone fever when she agreed to the terms. I mean, come on…"
Oh, not a good choice of words.
"…getting a guy to remove his cloak to prove who is stronger? Maybe Gramma was a few sheets to the wind, I heard she drank on occasion. Anyway…" Zephyr sat abruptly, swinging his legs between their chairs. His…attributes…were hidden by the bend of his body and Sunshine felt the loss.
"I'll admit your ancestor won. Still, I think it's time for another challenge to see who is stronger now." His voice was quiet and cool. It smoothed over her skin like a caress.
It made her shiver.
~~~
The short story The Wind & The Sun is available from Total E-Bound books. To be eligible to win one of the prizes this week, (they're listed to the right ====> in the side column) leave a comment.
Do you have a favorite Aesop fable?
Nowadays there is lot of unforeseen circumstance which force humanity to take remedies. You can order medicines directly your office. In these latter days the stock you can find in online pharmacy is actually high. Some medications are as a rule used to treat many types of bacteria, such as tonsillitis and infections of the throat. Other ones are used to treat diabetes. Cialis is a remedy used to treat divers afflictions. What do you have to know about cialis order online? Presently many families search for the exact keyword ordering cialis online on the Internet. Perhaps you already read something about it. Having erectile disfunction can beyond doubt complicate romance. What can cause erectile disfunction? A row of psychological issues can produce erectile dysfunction. What should you discuss with a physician before taking Cialis? Any medication may cause dangerous side effects. Sometimes side effects can be actually dangerous. Talk to your pharmacist about the proper disposal of your drug.
Leave A Reply