ARC giveaway-readers!
Four weeks until Rocky Mountain Angel comes out. Here's a chance to win an advance copy. Book four in the Six Pack Ranch is more of tear jerker–be warned. First chapter is also here if you'd like.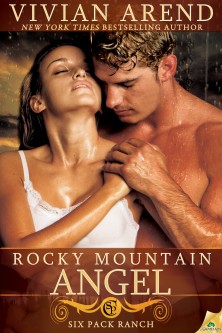 Rocky Mountain Angel
Six Pack Ranch, Book 4
Sometimes even Angels must learn to fly…
Allison Parker needs a convincing excuse to come home to Rocky Mountain House. A hopelessly romantic reason that won't let her mother suspect the truth—that Allison has discovered Mom is keeping a terrible secret from the family.
Gabe Coleman is struggling with two of the roughest parts of ranching: dealing with his bull-headed mule of a father, and making enough to pay the bills. When his old friend Allison offers to help him develop his ideas for organic ranching—in trade for pretending to be her fiancé—it sounds like the perfect set-up.
Yet the deception leads them in an unexpected direction, where their shared daily hells are erased by nights of heavenly distraction. It's not supposed to be real, but once the gates are opened, there's no denying they've found in each other a little bit of Paradise.
To break free of the past and face the future, though, will take more than temporary pleasures. It'll take putting their hearts on the line.
Warning: Tortured hero with a guardian-angel complex, grief-stricken heroine willing to sacrifice everything for family. Break out the tissues, this trip to the ranch is a heartbreaker on the way to the HEA.
She'd meant it as a taunt. A bit of a payback for the mind-numbing impact of his kiss a couple days earlier.

But when their lips touched, joking was off the agenda. Now? She just wanted.

This habit she had of jumping in with two feet had gotten her in trouble before, and maybe this time it would as well, but with her fingers tangled in his hair she didn't care.

She traced his lips with her tongue, tasting him slowly. He wasn't moving. Not toward her, not away, so she leaned in a little harder and dipped a little deeper. Mmm, something about kissing him in the outdoors made it that much better. It was right, mixing the scents of the country with the taste of him, his firm lips moving against hers.

He must have finally given in, because his hands were on her hips. Not dragging her tighter, but at least not pushing her away. The gentle squeeze of pressure proved he was there willingly, and she concentrated on enjoying the kiss more.

She was up on tiptoe, breathing through her nose. The masculine scent of his soap and skin filled her head. His tongue brushed hers. A far cry from the passionate and overwhelming exchange they'd had at the start of the week. Somehow, it was just as perfect. Allison tugged him closer yet and he followed her lead. Bending over her, and allowing her to rest on her heels instead of straining to reach him.

His hands hadn't moved.

The kisses stayed soft. Exploratory. When she would have offered more, an extraordinary sound escaped him, and this time he did pull back. Not far, only enough to rest his head on her shoulder and take a shaky breath.

She ran her fingers through his hair, the thick texture soft and yet firm against her palms.

It was reassuring and peaceful. The edge of sexual attraction there but dim enough all she felt was his presence. A comfort and an anchor.
~~**~~
Pre-order Rocky Mountain Angel, coming November 20: Amazon | Barnes & Noble
 Two ebook copies will be given away Saturday. International winners okay. Leave a comment on my blog for your chance to win!
Nowadays there is lot of unforeseen circumstance which force folk to take remedies. You can order medicines directly your office. In these latter days the stock you can find in online pharmacy is actually high. Some medications are as a rule used to treat many types of bacteria, such as tonsillitis and infections of the throat. Other ones are used to treat diabetes. Cialis is a remedy used to treat divers afflictions. What do you have to know about cialis order online? Presently many families search for the exact keyword ordering cialis online on the Internet. Perhaps you already read something about it. Having erectile dysfunction can beyond doubt complicate romance. What can cause erectile malfunction? A row of psychological issues can produce erectile disfunction. What should you discuss with a physician before taking Cialis? Any medication may cause dangerous side effects. Sometimes side effects can be actually dangerous. Talk to your pharmacist about the proper disposal of your medicine.