Blog
The Extreme Adventures series is being re-released with sexy new covers! This series is the first adventure romance series I wrote, but these are a lot sexier than the Adventure: Search and Rescue series. If you like skiing, climbing, and smokin' hot romance, these are the books for you!
Falling, Freestyle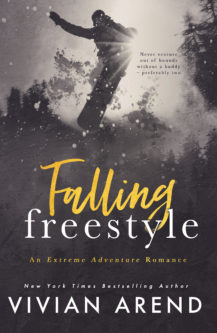 Never venture out of bounds without a buddy—preferably two.
Dara's past four incredible years have been lived to the fullest. Along with her best friends, Kane and Jack, she's left no local wilderness unexplored, no ski slope unchallenged. Yet lately she wonders why they've never seen her as more than a buddy with breasts. When—or if—either man will cross that unspoken line.
It's a line Kane eyes harder every day. Since high school, he and Jack have shared everything. A condo, vacations—and their best girl. Kane's ready to get serious about his wilderness school and outfitter business, and that includes putting down roots. Preferably with Dara.
Wary of the men who've recently been sniffing around Dara, Jack has a growing sense that he or Kane better make a move soon, or they're going to lose out on their perfect match. Question is, who does she prefer…and who's going to bring their easygoing trio to an end?
Overhearing the boys arguing over her, Dara's floored—and torn. Choose between them? No way. Drastic measures are called for, a plan for their annual holiday getaway that will clarify her feelings once and for all—or lose everything in a sexual storm of whiteout proportions.
Previously published in 2010.
Pre-Order: Kobo, iBooks US, iBooks UK, iBooks CA, Barnes & Noble, Amazon US, Amazon UK, Amazon CA
Rising, Freestyle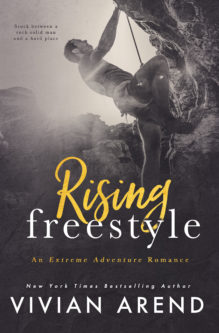 Stuck between a rock-solid man and a hard place…
Melanie Dixon's body may have recovered from a horrific climbing accident, but her nerve is long gone. So is the natural enthusiasm for life she took for granted. Tired of being scared, beyond ready to conquer her fears, she pulls up stakes and moves to her brother's new hometown to start over. Her first step is the most terrifying—to tackle the wall at the local climbing center.
Derrick James is mesmerized by Melanie's dark beauty, and equally impressed with her climbing abilities and determination. Watching her re-tune rusty skills spurs a desire to partner with her—on and off the ropes. Melanie's a compelling mix of wit, sensuality and vulnerability, and it's his delicious task to convince her the scars on her body are no match for the heat rising between them.
Then a man from Melanie's past shows up, pushing their relationship to the edge. Nathan King wants photographs for a "where are they now" series, but his side agenda is more personal in nature. A proposal that brings her out of her sensual shell and onto a precarious sexual ledge. Where trust is crucial…and too easily shattered.
Previously published in 2011.
Pre-Order: Kobo, iBooks US, iBooks UK, iBooks CA, Barnes & Noble, Amazon US, Amazon UK, Amazon CA
Today's Feature Friday book is the first in the Six Pack Ranch series, ROCKY MOUNTAIN HEAT.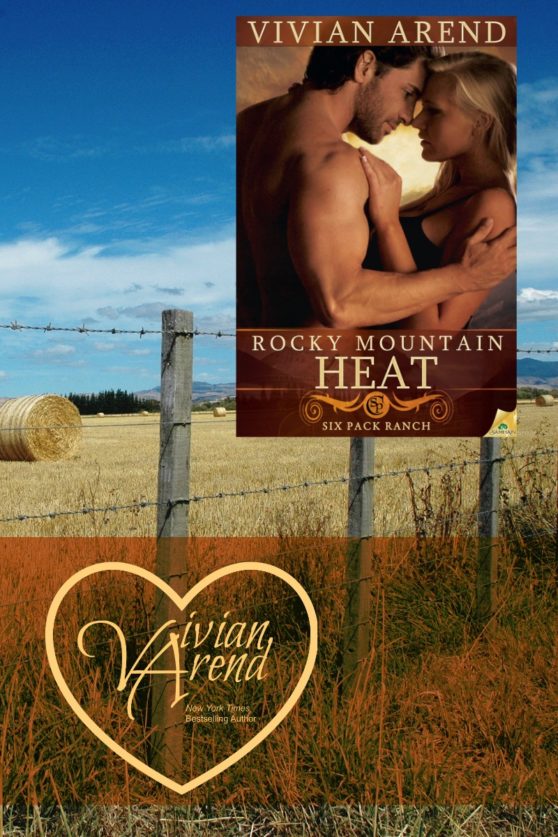 He's the one who taught her to ride. Now all he wants is to ride her.
Blake Coleman is old enough to know that acting on impulse causes nothing but trouble. But when trouble's a western-hat-wearing blonde with slim legs that go on forever, what's a man to do? Wanting the sweet girl next door is just wrong. The responsible thing to do is keep his hands off.

Jaxi has other plans for Blake's hands, and his heart. She may have once considered him a big brother, but that was a long time ago. She's all grown up now and ready to convince him that she's perfect for him. Except he can't seem to see past the big "don't touch" sign that's apparently still hanging around her neck.

When Jaxi ends up living right under Blake's nose, the undeniable heat between them slides off simmer and leaps up to barn-burning levels. However, a few of the younger six-pack Colemans have decided Jaxi's brand of trouble is worth risking a few busted bones.

That is, if Blake's finally ready to let go the reins and fight for what he wants…
Travel Picture Wednesday this week is from the Cajas National Park. The air was so thin there, especially since Vivian had been at sea level for so long prior!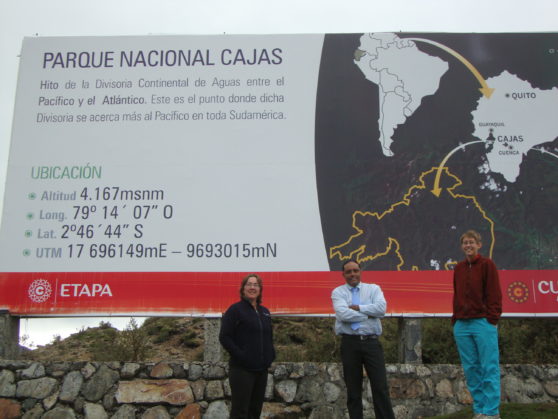 For a limited time, RIDE BABY RIDE is free at all retailers. So, take a chance and fall in love with the tight Thompson family, starting with the only girl, Katy Thompson.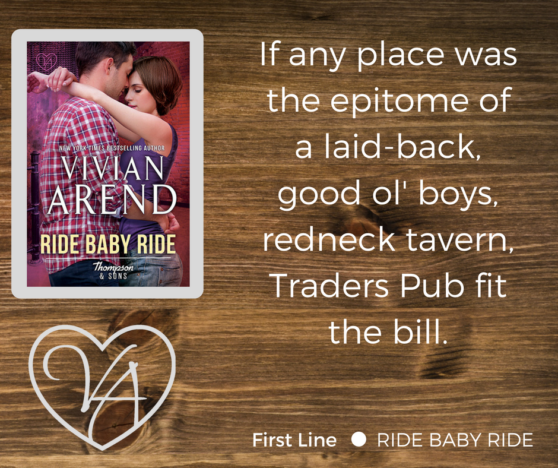 He wants all her tomorrows
Small town mechanic Gage Jenick's been waiting for this moment ever since his best friend's little sister transformed from annoying tagalong to desirable woman. When sweet Katy Thompson kicks her boyfriend to the curb, Gage makes his move. In spite of an assignment that will take him completely off the grid for five long months, he steals her away for one night of steamy passion with the promise of more in the future.
She can't remember yesterday
When a freak accident on a storm-swept road leaves Katy with a memory full of holes, she can't remember her own email password, much less how the little pink "positive" on the pregnancy stick got there. She's at a loss to explain what happened, or when…or with whom. Suddenly she's got two men claiming to be her baby daddy: her redneck ex, and her long-time crush, Gage.
But what the mind forgets, the heart remembers. Still, it's going to be a long, hard ride to a happily-ever-after for two, plus one.
Purchase:
iBooks US | iBooks UK | iBooks CA | Kobo | GooglePlay | Scribd | Amazon US | Amazon UK | Amazon CA | Barnes & Noble
Fellow authors: this post is for you! My assistant Nicole and I were approached by Kobo and asked to write an article about how to use your Kobo Affiliate Account to the fullest. See our tips and tricks for getting the biggest bang for your buck at Kobo! Read the article on the Kobo Writing Life blog here.