Snippet Saturday- Wahhhhh!!!!

I have my favorite 'make me cry moment', but it's in Turn It Up, not out until February, and I decided to not tease that hard. ;) So a moment of tears from Wolf Flight, book two in the Granite Lake Wolves.
~~~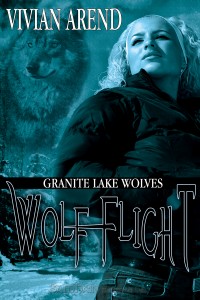 She trembled in his arms and Tad came close to losing control. He looked into her eyes, checking to see if she was afraid. Fuck. He must have done something, moved too fast, not shown how much she meant to him. Pain, deep and sharp, thrust into him and he sucked in a breath.
"Sweetheart, what's wrong?" Tad tried to untangle their limbs, he tried, but his body wouldn't cooperate. Leaving the heat of her touch would wrench his heart from his body.
"Nothing's wrong, everything's right." She cupped his face in her hands again, the softness of her touch washing over him with equal parts of desire and peace. There was something so right about Missy, so far beyond mere sex that his mind grew foggy and it was hard to concentrate on her words. "Can you feel it? This isn't just FirstMate, it's more. You and I, we're mates."
Tad froze. It wasn't possible. She'd had a mate, yet for some reason she was getting the message they belonged together forever. Oh bloody hell, it was the frickin' werewolf hormones again. Somehow she was getting a false positive.
How could this happen? How could it happen without them having sex? She was going to think she was in love with him for the rest of her life and it would just be pheromones controlling her. He couldn't do that, couldn't treat someone he cared about in such a cold, heartless manner, especially Missy. Tad summoned strength he didn't know he had from within and dragged himself away.
They both cried with low moans as he stumbled across the room to put distance between them. The physical pain that shot through his body was unexpected and nearly drove him to his knees. His eyes blurred for a moment and the room spun as he grew light-headed.
"I'm so sorry, I really am." He would do anything to stop from hurting her. His limbs shook as he leaned on the doorframe. His body was on fire, even more than when he was touching her.
She was pale, confusion written all over her face, and he ached for her. The situation was beyond her control and entirely his fault. "I thought, I mean…" She hesitated before closing her tear-filled eyes and starting to shake. "Don't you want me?"
A sound of agony ripped from his throat at the thought of denying his need for her. Bloody werewolf genes had messed up his life and now Missy's. All he wanted was to hold her and make it all better, but it wasn't possible. Everything he'd been told over the years meant she had to be mistaken and unless he stopped now she would suffer forever. He softened his voice and let his caring come through as he spoke. "Hell, it's not you, it's me. Don't you see? I'm not triggered. We can't be mates, it's the pheromones blinding you. You just think I'm your mate. Oh, sweetheart, I wish it was true." He wished it with everything he had.
"It is!" Missy cried. She was on her knees now, her sweater askew, hair tousled everywhere.
He'd never seen anything as beautiful. It was sheer torture to drop his gaze from her, his heart pounding fast, his ears ringing as blood roared through his head. He forced down his lust to try and reason with her. "I can't be. You have a mate." It never happened twice. A once-in-a-lifetime event and when they died, a piece of you died.
"I had a husband, Tad. Not a mate. We were married but it was a political thing forced upon me." She rose and reached for him.
Tad held out a hand to stop her, his mind spinning. She'd never had a mate. She'd said they were mates. Could she be right? He sniffed hard. The only aroma that reached him was the faint scent of wood smoke. His sinus passages were plugged, his forehead felt hot. His body ached.
Did he want her? Hell yeah, but there didn't seem to be the irresistible connection that he'd been warned occurred when true mates met. He wanted to bury himself in her and protect her, but he'd felt that way since they were kids back in high school. The connection, the pull, he felt equally strongly with his human side. How could this possibly be a true mating if he wasn't sure? The trickle of doubt that remained tied his hands.
Tied his heart.
~~~
Ebook available: Amazon | MB&M | Books on Board | Sony | Borders
~~~
More people setting out to jerk your heartstrings. Have fun ;)
Delilah Devlin, HelenKay Dimon , Lauren Dane , Sasha White, Shelley Munro, TJ Michaels, Leah Braemel, Lissa Matthews, Mari Carr, McKenna Jeffries, Taige Crenshaw, Ashley Ladd
Nowadays there is lot of unforeseen circumstance which force folk to take remedies. You can order medicines directly your office. In these latter days the stock you can find in online pharmacy is actually high. Some medications are as a rule used to treat many types of bacteria, such as tonsillitis and infections of the throat. Other ones are used to treat diabetes. Cialis is a remedy used to treat divers afflictions. What do you have to know about cialis order online? Presently many families search for the exact keyword ordering cialis online on the Internet. Perhaps you already read something about it. Having erectile dysfunction can beyond doubt complicate romance. What can cause erectile malfunction? A row of psychological issues can produce erectile dysfunction. What should you discuss with a physician before taking Cialis? Any curing may cause dangerous side effects. Sometimes side effects can be actually dangerous. Talk to your pharmacist about the proper disposal of your drug.