Alphas After Dark Box Set
NEW SERIES! – TAKHINI SHIFTERS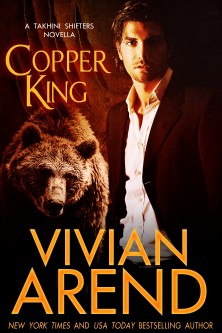 When I started writing, it was all about sharing the things I loved. Venturing into the great outdoors with shifters seemed a natural thing to do.
And something fun happened along the way. An entire world of friendly, interesting and involved people showed up. It's been five years now since I discovered the Granite Lake Wolves, and from there I've traveled to meet their friends in Whitehorse, and beyond.
I'm not ready to leave, only those particular series weren't meant to go on any longer.
Thus I'm opening the door to the North in a new way. The Takhini Shifters are novellas set in the Granite Lake and Takhini Wolves world. Some of the heroes and heroines you'll meet will be new, some vaguely familiar from their appearances in previous books, but you don't have to have read the earlier books to enjoy these stand-alone stories.
These are lighthearted, sexy reads meant to take you away for a short while, to show you the world and make you smile as they find their happily ever after.
If you've never read Granite Lake or Takhini Wolves book, you won't be lost as COPPER KING is a stand alone story, but for those who have, here's the timeline/ story overlap: COPPER KING takes place in February before the events of BLACK GOLD occur. Jim & Lillie later play a part in DIAMOND DUST.
~~**~~
COPPER KING will be out April 1st in a fabulous box set. On sale for $0.99 – Limited time offer!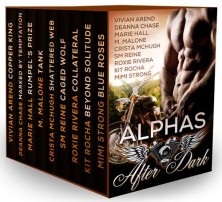 Join NINE NY Times, USA Today, and Bestselling authors as they bring you the ULTIMATE Alpha-Male anthology, featuring BRAND-NEW Novellas linked to their most popular series:
Vivian Arend – Copper King (Takhini Shifters #1)
Deanna Chase – Marked by Temptation (Coven Pointe #1)
Marie Hall – Rumpel's Prize, (Kingdom Series #8)
M. Malone – Tank (Blue-Collar Billionaires #1)
Crista McHugh – Shattered Web (Deizian Empire #4)
SM Reine – Caged Wolf (The Tarot Witches #1)
Roxie Rivera – Collateral (Debt Collection #1)
Kit Rocha – Beyond Solitude (Beyond #4.5)
Mimi Strong – Blue Roses (Baker Street Romance #1)
For that price, it' a great chance to catch up on what's happening in the Takhini World, and try some new authors at the same time! COPPER KING will be available as a solo release May 1, 2014 at the regular price of $2.99.
Make sure you're signed up for my newsletter, and I'll send out a release day reminder for the box! (No pre-order available, sorry!)
Nowadays there is lot of unforeseen circumstance which force folk to take remedies. You can order medicines directly your office. In these latter days the stock you can find in online pharmacy is actually high. Some medications are as a rule used to treat many types of bacteria, such as tonsillitis and infections of the throat. Other ones are used to treat diabetes. Cialis is a remedy used to treat divers afflictions. What do you have to know about cialis order online? Presently many families search for the exact keyword ordering cialis online on the Internet. Perhaps you already read something about it. Having erectile disfunction can beyond doubt complicate romance. What can cause erectile disfunction? A row of psychological issues can produce erectile dysfunction. What should you discuss with a physician before taking Cialis? Any curing may cause dangerous side effects. Sometimes side effects can be actually dangerous. Talk to your pharmacist about the proper disposal of your remedy.