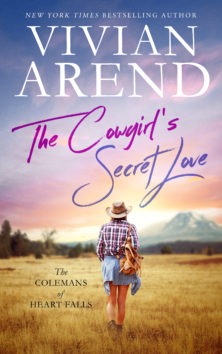 Book 2: The Colemans of Heart Falls
Welcome to Heart Falls—a place for family, friends, and a second chance to fall in love.
A stand alone novel in a new trilogy by New York Times bestselling author Vivian Arend.
Karen Coleman has four months to spend in Heart Falls with her sisters before heading off to school. She has no idea the man who stole her heart five years ago during their secret fling wants to try again. Finn Marlette is determined their relationship can work out right this time. That means number one—it's not going to be a secret, and number two—he will do everything it takes to make them last beyond a fling.
---
Want to read more Heart Falls while you wait? Be sure to check out A SOLDIER'S CHRISTMAS WISH, the second book in the Holidays in Heart Falls series.