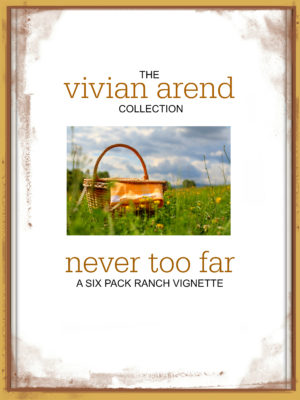 This scene features Vicki Hansol and Joel Coleman. The youngest of the six brothers on the Six Pack Ranch, Joel is committed to a summer spent working the family spread. His brand-new fiancée had accepted a position months earlier that has taken her hours away from him to a trail-riding camp. After recently realizing they were in love, having to be apart from each other is turning out to be a challenge.
Timeline: The scene takes place about two weeks following the end of Rocky Mountain Rebel, during the adventures of Rocky Mountain Freedom.
***
The internet flickered.
Vicki jerked upright from where she'd been relaxing against her pillows. "Joel, you still there?"
Her fiancé's answer came through increasing static. "Still here, but I think we're losing our connection. Not only did the video feed go, now I can barely hear you. It's late, anyway. You need to hit the sack so you don't burn breakfast in the morning."
She laughed even as she stifled the yawn she'd been fighting for the past twenty minutes. "Extra early rising tomorrow. We're heading to the nearest big city to pick up supplies again. Two hour trip to civilization."
"Then I won't keep you any longer. I'm glad you're doing well, though. I miss you, sweetheart."
"I miss you too. So much." Vicki clutched the thick quilt wrapped around her shoulders in spite of the fire in the airtight stove. Debated, and then accepted it was the grown up thing to do. "Hey, Joel? You know how you said you'd drive out and visit me this summer?"
"Yeah."
"I don't think you should. I mean, I want to see you so badly, but…" Static picked up again, and Vicki hurried to finish before she lost the line to Joel, or lost her nerve. Changing their plans wasn't what she really wanted, but it was the mature choice. "I've done the trip from the main highway twice now, and it's a long haul. Add that onto the hours you'd need to drive from Rocky? It's not worth it. And we should be saving our money. I'll be back in late August, and we'll have all kinds of expenses and—"
"Hey, hey, slow down," Joel ordered. "You're moving in with me when you get back, so that's already taken care of. And you'll find a job, maybe take a few classes. We'll be okay."
"It's going to be tight, though. So I think we should stick with Skyping. I know it sucks, but it's only for a few months."
"Four is more than a few." His words broke up. "Damn. There's too much interference to do this tonight. Tell you what—next time we talk, we'll decide, okay?"
"Okay. I love you." Vicki put as much emotion in to the simple words as possible.
"Love you, too. Sleep well."
She shut down the internet and closed her computer, this time officially crawling under the covers on her tiny bed in the tiny canvas-sided tent she'd been assigned at Trailblazers.
She was grateful there was internet access this far into the bush. The assistant cook position had been her dream job when she'd been offered it the previous fall, and she was enjoying the cooking.
She just wished she wasn't huddled under the blankets by herself. Not only because of the heated things Joel did to her when they were together, although, holy moly had he ever taught her everything she needed to know about sex. No—it was more than the physcial pleasure he brought that she missed. The way he listened to her. Believed in her when no one else had. Those things were a huge part of it as well.
Even from miles and miles away, his love wrapped around her as she fell asleep.
Six a.m. came far too early. Vicki sat bleary-eyed in the passenger seat next to her boss, the truck rising farther on every bounce than it would on the return journey when they'd be loaded with supplies. She clutched her travel mug and stole sips of coffee between jolts.
They pulled into the grocery store parking lot minutes before the eight o'clock opening. "I made two lists this time," Ted announced. "You take one, I'll do the other. Once you finish, load your stuff in the truck, and you can have the rest of the day off."
Vicki shook herself awake. "Time off?"
"Yeah. Wander around town. Do some shopping. Whatever." Ted put the truck in park and was out the door, Vicki scrambling to follow him. "I need to do some personal stuff, so meet here at two. That'll get us back in time to fix dinner for the crew."
He handed her a folded paper, grabbed a cart, and took off, leaving her wondering why he was acting so strangely.
Vicki shrugged. The man was a great cook, but a touch eccentric. And… she was going to have to find cheap way to waste time after she was done her part of the shopping. Because, as she'd told Joel the night before, saving cash was a high priority.
First, work.
She unfolded the paper, stepping back in surprise as a couple of twenties fluttered to the floor. Vicki grabbed them before examining the page closer for an explanation.
There was a brief note from Ted: Lunch is on me.
Well, that was sweet.
The only other thing on the paper was 4 pallets of bottled water. Vicki glanced around for her boss, wondering if he'd accidentally given her a draft list. She found no sign of him, even though she peeked down every aisle on her way to the water.
She rounded the final corner and nearly ran someone over with her cart. Vicki jerked to a stop barely in time. "Shit. Sorry."
The solidly built dark-haired man turned, and Vicki's heart just about leapt out of her chest.
She abandoned the cart and threw herself forward, arms spread wide. Joel caught her, wrapping his arms around her as she squealed with happiness. "Oh my God, oh my God, you're here. Joel, you're here."
His strong embrace supported her, feet off the floor, as he leaned closer, his bold laughter and his smile just as she remembered. "I'm here. Now, kiss me."
No objections on her part. Middle of Costco, there could have been a million people watching them, and she didn't give a damn. Vicki thrust her fingers into his hair, toppling his cowboy hat to the ground as their lips met.
Kissing him was never going to get old.
Goosebumps arrived as he deepened the kiss farther, his tongue doing wicked things to her. All too soon he pulled away, leaving her lips tingling and the rest of her not far behind. "Come on. Let's get your chores done so we can go elsewhere and do this properly."
"Wait." Vicki blinked at him in confusion. "Okay, first, I'm so glad to see you, but why are you here? I said you shouldn't bother making the trip."
Joel laughed as he loaded pallets of water onto her cart, cowboy hat firmly back in place. "And I said we'd decide when we talked next. Which would be now."
Vicki hugged herself, hoping she wasn't dreaming the entire event. "So you decided to drive seven hours anyway?"
"You take seven hours on your bike. I'd take less, plus I found a route that cut it to five and a half. I'd already talked to Ted to check when I could come to the camp, and he'd suggested we meet here and save me two hours driving each way." He linked her fingers in his, using his free hand to push the cart toward the registers. "Your boss is pretty awesome. He said you could have the day off to spend with me."
Vicki was glad Joel was leading because her feet weren't touching the ground. "I can't believe this."
"Believe it." Joel waited at the till while she pulled herself together enough to put the order on the camp bill. He transferred the water into the back of Ted's truck then guided her to his truck in the far corner of the parking lot. "Anywhere in particular you want to go?"
Vicki settled in tight to his side, thighs touching, fingers curled around his biceps. "With you. That's all. I just want to be with you."
He took them just out of town, opening a cattle gate and going four by four to the edge of a lonely bluff overlooking the North Saskatchewan river. The long line of the majestic Rocky Mountains stood as a backdrop, spring flowers dotting the nearby field. Vicki stared out the window for all of two seconds before ignoring the view and crawling into his lap. "I get to look at mountains all day long. I need to see your face."
Joel shifted the steering wheel out of the way as much as possible before resting his hands on her hips. "We could probably find somewhere with a little more room for while you look at me," he teased.
"Don't need more room." Vicki glanced out the window at the wide expanse of field, wondering if he'd think she was crazy, but she didn't want to wait much longer. Not when they had limited time together. "This place looks nice and deserted. Will it stay that way?"
"The land belongs to a friend of mine who moved a few years ago. No one will be by." Joel smoothed a hand up her back, pressing their bodies intimately close. "If you're thinking what I think you're thinking, I have a blanket in the back…"
Vicki had their lips together and her fingers on the buttons of his shirt before he even got the door open, carrying her to the rear of the truck.
A lot of the details from the following moments vanished. Somehow they ended up naked on the blanket surrounded by wild grasses and spring flowers. There was nothing to focus on except how amazing she felt. How right it was to be with Joel, his blue eyes locked with hers as they made love.
Much later they were both grinning pretty damn hard, physical satisfaction obvious as he tucked a flower behind her ear. "Now that I can think straight again, I'll mention I brought a picnic, but if you want to go out to eat, we can."
Vicki shook her head, pushing him to the blanket and straddling him. She pulled on his shirt, the sides still hanging open. "I vote we eat here. Talk. Fool around some more. I don't want to waste a single minute of the time we've got."
Joel drew circles on her skin with his fingertip, the sensation so familiar—so right. "You glad I made the trip?" Teasing in his tone as well as love.
"So glad, although it is crazy far for you to drive."
He curled upward to a sitting position, his abdominal muscles rock-solid under her hands. He caught her chin in his fingers and held her trapped as he whispered, "Whatever it takes to be with you? Is never too much. Never too far. Because that would be putting a limit on how much I love you, and darling?" His gaze burned her with passion. "We've only begun to figure out how much that means. It's gonna take the next sixty to seventy years to even start."
Vicki rejoiced inside, and held on tight as her cowboy rolled her under him and proceeded to prove his point all over again…
---
If you'd like to read Joel & Vicki's story you can find it in Rocky Mountain Rebel, part of the Six Pack Ranch series.
Copyright © 2013 by Vivian Arend
Return to Six Pack Ranch Vignettes