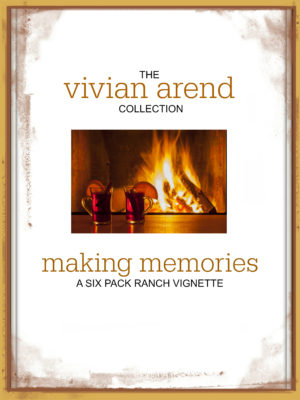 This piece features Jaxi and Blake Coleman. The oldest brother of six, Blake's been enjoying married life and his twin baby girls. He wouldn't change a thing, even though he still teases Jaxi they were supposed to have all boys. Jaxi's more than content—this is what she'd longed for.
Timeline: This scene takes place during the final months of Rocky Mountain Desire, and about eight months before Rocky Mountain Rebel begins.
***
Childish laughter echoed again, the vibrant noise bouncing off the living room walls and warming the room as much as the fire in the old stone hearth. Rebecca peeked out from between her fingers and shrieked even louder as her daddy raised his hands in the air, growling like a bear. The second of the nearly two-year-old twins rushed from behind the couch to come to her sister's defense. Rachel, in her usual outgoing way, threw her arms around Blake's neck and clung tightly while she shouted for her sister to run.
"Where'd those little girls go?" Blake twisted in mock confusion as the twins' shrieks dropped to secretive toddler giggling. "I could have sworn they were here a minute ago."
Jaxi stood in the doorway of the kitchen, and soaked it all in. The gentle affection, the happiness—the love that filled her home from morning to night. Her heart filled with pleasure as her husband dropped to his knees to better play with his children.
She'd been in love with Blake forever, but the last two and a half years had been so much richer than she'd ever imagined. He'd been even more than she'd dreamed, this generous man who'd been up long before dawn, who'd put in a full day's work on the ranch, yet still found time to offer his little girls the tender affection of a daddy.
She watched until a wave of sleepiness struck, and she blinked hard to chase away the cobwebs. If she didn't move now Blake would have three to tuck into bed. She hated to put an end to their fun, but it was time.
Jaxi stepped into the room. "Blake, did you lose my babies?"
They turned her way—two tiny, but beautiful blonde heads, and a dark-haired one whose expression of admiration and intimate heat made her knees weak and her heart pound, as if she'd been the one being chased.
"I didn't get losted," Rachel reassured her. The little one padded up and curled her flannel PJ clad body around Jaxi's legs.
Rebecca, like the daddy's girl she was, took advantage of his distraction to crawl into Blake's arms. She caught his neck in a one-armed death-grip and stared earnestly at Jaxi. Instinct won out as the little girl slipped her thumb into her mouth, eyelids drooping, as the fight to stay awake grew more intense.
"All my girls ready for bed?" Blake asked.
"Story first," Rachel demanded.
"Of course, story." Jaxi cuddled her close then savoured the evening routine of tucking her precious babies in for the night.
Kisses, stories, and more kisses done, Jaxi found herself enfolded in strong arms. The fire in the grate had burned low while they'd put the girls to bed, but in Blake's embrace Jaxi didn't notice the chill in the room.
Blake snuck his fingers under her chin and raised her lips to his. A sweet, soft caress that melted away the minor frustrations of her day. Everything put aside except seeking his touch.
"Hmm." Jaxi cupped her palm to his cheek. "That was extra delicious."
"It's a special night." Blake spoke seriously, his dark grey gaze dancing over her face.
Jaxi paused and considered. Really? It was the middle of March. Not her birthday, and there were no calendar holidays anytime soon.
She twisted to face him. "Special?"
Blake nodded. His serious expression melted at the edges, and his smile broke free. "What? Don't tell me you don't know what we're celebrating?"
There were no family events, or even remote anniversary dates to commemorate. She shook her head, covering her yawn. "You lost me."
"I was sure—" He paused, then nodded determinedly. "I am sure."
March. She racked her brains. The only thing that came to mind was St. Patrick's Day, but green beer didn't usually make him this excited.
"You know, it's kind of fun to know something before you do." He leaned back against the couch, easing his hands behind his head.
Gloating. Definitely gloating.
Jaxi was too mellow to care. A second yawn snuck up and ambushed her.
Blake grinned even harder.
She ignored him. If he wanted to have his fun, she'd let him. Other things needed saying before she succumbed to slumber's call.
"I love watching you with the twins." Jaxi curled herself beside him, resting her head against his chest and closing her eyes. "You're a good daddy."
"Love those girls so hard. As much as I love their mama."
She must have been doing more than she thought lately—she was simply beat. Between the fire and the lethargy in her limbs, she was done for the day. Still, Jaxi savored his touch, appreciating once again simply being able to lie there and be with him.
He pressed his lips to the top of her head. "You and me, we make pretty babies."
Jaxi trembled on the edge of sleep. Relaxed. Content. She hummed back at him in response because it took less energy than speaking.
"Darlin', you sure you don't have something to tell me?" Blake stroked her shoulder.
"Nope. Nada." She tilted her head back and stared into his loving eyes. "You got me."
His gentle caress continued. "I've heard a rumor, then."
"From who?"
"You." His eyes sparkled.
"Me?" Well, that made no sense at all.
"More specifically, your body."
Jaxi laughed. "Damn gossipy body, then, for talking to you and not to me. What'd it tell you? Is it planning on running away to join the circus?"
Blake tweaked her nose. "We're already running a circus around here. No, it's more that you, my source of endless energy, are tired. Like crawl in bed at the same time as the girls tired. Instead of hopping out of bed like your ass is on fire in the morning, I find you cuddled up against me, which I'm not complaining about one bit, mind you."
"I noticed you not complaining." She'd enjoyed the extra minutes together as well—time to savour the physical connection that neither of them had grown tired of. It was never for long enough, though, before either the girls crawled in with them or Blake had to leave for chores.
"Yesterday," he continued, "you pulled this hilarious face at the first taste of your coffee. And you've served macaroni and cheese three nights running, which is number one of your comfort foods."
His list made her laugh. "Bonus points for being observant, but I don't see…"
"And there's these." He cupped her intimately, his big palm gentle against her tender breast—
"Oh, Lordy." Jaxi snapped to vertical, staring at him in shock. Was he saying…? Could she be…?
She might be.
How could she have missed the clues?
Blake snorted. "You should see your face right now."
She could only imagine. "Blake, I had no idea."
"You mean you ain't keeping secrets and waiting for the right moment to share?" He traced a finger over her cheek, completely focused on her response. "I mean, we've been trying to get you pregnant."
The slight embarrassment that had snuck in for being an unobservant twit vanished in an instant. There was no room inside for wasted negative emotion when joy and disbelief were battling for the top billing in her brain. "I'm pregnant."
This time he outright laughed. "That would be my guess," he said, opening his arms as she straddled his legs and settled herself tight against him. "Love you, darlin'. Thanks for being willing to do it all over again."
"You just better hope this baby is as sweet as last round," she teased. "Of course, if she takes after her mother, we know she'll be perfect."
A soft chuckle escaped him. "Why're you so insistent it's not a boy this time?"
"Woman's intuition."
"Same intuition that poked me before you about the baby coming? I swear I'm more into your head than you are," he teased.
Jaxi narrowed her gaze. "I hear there's a machine that lets men experience labour. You want me to find one so you can really get into my head?"
His grey eyes widened and he shuddered. Jaxi laughed at his instant reaction.
"You win, hands down. I know damn well I'm not brave enough to go through that." He linked their fingers together. "In the meantime, though, I know there's no use in telling you to take it easier, but if you need extra help, you make sure and let me know."
"I will." Jaxi cupped his face in her hands and took in a deep, satisfied breath. "A baby, Blake! We're gonna have a baby."
"Looks that way." He kissed her, soft and slow before heating up and stealing her breath away. She threaded her fingers into his hair and soaked in every moment. Every touch.
It was a good night to celebrate, and Blake seemed determined to make it a memorable one. Which was just fine with her.
---
If you'd like to read Blake and Jaxi's story you can find it in Rocky Mountain Heat, the first book in the Six Pack Ranch series.
Copyright © 2013 by Vivian Arend
Return to Six Pack Ranch Vignettes