Lighthearted paranormal stories based in the city of Whitehorse before bursting out into the wilderness of Alaska and the Yukon. The stories follow the members of the Takhini wolf pack as the new Alpha, local humans, bear shifters and others deal with falling in love and kicking ass. Novels. Mild Erotic.
Also see Granite Lake Wolves – same world, shorter stories.
Extras
Takhini Wolves rock the north. Here's where you can spend some extra time to discover more about the Yukon, and the Takhini and Canyon packs. Maybe even some bears…plus any vignettes and pictures there might be.
Four books in the series, but there are more stories to be told. Pictures, vignettes— if you've read all four of the quartet, but want more, here are some fun activities for you. Look around, see what catches your eye. Have a re-read or recommend the series to your friends!
While this series is complete, there will be more shifter goodness in the future!
Pack Hierarchy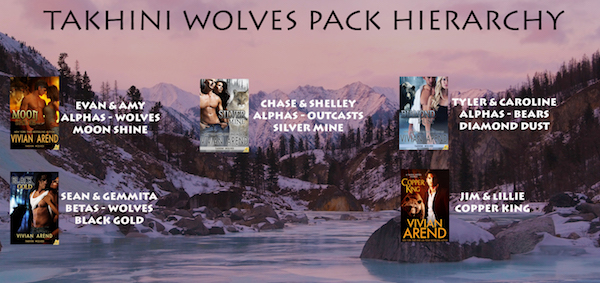 Timeline
The timeline for Takhini Wolves books:
Prequel: Copper King
Book 1: Black Gold
Book 2: Silver Mine
Book 3: Diamond Dust (Rita Nominated)
Book 4: Moon Shine