About the Book
Welcome to Heart Falls, where there's more at stake than the future of the Silver Stone ranch.
With the ranch teetering on the brink of disaster, accepting an invitation to the gala of the year is a top business priority for Luke Stone. Having a significant other on his arm isn't merely a good idea, it's a necessity. Doesn't matter that he's currently single—there's a logical solution. Kelli is easy company, a vital part of ranch operations, and willing to sing Silver Stone's praises all day long. She'll be perfect.
Kelli James has kept a lot of secrets over the eight years since she boldly walked onto the ranch. Her biggest challenge, though, has been hiding her crush on the sexiest cowboy she's ever laid eyes on. When Luke informs her they're headed to the mountains for a week-long, work-related event, she's not sure what to expect.
That he signed her up to play the part of the perfect rancher's bride-to-be wasn't it…
Buy the Book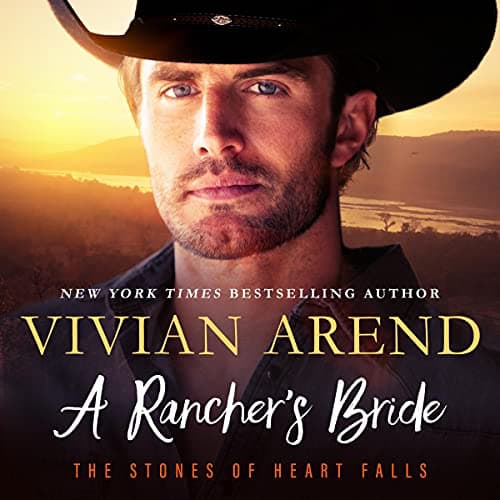 Audiobook
This book is also available on audiobook from the following online booksellers:
United States

United Kingdom
Narrator: Tatiana Sokolov
Format: Unabridged
Runtime: 7h 20m
Reviews
"This is just a really sweet, low drama romance that left me smiling and wanting more by the final pages."
— Mare at Red Hot Blue Reads
"A RANCHER'S BRIDE is a story of family and friendship; romance and love. The premise is engaging, heart warming and inviting; the characters are spirited and moving; the romance is seductive."
— Sandy, The Reading Cafe 
" It was a fun, sweet and smexy read and filled with great characters and a lot of heart."
–Kahea at Books-N-Wine
The Details
Published: November 20, 2018
Publisher: Arend Publishing Inc.
Formats:

Ebook

Paperback

Audiobook



Translations: Français

ISBN-10: 1981985883
ISBN-13: 9781941456323 / 9781999495725
ASIN: B078KLK8ZX
Genres & Tropes
Contemporary Western Romance, Small Town Romance