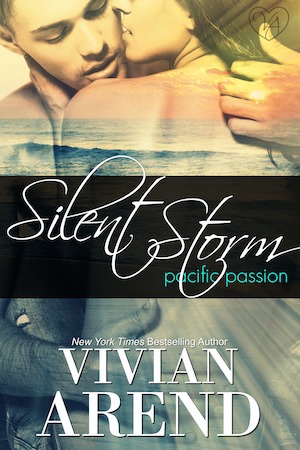 Book 3: Pacific Passion Series
"Wow." The sky spun overhead, continuing aftershocks of pleasure rioting through her system.
He laughed softly, rising up on one elbow to smile down at her. Laurin sighed in contentment, lifting her fingers to trace his jawline. Matt's eyes crinkled at the corners. "You okay? You seemed to disappear for a minute or two—that's not good for a guy's ego."
Laurin soothed him, kissing his lips tenderly. Opened herself to allow how much she cared for him to wash over them both. "I'm sorry. You know I'm guilty of thinking too hard at times."
Matt nodded. "If you can analyze a situation from a new direction, you will. Or make some charts."
"Charts are awesome."
They grinned at each other. Laurin let a slow sigh of relief escape as Matt rolled away and helped her to her feet without pushing for any further explanation. She needed to deal with her concerns, but postcoital? Her emotions were still too raw. Besides, it really was her issue, not anything that was his fault.
They gathered their scattered clothing with an easy companionship. Matt shook the sand from each item before dressing. Laurin chose to retreat to the kayak to find her dry clothing. Matt pulled out a picnic basket, then proceeded to impress her stomach with his cooking as much as he'd dazzled her body with his lovemaking.
In spite of her attentive companion, and the gorgeous setting, her mind kept wandering back to her dilemma, and as they packed up the remains of the picnic lunch, she realized she couldn't carry on this way. It wasn't fair to either of them.
"Matt, can I ask you something?"
"Of course."
"What do you think of me taking a bit of a holiday?"
He took his time to seal the container in his hands before tucking it into a kayak bag. "That depends," he said slowly. "Are you talking about a holiday from teaching or a holiday from…me?"
Oh damn. One of the troubles with being so intimately connected with a shaman—it was difficult to keep secrets. "My tour of summer schools will be over in a couple weeks. The students who are studying via satellite are on a year-round schedule—they'll have a semester break then as well, so I'll have no teaching commitments."
He nodded, his observant gaze flashing over her. "And me?"
Laurin took a deep breath. She reached out and laid a gentle hand on his arm. "Matt, I think I love you."
There was a spark in his eyes, but his smile seemed forced. "How come that came out sounding as if it makes you sad?"
She moistened her lips, searching for the right words. Ones that would make this better. Unfortunately, she had no idea what words those would be.
"Laurin." He held out his hand and she went into his arms eagerly, willing to hide her face against his chest, seeking comfort, wishing she'd never given him any pain. She did love him. She did, that had become crystal clear over the past month.
But was it enough?
"I see you. I don't think you even know you're doing it." Matt lifted her chin until their eyes met. "The way you stare into the sky with such longing. I don't understand why you avoid flying."
Her heart ached. "I'm afraid."
He frowned. "Afraid of the sky? Of shifting? Laurin, there will be no further challenges from anyone who sought you before. You are free from the fears that sent you into hiding two years ago. I swear."
"It's not that. I'm afraid that if I fly too often I'll—" Her words choked to a stop. Could she ever commit to being with him forever? Forsake the mountains of her childhood and all of her family?
Her people?
It had never been an issue until now, not until Matt. She cradled his face tenderly in her palms. "I do love you," she whispered. "So much it frightens me at times. Not because you frighten me," she was quick to respond to his intake of breath. "Oh, not because of that. You have become the center of my world, and I love being with you. Seeing you work with the people, seeing you act as a physician and bring healing to people's lives. But it makes me wonder…"
Matt's lips were sun-kissed soft against hers. "Makes you wonder if you should be with your own people? The People of the Air?"
Laurin nodded. "My grandfather said I would bring balance—his prophecy so many years ago. It didn't mean what the men of the tribes thought it would, not with you and I being a couple. We are a couple, Matt. I don't deny that for an instant. But where does my responsibly to my people end? If I make a complete commitment to you, your place is here, on the Pacific coast. You can't give up your position, and I would never expect you to."
"And I don't want you to feel you have to choose between your nature and our relationship." He stroked his fingers through her hair. "I had no idea this was bothering you so much. I guess I'm guilty of thinking the mystical connection between us will make our relationship easier."
Laurin laughed softly. "It does make things more interesting at times, that's for sure."
Matt tweaked her nose. "I don't want to cut off our discussion, but we need to return to theStormchild. Can we pick this up back at the ship?"
Laurin kissed him as sweetly as she could. "I'm sorry I've kept this from you. You're right, the only way we can figure it out is together."
She reached for the lifejacket and he held out his hand. "I'll take care of the kayak. Why don't you fly home?"
A streak of pleasure hit her. An opportunity to glide on the currents overhead was exactly what she needed right now.
"Are you sure?"
"Of course. I can tie her on behind my mine." He laughed, the bright sound dancing around them as she rushed to strip off her clothes. "Besides, any excuse to get you naked is a good one."
He stroked a finger down her breast and grinned as her nipple responded instantly to his touch.
"Stop that." She giggled, giddy from excitement. From his touch and anticipation of the flight.
"Why? Can't you fly when you're turned on?"
"Oh, I can fly, but if you get me going too much I'm not leaving until you deal with me." Laurin wiggled her brows and Matt licked his lips in response.
"Not sounding like a threat to me, woman." He kissed her breathless then set her back on the ground, slapping her bare butt cheek and pushing her forward. "Go. I'll take care of your needs back in our bed. One session of sandy sex a day is enough."
Laurin blew him a kiss, bent her knees, then launched herself into the air as she shifted.
She changed into her favorite form, the golden eagle she'd first taken as a child so many years ago. Her magic let her shift to any of the People of the Air, but this was the one that felt the most comfortable. It brought great pleasure to extend her wings to reach another inch, tilting a wing tip to catch the proper angle to rise rapidly into the air. She wheeled to peer down at Matt, already far below. He bowed deeply in respect, and her heart constricted afresh. If she'd been in human form, tears would have filled her eyes.
Matt had given and given, and even now showed how pure his love truly was. She called out his name, her eagle's tongue tangling the word until all that echoed out was a cry of passion.
He was her mate, but he was not of her people. At ten years old her destiny had been proclaimed, but not explained, and now as she turned to travel the paths of the sky back to the single-masted ship they currently lived on, Laurin wondered just what the final answer would be to her dilemma.
There didn't seem to be an easy resolution, with her heart torn between fulfilling her responsibilities to the People of the Air, and her unwavering love for the shaman of the People of the Sea.