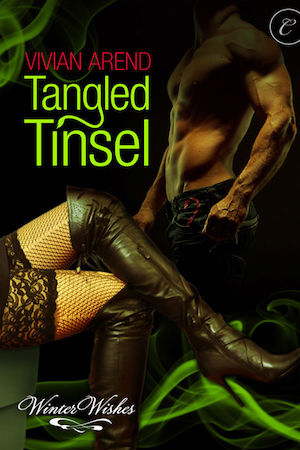 Holiday Paranormal Romance
Chapter One
Five miles of leg strutted past him. Leather clad legs with incredibly high boots that wrapped lovingly around her thighs, leaving a scant three inches of bare skin visible below the bottom of her fuck-me leather miniskirt.
He'd died and gone to heaven.
And when she paused and bent over, exposing a tantalizing slice of two perfectly rounded ass cheeks, he lost control and purred in public.
The human females at the next table looked up from their frothy mugs of frou-frou coffee to gawk at him in concern. Kyle Branegan returned their stares with a smile, waggling his brows until one looked away and the other woman—well, she licked her lips and swallowed hard. Yeah toots, you were flirting with a cat before. Kyle wiped his mouth, threw the napkin down and unfolded his legs from under the teeny table.
Hunting time.
His target had disappeared around the corner, but Kyle didn't feel any need to hurry. The full sun shone down, fresh morning air filling his lungs as he strode in pursuit. There weren't many people out yet, the pre-Christmas rush nowhere near as frantic as it would be in a few weeks. Black Friday was over and he'd finally found a few clues he needed to progress in his investigation. He deserved a day off. He deserved a little fun, and the woman—or should he say, the pretty kitty—he now trailed? She deserved a bit of fun too.
One corner after another Kyle followed the delicate scent of the other cougar shifter. He hadn't seen another of his kind in the area for months, and a female? Rawr. He could hardly wait. They might be territorial—a carryover from their animal natures—but the human twist in their bodies meant they had mastered the art of sharing space. Sort of. At least temporarily.
He spotted her in the distance, weaving through the growing crowds as she entered the shopping district of the city. Her head stuck out above the others, the red highlights in her thick auburn hair glinting in the sunlight. A quick mental assessment put her just shy of six feet with that lovely hair that hung past her shoulders. The flickering glimpses of the rest of the package were enough to make his mouth water, and he hurried his pace. Yeah, it had been a long time since he'd had another cougar in his bed, and while the human women he'd been with lately were fun, there was something so much better about sex with a fellow shifter. He wouldn't have to temper his strength. Behind his jeans, his cock lined up a little too intimately with the teeth of his zipper. Yup, he was hard. Rock solid in fact.
She ducked into a shop and he grinned as he glanced at the signage. Naughty Lingerie. Hmm…hunting and entertainment. The day was looking better and better all the time.
A small bell tinkled his arrival as he opened the door, careful to leave the etched glass intact. Fruity scents overwhelmed him, filling his head with a sickly perfume. He sneezed involuntarily.
"Good morning, sir." A clerk slithered up to him, blinking her eyes rapidly, her breasts bulging from the top of her squeezed hourglass torso. "May I help you with anything? Anything at all?"