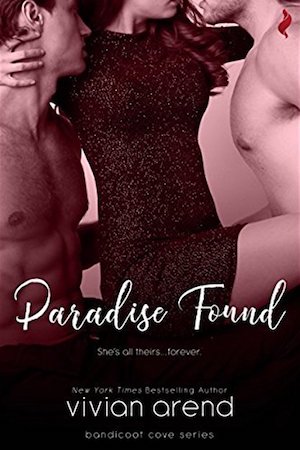 Bandicoot Cove, Book 2
Chapter One
You Are Personally and Cordially Invited to Attend The Soft Opening of Australia's Newest FIVE-STAR Luxury Resort BANDICOOT COVE on Bilby Island. Bring a plus one if you desire.
All expenses and needs will be catered for as we test our customer services in preparation for the Grand Opening.

(Hey, brat.
I'm assigning you one of the penthouse suites since you said you needed room for three. What the hell are you up to?
You so owe me.
Love, Kylie)
Trent dropped the engraved invitation back into his shirt pocket and dug out the access code he'd been given for the computerized keypad. The door eased opened as he pressed on it with one shoulder, glancing around at the high-class suite he'd been given to "check for bugs".
He was less interested in finding holes in his sister's service department and more concerned about this being an extended weekend to remember. He needed the setting to be perfect, or Paige would tie his balls in a knot and kick his arse into the drink when she discovered what he and Mason had done.
Vast open space met his gaze, and his first impression of the enormous penthouse suite brought a string of admiring swear words to his lips. He'd never seen a hotel room this size, and he'd barely stepped into the living room. Leather and chrome were everywhere, with thick, cushiony carpeting underfoot. Three luxurious couches were grouped around an enormous coffee table. The entire corner of the room was floor-to-ceiling windows that let in the bright Queensland sunshine and revealed the sparkling waters of the Pacific Ocean.
A perfect place to create some memories, and hopefully do a little convincing.
One final pivot returned him to his starting point. He slung his bag to the floor and strode into the kitchen, passing a huge basket of fruit in a crystal bowl set on the high counter. There were chocolates as well, and a quick peek in the fridge revealed a bottle of champagne nestled beside a wide assortment of cheeses and other goodies. He grabbed the card off the bottle.
Thanks for being there and supporting me along the way, little bro. You're the best.
Kylie
Trent nabbed an apple from the bowl, polished it on his shirt and took a bite of the crisp fruit as he stepped to stare out the windows. A tiny piece of paradise—that's where he was. Thanks to his sister's plum role as manager, he and his best mate, Mason, were in for three full days of rest and relaxation, followed shortly by the trip of a lifetime.
As long as Paige went along with their master plan. She'd always been adaptable before. Of course, this was a little more involved than arranging to get together for a surf-and-sex holiday.
A soft noise disturbed him, and he swung toward the hallway that extended into the back half of the penthouse. An enormous king-plus bed lay behind the first door, plump pillows littering its surface. Luxurious fixtures were everywhere, and through an open door on the far side of the room, a gilded mirror reflected a massive tub. Sunlight streamed in to paint everything with shimmering gold, and once more he was reminded exactly how out of place he was in these surroundings. Of course, he wasn't going to argue with getting to show Paige a good time, but the modest apartment he shared with Mason in Newcastle was more his style. Or the sturdy yacht they'd just bought. This?
Unreal.
The intriguing noises continued, so he stalked deeper into the suite, catching sight of movement behind a slightly ajar door.
Holy moly.
There was a maid still cleaning the room, but he'd always assumed those get-ups were only found in skanky magazines and porn flicks. Black net stockings covered her shapely legs, secured with garter belts that disappeared under the black frill of a skirt circling her flared hips. Strangely familiar hips that twitched back and forth as she strutted around the edge of the room, flickering a feather duster along the picture frames and side table.
The feather duster wasn't nearly as intriguing as the five-inch heels gracing her long legs. And when she walked, her ass wiggled from side to side in time with the lusty song she sang. Dirty words, nicely in tune with the thoughts running through his brain. Oh, she could take it off if she wanted to. He'd have no complaints.
Bloody brilliant woman.
He pushed the door open and stepped into the entranceway. Paige twirled and straightened with a gasp, her long black braids flying as one hand snapped up to cover her mouth like some old-fashioned modest heroine. The laughter and smoldering heat in her eyes said there was nothing modest about what she wanted.
Trent drew in a deep breath through his nose, picking up a trace of her perfume. Sweet, yet spicy. He reached over and tugged her ear buds free, the music spilling loose, loud enough to echo off the walls. She licked her lips, then removed the iPod tucked in her waistband and tossed it on the side table.
When she took a deep breath, his erection filled to the point of pain, crowded tight against the front of his boardies. He'd gotten aroused when he spotted the fishnets—any man would. But knowing who was flirting with him, hell, she could arouse him in a freezing rainstorm with only one of her smiles.
And Paige wasn't just smiling. She had wiggled closer, the scoop of her cleavage propped above the edge of her frilly white blouse. Tucked in at the waist, the damn thing emphasized the difference in size between her trim waist and firm tits. God, she had gorgeous tits.
"Bonjour, monsieur. I'm sorry, I wasn't quick enough getting things tidied in here. Un moment."
He reached for her, but she'd already spun out of his grasp. Hmm, it seemed she wanted to play. Paige peeked over her shoulder as she approached the bed. Her duster fell unminded to the floor as she leaned way over to adjust the pillows and straighten the cover.
Her skirt rode up to reveal two smooth cheeks and a glimpse of a bare mound, and Trent lost it. He tore across the room and covered her with his body. One hand locked her in place, fingers gripping her breast. The other landed on her upper thigh, sneaking under her excuse for a skirt to yank her hard against his groin.
"I need you to do a few more things before you leave, if you don't mind."
Paige purred as she undulated against him. "That's exactly what I hoped you'd say."