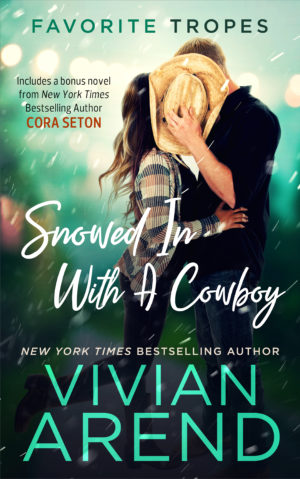 Book 5: Favorite Tropes Collection
Two stand-alone stories about falling in love during a white-out. Get stranded with heartwarming romance with this favorite trope, and find the happily-ever-after you crave.
THE COWBOY RESCUES A BRIDE (Chance Creek)
by New York Times Bestselling Author Cora Seton
Cowboy Ned Matheson knows his family disapproves of his bride-to-be, so when his father orders him to check on the family's remote hunting cabin—in the middle of a Montana winter—he decides to bring Fila with him. But when disaster strikes, Ned and Fila will learn what it really takes to be together. Can they survive the weekend? Or will this trip be their last? A fast-paced, steamy, small-town western romance that will leave you wanting much more…
ROCKY RETREAT (Six Pack Ranch)
by New York Times Bestselling Author Vivian Arend.
When a snowstorm traps Lee Coleman in a remote wilderness cabin with the woman of his dreams, it's time to turn up the cowboy charm and convince newly-divorced Rachel Malone she wants more than a rebound fling. But while the sexy young man pushes all the right buttons, Rachel isn't sure she's ready to trust any man further than the bedroom. She's positive that forever is a fool's dream. Lee can't wait to prove her wrong…
These books have been previously published, and are being re-released in this special edition version for a limited time.