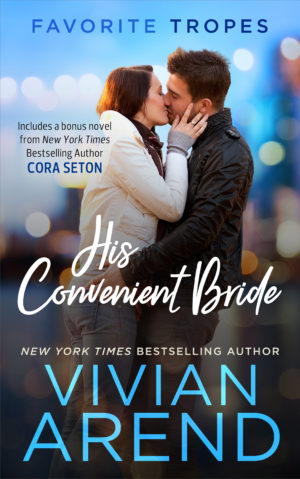 Book 1: Favorite Tropes Collection
Two stand-alone stories about marriages of convenience. Fall in love with heart-warming romances with this favorite trope, and find the happily-ever-after you crave.
Issued to the Bride: One Airman (Brides of Chance Creek)
by New York Times Bestselling Author Cora Seton
Airman Connor O'Riley never believed in love until he saw proof of it in the most unlikely place—a battlefield in the middle of the Syrian civil war. Now he's in hot water with the Air Force, and if he wants to clear his name he'll have to put his new-found belief in love to the test—by convincing his superior officer's daughter to marry him. Too bad Sadie Reed is ready to set out on the adventure of a lifetime. Can he convince her to stay and give love a chance?
Rocky Mountain Angel (Six Pack Ranch)
by New York Times Bestselling Author Vivian Arend.
Gabe Coleman is struggling to deal with his bull-headed mule of a father while making enough to pay the bills. Then his high school friend Allison Parker proposes an exchange—she'll guide Gabe through the conversion to organic ranching if he'll pretend to be her fiancé so she has a plausible reason to return home—it sounds like the perfect set-up. It's not supposed to be real, but when friendship grows into more, will they be willing to put their hearts on the line to find forever?
These books have been previously published, and are being re-released in this special edition version for a limited time.